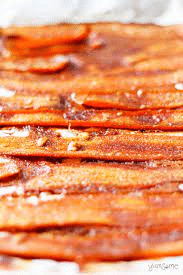 You can't go wrong with this vegan bacon recipe! The perfect salty, smokey strips combine the crispiness of rice paper bacon with the meatiness of tofu bacon to satisfy all of your bacon cravings!
Vegan bacon is available in wide varieties. The majority of supermarkets sell Smart Bacon and tempeh bacon. In addition to bacon bits, you can make tofu bacon, mushroom bacon, coconut bacon, rice paper bacon, and coconut bacon.
Vegans have loved the crisp texture of rice paper bacon, but some felt it lacked meatiness. They made tempeh bacon and tofu bacon frequently. Eventually, they thought of combining their favorite types of vegan bacon into the perfect balance between crispy and meaty.
After tasting this bacon, people said, "Your whole life has led up to this!" Gordon Ramsay even used this method to make vegan bacon.
Ingredients and substitutions
Rice Paper to make the bacon strips crispy. Summer rolls are made from thin sheets of rice paper. Most large grocery stores carry them in their Asian sections. Wheat-containing brands have the crispiest texture. Round rice paper is fine, but square rice paper will give you cleaner ends.

For your bacon to have a meaty texture, you can crumble firm tofu inside the layers of rice paper.

For saltiness and flavor, use Bragg's Liquid Aminos or soy sauce. You can also use Tamari or soy sauce. If you want less salty bacon, use low sodium soy sauce.

For the smoky bacon flavor, try Liquid Smoke – Hickory Flavored. In some people's opinion, it has a more excellent flavor than mesquite.

Additional smoky flavor and color can be added with smoked paprika. In case you don't have smoked paprika, regular paprika will do, but you won't get the natural smoke flavor.

You can use garlic powder as a flavoring. Onion powder can be substituted if you prefer. if you prefer

the umami flavor of nutritional yeast. 

The richness of bacon can also be achieved by using canola oil, vegetable oil, and refined coconut oil. 
Instructions on How To Make Vegan Bacon
Prepare The Bacon-Flavored Marinade
Add to a bowl with soy sauce, liquid smoke, smoked paprika, garlic powder, and nutritional yeast, and stir until well combined.
Two tablespoons of the marinade should be placed in a small bowl (to marinate the tofu), and the rest should be poured onto a large plate. Use the rice paper strips to dip into the sauce.

Let 2 tbsp of the marinade soak in a bowl along with 1/4 of a block of firm tofu while preparing the rice paper. Then drain and press the excess liquid out of a block of firm tofu.
Cut the rice paper into long strips about 1 1/2 inches wide. You can layer up to 4 sheets of bacon on top of each other when cutting them to save time (a little wider than you want the final strip to be since it will shrink slightly when cooked).
The Bacon Must Be Assembled 
On a cookie sheet, spread two tablespoons of oil. Lining the sheet with parchment paper will prevent the oil from getting on the cookie.

Soak a small piece of rice paper in the marinade for a few seconds.  Just get it coated with the mixture, don't let it soak and become soft.

Sprinkle the marinated tofu crumbles over the oiled cookie sheet.

Lay another rice paper strip on top of the first and dip it in the marinade. Initially, the rice paper won't adhere to the bottom layer. The tofu inside will seal and fuse if you cook them together.

Using the same process, continue to add bacon strips to the sheet until the sheet is covered with them, but they do not touch.
Bacon Must Be Cooked
At 400 degrees F, bake the cookie sheet for 7 minutes.

Once the pieces are out of the oven, flip them over and bake again for about seven more minutes until the edges curl up and it becomes crispy.
There you go! A step-by-step guide for making vegan bacon. Have a go!
When cooking vegan bacon, what kind of oil should I use?
The bacon did not burn, but every time I cooked it with refined coconut oil, it had a slightly burnt taste even though the bacon was not burned.  You would need to use a high smoke point oil since you cook the bacon at a high temperature. If you're looking for a high-quality oil, choose one with a smoke point above 400 degrees.