Did you know that Indian food has been
the UK's favourite choice during lockdown?
In fact, orders of Indian takeaway have quadrupled during quarantine. And it's hardly surprising- our vision of Indian food is your Biryani, your Tandoor, your vindaloo with a bit of herby Naan on the side. It's creamy, intensely flavourful and comforting. And if this level of culinary delight is true for a takeaway-
it's a billion times more true for authentic and traditional Indian cuisine.
With the 2nd biggest population in the world and more people in its largest state, Uttar Pradesh, than the whole population of Brazil, the gargantuan size of India has led to a staggering diversity of cultures and cuisines. So while there are specific cooking trends that are evident throughout
all
of the country, dishes from Kerala versus Jaipur or Mumbai utilise spices, ingredients and cooking methods in innovative ways that make food from the region
totally special and unique
. Meaning Indian food as a culinary experience has so much to explore. The fact people have brought this cuisine in an authentic form over to the UK, establishing restaurants and food shacks for everyone to enjoy is something that should be embraced. If you're London based, in Fulham in particular, you're in luck- because the streets are full of fantastic Indian restaurants and food outlets that give you the opportunity to savour this cuisine in both traditional and contemporary forms.
Here are eight Indian restaurants in Fulham which might take your fancy.
Image Credit: Tripadvisor
Chai Thali
Voted by Resident magazine the best street Indian food restaurant in London in 2017, everything from their menu to their website looks
beautiful and inviting
. The Chai Thali team has scoured, from the seafront in Southern Kerala to the modern metropolis of Mumbai to the historic streets of Old Delhi to find the finest street food India has to offer. They then
reimagine this street food with a contemporary twist
, shining the spotlight on traditional aromatic recipes and spices through modern culinary forms. With a range of
Chaat Keri
and
Tandoor SE
(small plate options) along with traditional
Biryani
and
korma
, the menu is packed full of sensational meat and vegetarian options, all with sides of rice and bread. Particularly recommended by reviewers are the
Goa Jhenga Masala
filled with tasty prawns and an indulgent coconut gravy inspired directly by local Goa cuisine, and the
Kerala spicy fish curries
. Chai Thali's desserts also display this contemporary twist the restaurant notes as one of its major selling points. The
Gajar Halwa
with soft grated carrots slow cooked in milk with ice cream and pistachios has gotten rave reviews. And the heavenly sounding
white chocolate samosas
are already making me hungry. They even offer both alcoholic and non-alcoholic cocktails (aptly labelled as sin-free which made me chuckle) in an impressive variety of fruity, aniseedy and mellow flavours. Overall, Thai Chali is a
restaurant that deserves the fanfare
. If you love Indian food (especially street food) Chai Thali is a Fulham offering I would definitely recommend.
Image Credit: Indian Moment Official Website
Indian Moment
Opened in 2003, Indian moment
earned the Diner's choice award for three consecutive years
from 2017 to 2019 and has branches in Fulham, Battersea, Clapham, Tooting and Wandsworth. Indian moment states they follow a strict philosophy of traditional methods, healthy cooking and chronological working order with
a vision to highlight the heights of flavour and sophistication authentic Indian cooking can reach.
To do this they ensure they only use fresh farm produce and ingredients and inject flavour into their dishes through the use of herbs and spices- rather than butter and cream. Their menu is
expansive
, boasting meat, vegetarian, vegan and gluten-free options from Lamb chops and Tandoori chicken to vegetable curries, alongside options for online delivery and order. They also offer traditional Indian sweets including
Rasgulla
, the West Bengal treat of dumplings of cottage cheese and semolina dough cooked in sugar syrup and
Kaju Katli
, a sweet filled with cashew nuts and sugar popular for festivals. With its accolades and expansive menu,
don't for a 'moment' miss out on a delicious night out in Fulham at Indian moment.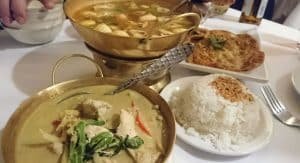 Image Credit: Tripadvisor
Masala Zone
Their first restaurant opened in Soho in 2001, and since then Masala Zone has amassed an empire with restaurants in Fulham, Camden Town, Islington, Earl's Court and Bayswater. Masala Zone has a specific focus on
highlighting and perfecting the regional dishes of India.
How have they managed to do this? Well by making sure every one of their chefs
originates from different regions of India.
Meaning the chefs have firsthand knowledge and experience of the regional cuisine and bring the nostalgia and appreciation of their home cooking to every dish prepared. Masala zone offers a range of dishes all at an affordable price, which can suit any mood, palette or dietary requirement with vegan, vegetarian and gluten-free options. Particular highlights are the
chicken samosas
with curried chickpeas and its vegetarian equivalent- the
Delhi samosa chaat
. Important to note, the design of the Masala Zone restaurants is something
visitors often praise.
Rather than fitting the traditional high street curry house template, they have gone for something more visually dynamic and contemporary- full of eclectic Indian folk art and sleek design shapes. Masala is a term used throughout the South Asian continent, mainly in India, Pakistan, Nepal and Bangladesh to
refer to blends of spice traditional in the region.
And with Masala Zone, it signals their embrace of traditional regional Indian spices and flavours and highlighting how
if you want authentic Indian food in Fulham, they are not one to be missed.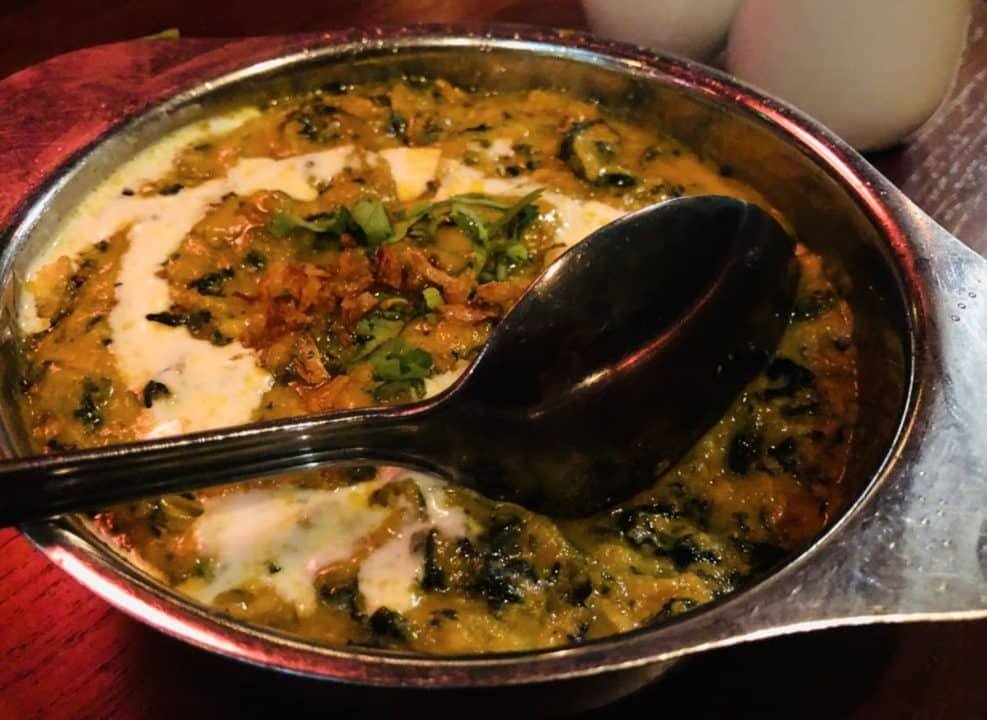 Image Credit: Tripadvisor
Lily Tandoori
Located on Lilly Road in Fulham, Lily Tandoori is another stand out Indian restaurant that is particularly notable for its
insanely diverse and customisable range of curries.
From
Vindaloo
to
Damask
to
Bhuna
to
Madras
curries there is an option for both that person in your life who salivates for spice and that person who gets a lemon and herb at Nando's. They also offer online delivery and takeaway options too, if you prefer to enjoy in the comfort of your own home. Guaranteed to get you full in Fulham, the Lily Tandoori is a
traditional Indian culinary gem that offers filling meals with shocking flavour- not price.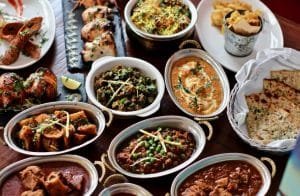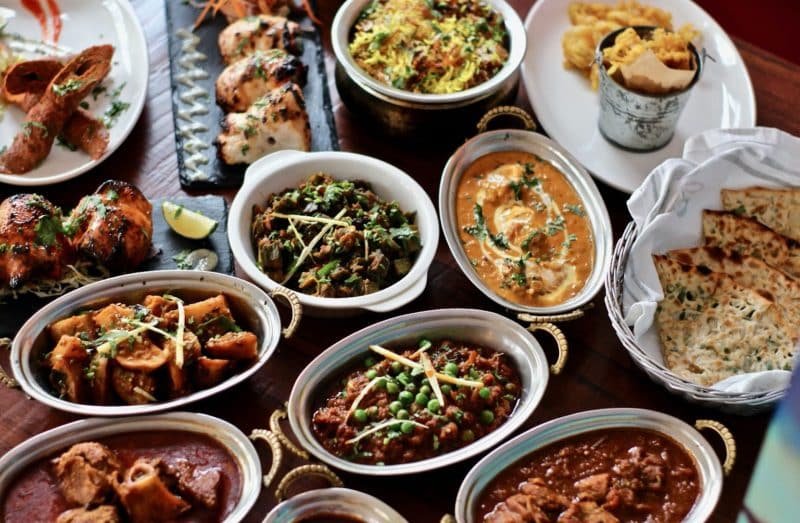 Image Credit: Official Kashmir Restaurant Website
Kashmir Restaurant
Kashmir is often called
the Queen of North India
, due to its stunning natural surroundings, filled with pine trees, glittering streams and endless valleys that span for miles. It's also called the Queen of North India- due to its
'fit for royalty'
cuisine. The Kashmiri valley has even been historically cited as having a rich aroma of saffron, due to its use amongst the Kashmiri cuisines of provinces Gushtaba, Dum Aloo, Kabargah and Choq Wangun alongside other flavourful spices. The head chef of Kashmir Restaurant,
Chef Razdan, as a native of Kashmir
brings all this experience of the local cuisine and his culinary talent to creating a truly delicious restaurant experience. With 25 years of experience, he established Kashmir restaurants in India, Singapore and finally London. With a truly expansive and sophisticated menu full of meat, vegetarian and vegan options
all originating from Kashmir
, if you want a specific and special experience of Indian food in Fulham, this may just be the restaurant for you.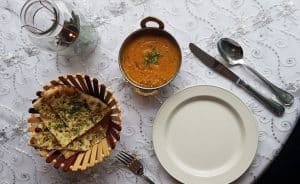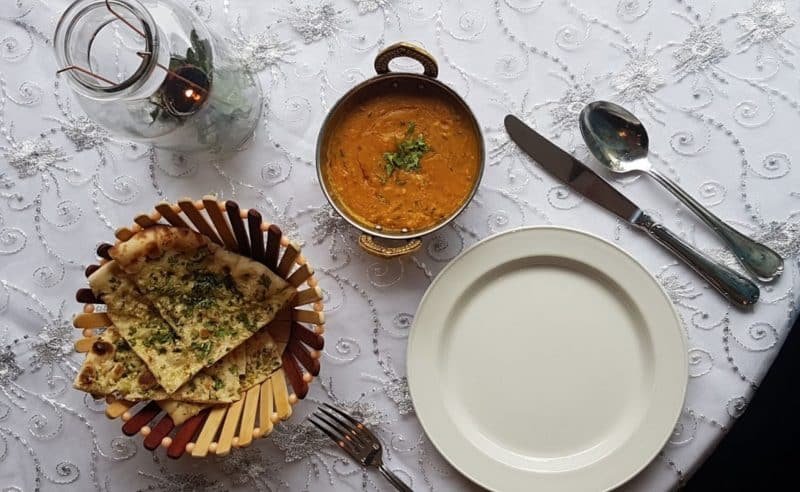 Image Credit: Official Nayaab Restaurant Website
Nayaab Indian Restaurant
Nayaab Tandoori restaurant
has been a local Fulham favourite since 1981
and has always been filled with loyal and dedicated customers. This is because it was one of the first UK Indian restaurants to celebrate Indian dishes as high-quality gourmet options, paving the way for the chic tandoori restaurants which line the high streets today. Everything they cook is
organic, free-range and is low in fat and artificial colours
. Nayaab works hard to specifically ensure all their herbs and spices are not only fresh but taken from prime spots throughout the world. Their kitchen is dynamic and creative, full of traditional curries, Tandoori options and vegetarian dishes alongside sophisticated reinterpretations of regional Indian classics. Combining modern white walls and neat, unfussy furniture with touches of Asian craft, Nayaab is contemporary and comfortable with a personality all of its own. Head down to New Kings room in Fulham today to get an experience of Nayaab, an experience of Indian cuisine that has been
popular and beloved by locals since 1981.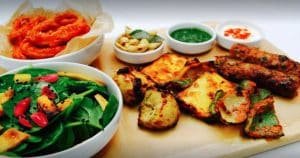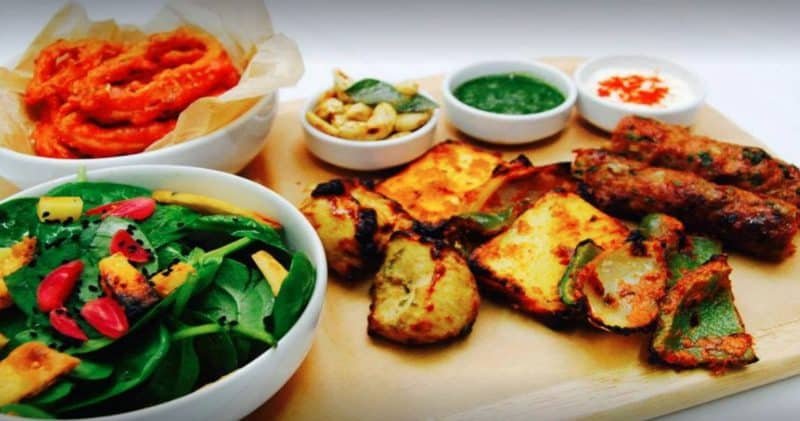 Image Credit: Pure Indian Cooking Facebook Page
Pure Indian Cooking
Pure Indian cooking is a family-run Indian restaurant that started in 2015 which is
often called by its clientele a "West End Restaurant in Fulham".
Run by the wife and husband duo of Shilpa Dandekar and Faheem Vanoo, both of whom started their careers with the famed Taj group in India, Pure Indian Cooking boasts a range of extremely authentic and creative Indian dishes and is consistently
rated 4.5/5 stars on TripAdvisor.
The restaurant is renowned for its
fantastic food and hospitality
, perhaps down to the harmonious partnership between the owners, as head chef Shilpa runs the kitchen and Faheem manages the front of the house. With vegetarian, vegan and gluten free options, Pure Indian cooking has something for everyone and is our final fulham favourite on this list. If you want to experiment with new ways of enjoying food, don't just enjoy Indian cuisine- here at Plant Sumo we offer a
cheap, healthy and delicious experience of plant-based food
, delivered directly to your door. Head over to the main page of our website to sign up for your subscription today:
https://plantsumo.com