Hammersmith and its surrounds are like vegan heaven.
It's no wonder that 'Eden' features in the name of one of the restaurants on our list.
If you're looking for vegetarian or vegan food options for your next outing (or takeaway!), we'd strongly suggest that you start with one of our favourites.
And guess what – you don't even have to ask us what they are. We've come up with a list of our 10 favourite vegan restaurants in Hammersmith.
Get your creative juices flowing, and your mouths watering – check out our list, below.
Photo Credit: The Gate Hammersmith
This other product might be of interest to you:
The Gate
The Gate group have got locations all over London. So you're never too far away from one.
They are self-proclaimed 'plant-based pioneers' at The Gate, and we'd be inclined to agree. The Hammersmith branch itself is bright and airy with a lovely courtyard. However, you might not be seeing that for the next few weeks!
Luckily for you, it's the food that you'll want to be visiting for.
The Gate is still running a takeaway menu Mon-Fri 5-9 pm (noon-9 pm, Sat-Sun). And boy are we glad to see some of our favourites on there.
After Miso-glazed aubergine for starters, why not move onto their Green Dragon salad? Do you like glazed smoked tofu with a teriyaki dressing on a salad just bursting with life? We do!
The Gate also does a great range of plant-based staples like burgers and pizzas. Plus, they've got heart-warming puds for the Winter season.
Head on down to 51 Queen Caroline St, Hammersmith to pick up your meal.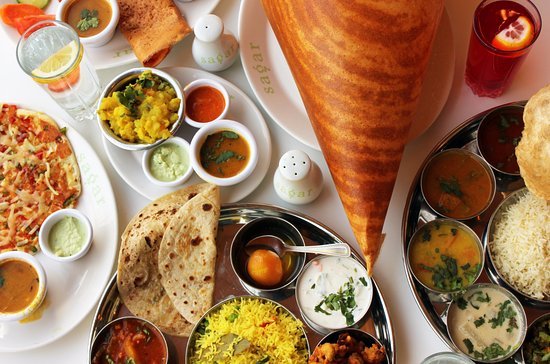 Photo Credit: Time Out
If you're looking for something similar, you might be interested in this other product:
Sagar
We're going to throw it out there – the best Indian dishes are vegetarian (if not vegan!).
Now, some of your friends who only eat chicken korma will probably be giving you looks. You, on the other hand, might be nodding in agreement.
Whether you agree or not, Sagar is cooking up some stonking South Indian cuisine!
With a group of chefs from Udupi (a small town near Bangalore), Sagar shares the story and cuisine of South India. And boy do they do it justice.
You have to try their ridiculously large Masala dosa there, trust us. Additionally, Sagar has a cosy diner feel and friendly staff.
They've got an extensive menu with all the classics like Saag Aloo and Aloo Gobi. But they've also got delicious dishes that we'd never even tried before. Check out their Idli Vada – a sort of lentil doughnut served with coconut chutney and sambar.
Last we checked, they're even running a 20% off deal if you collect your takeaway!
It's all systems go down to Sagar at 157 King St, Hammersmith.
Photo Credit: 222 Vegan/Facebook
222 Vegan
'222 is London's favourite vegan restaurant' reads their website. We'll just leave that there!
222's chef Ben Asamani is well-known in the vegan scene in London – and for a good reason.
At 222, food is low-fat, low-salt, non-GM and organic where possible. They also claim not to deep-fry or microwave!
So if you're looking for some awesome food that isn't going to contribute to 'lockdown bod', you need to check out 222.
Plus, they've got dishes we've been dying to see vegan versions of – like Seitan Stroganoff.
Top it all off with one their healthy, freshly-made juices, smoothies, or milkshakes.
So mosey on down to 222 North End Rd, West Kensington to pick up your meal.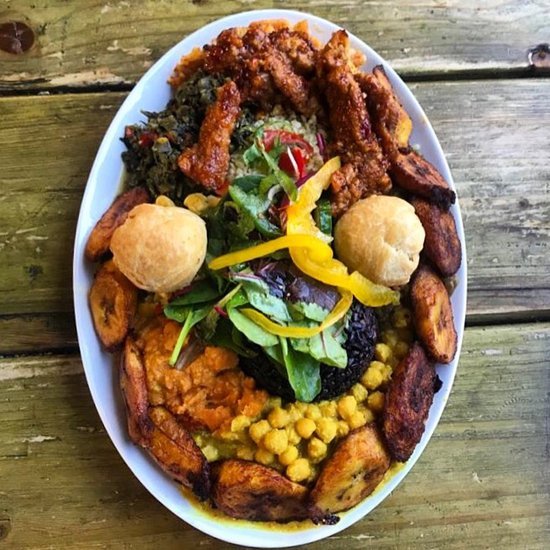 Photo Credit: Tripadvisor
If you're looking for an alternative product, something that might better suit your needs, you should check this out:
This other product might be of interest to you:
Dirty Vegan
We can't describe just how much we love messy, mouth-watering Dirty Vegan delights.
Get yourself into Westfield and get two hands around one of their plant-based burgers. Or even a whimsically named 'not burger' (a vegan hotdog).
We were punching the air when we saw crispy fried cauliflower popcorn on the menu. It was like all our fast-food prayers had been answered as a vegan.
There are lovely, loaded dirty fries and 'chick'n'nuggets. When and not if you go, make sure to wash it all down with a signature shake made with DÁPPA almond and cashew soft serve.
Run, don't walk down to The Balcony, Westfield, Shepherd's Bush.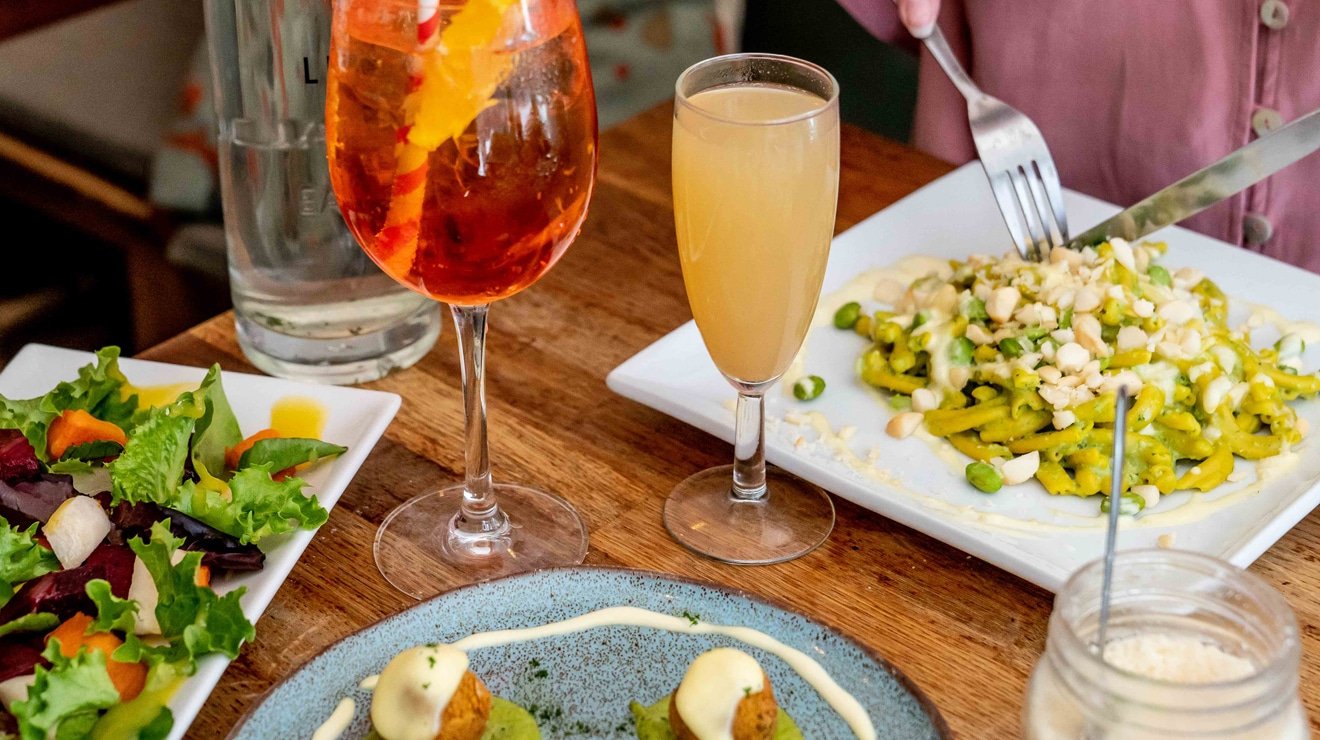 Photo Credit: Time Out
LEGGERO
Ok, so you might have to 'cross the road' out of Hammersmith to get there, but it'll be well worth it!
In their 'pop-up pub,' Leggero are putting their gluten-free flour to use to make all your Italian favourites. We're talking freshly-baked bread and handmade pasta in an alfresco dining setting.
How incredible the idea of gluten-free arancini and gluten-free puff pastry for croissants? If you're not amazed yet, head on down to The Brompton and check it all out for yourselves.
We know we will be.
Check out Leggero at 102 Old Brompton Rd, South Kensington.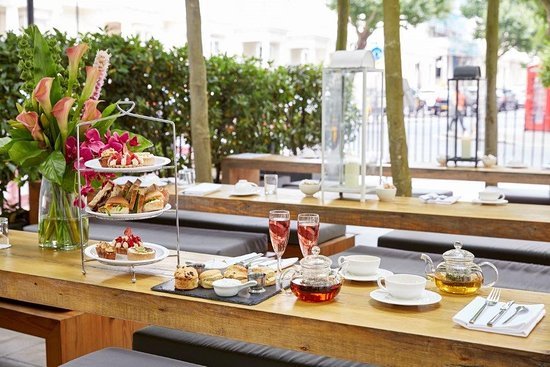 Photo Credit: Tripadvisor
You might be interested in our other product:
Café Forty One
Where can you get killer plant-based food around Hammersmith?
You'd be forgiven for not answering 'La Suite West Hotel'. But that'd be a pretty good answer if you did get it.
Café Forty One at La Suite offers up a mix of British, Italian, and Japanese-inspired cuisine. They put a unique twist on classics in a restaurant that is for more than vegans alone.
Their menus are seasonal, using fresh and sustainable ingredients. Plus, they serve breakfast, brunch, and afternoon tea. They even do takeaway!
When we can, though, we'll be back to dine-in and sit outside on their lovely terrace over some vegan brunch.
Saunter down to 41-51 Inverness Terrace, Bayswater for Café Forty One.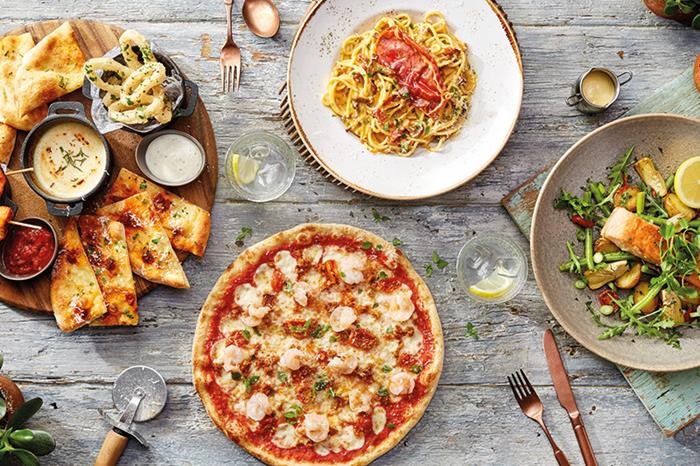 Photo Credit: Bookatable
Zizzi
Ok, so we might not be setting the world alight by putting 'Zizzi' as a vegetarian and vegan-friendly spot. Still, it's on this list for a reason.
Sometimes you want somewhere that you know can deliver time and time again. And time again – ok, so we've been there a few times!
It's great that you can just pop into Zizzi's Westfield and know that you've got an extensive menu to choose from.
Even with takeaway-only, you can still get that vegan Rustica pizza with the pepperoni jackfruit.
Phone ahead to Zizzi, Westfield White City.
Photo Credit: Tripadvisor
The Caketail Club
No, it's not a spelling mistake. Nor is it a cake-shop really. However, the name does come from a family-run cake business.
But The Caketail Club is something different entirely!
With cakes inspired by cocktails and cocktails inspired by cakes, how could you say no?
Tuck into Caribbean, Latin and American soul food. All enjoyed in the speakeasy lounge settings of Caketail.
Personally, we get drawn back to the American section of the menu everything. I mean, how can you argue with a jackfruit Philly Cheese Steak?
How can you stay mad when there are vegan 'Chikn' and waffles on the menu?
Why not finish it all off with a vegan chocolate and passion fruit cake? We think we've died and gone to vegan heaven.
Get down to 268 King St, Hammersmith to keep it cool at The Caketail Club.
Photo Credit: Flat Three Restaurant
Flat Three
Ok, we think we've collected ourselves from thinking about all the delicious food we've mentioned. So let's end on a high note.
That note? Japanese and Korean-inspired cuisine with loads of options for vegans.
It's always a treat to find a vegan fine-dining restaurant, and there's certainly still a niche to be filled in London. Flat Three are certainly doing their best to occupy it.
The menu changes seasonally as per chef Pavel Kanja's fancies. Also, the vibe and experience are swanky but not pretentious.
Personally, we love their abalone mushroom with preserved sansho and kombu.
Check them out at 120-122, Holland Park Ave.
Wow, so there you have it – 10 of our favourite vegan and vegetarian-friendly restaurants in Hammersmith.
We can't even believe the number of cuisines there are. There's 'Dirty Vegan' American classics all the way to soulful vegan dining at Eat of Eden.
We've checked out everything from cakes and cocktails to dosa and callaloo. Sadly, it might be a while before we can get back to having vegan food 'in the flesh' (pardon the pun).
Even if it is takeaway season for the near future, there's no need to fret.
Over at Plant Sumo, you can get sustainable, nutritious, and delicious meals. All delivered straight to your door! We'll take care of the menu, and the legwork.
So why not head over to Plant Sumo today to sign up for your first subscription box?
FAQS