'The Royal Borough of Kensington and Chelsea'. It sure does have a nice ring to it, doesn't it?
What we love about one of Central West London's fanciest areas, though, is the food.
You can find loads of fantastic vegan and vegetarian restaurants in Kensington. Now, maybe you didn't know that. Or perhaps you've heard rumours, but still don't know where they are.
Well, fear not, we have our list of our favourite organic, plant-based, and healthy options around Kensington.
And guess what? We've put together a list of our top 10 favourite vegan and vegetarian restaurants in Kensington just for you!
Get reading, after the jump.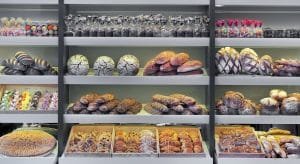 Photo Credit: Time Out
Maroush Bakehouse
All around Kensington and Chelsea you can find some world-class Lebanese food.
One of our all-time favourites for vegan and vegetarian food in Kensington, though, is Maroush.
Maroush first opened their doors in 1981 on Edgeware road, and they now have sixteen establishments.
The thing is, they're more than just a chain. They've got a formal dining spot and even a juice bar!
Our favourite location, however, is their latest bakehouse. There, Maroush serves up freshly baked artisan bread.
On top of that, they've got a vast selection of traditional Lebanese sweets and cakes. What better to pair all of that with than a cup of Kawah (Lebanese coffee)?
If you're looking for somewhere vibrant and friendly, think Maroush. If you want a smiling face and generous portions, think Maroush.
Start by grabbing a Sabanekh'B Fatayer? That's a vegan Lebanese pastry filled with spinach, onions, and sumac. It's delicious!!
Maroush Bakehouse is at 131 Earls Ct Rd, Earl's Court.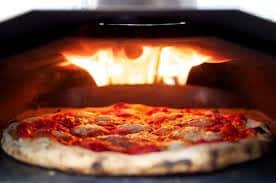 Photo Credit: Adora/Facebook
Adora Pizza
If you 'Adora' pizza, then you need to check out this restaurant in Kensington.
At Adora, the traditional meets the urban in this Neapolitan pizzeria. What we love most is that they've got a great range of vegan options.
There are also gluten-free and Halal options!
Adora uses lovely fresh and organic ingredients which elevate simple, well-executed classics like focaccia.
We love the vegan-option of their 'Artichoka' pizza, and we think you will too.
Grab a slice at 62 Kensington High St, Kensington.
Photo Credit: Dishoom
Dishoom
As soon as you step into Dishoom, you're hit with just how unavoidably cool it is.
But it was the heat, not the cool, back in 1940s Bombay that inspired the vibe of Dishoom.
Inspired by former café-come-club the Bombay Roxy, Dishroom exudes Art Deco cool.
There are brightly coloured booths and a checkered floor, and they even hosted an immersive theatre and jazz night!
What you'll be pleased to hear is that the food is also amazing.
There's a full-day menu and a separate one for vegans. We think that chai made with oat milk and a vegan 'sausage' naan roll sounds like a good start to any day.
Then move on to smoky-grilled 'gunpowder' potatoes with aromatic seeds and herbs. And why not finish up with a Kala Khatta ice?
That's a traditional dessert of ice flakes topped with syrup and fruit.
Check out Dishoom at 4 Derry St, Kensington.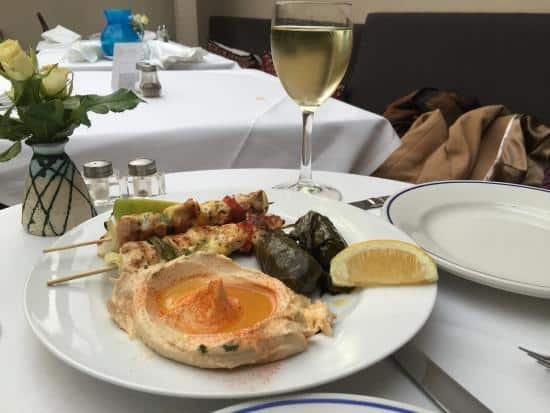 Photo Credit: Tripadvisor
Jakobs
If there's one thing that we associate Jakobs with, it's colour!
With culinary delights from Persia, Armenia, and the Mediterranean, everything is bright.
Jakobs also do catering and even have live music some nights – so keep up to date with their socials.
Head down for dinner for a sit-down a la carte menu, or lunch and a more relaxed atmosphere. Pick from their deli-counter that offers a selection of wraps, salads, and sides.
Plus, Jakobs have an excellent reputation for organic produce. They even have an allotment where they grow Armenian and Italian herbs.
Most of their drinks list is even organic!
Pop into Jakobs at 20 Gloucester Rd, South Kensington.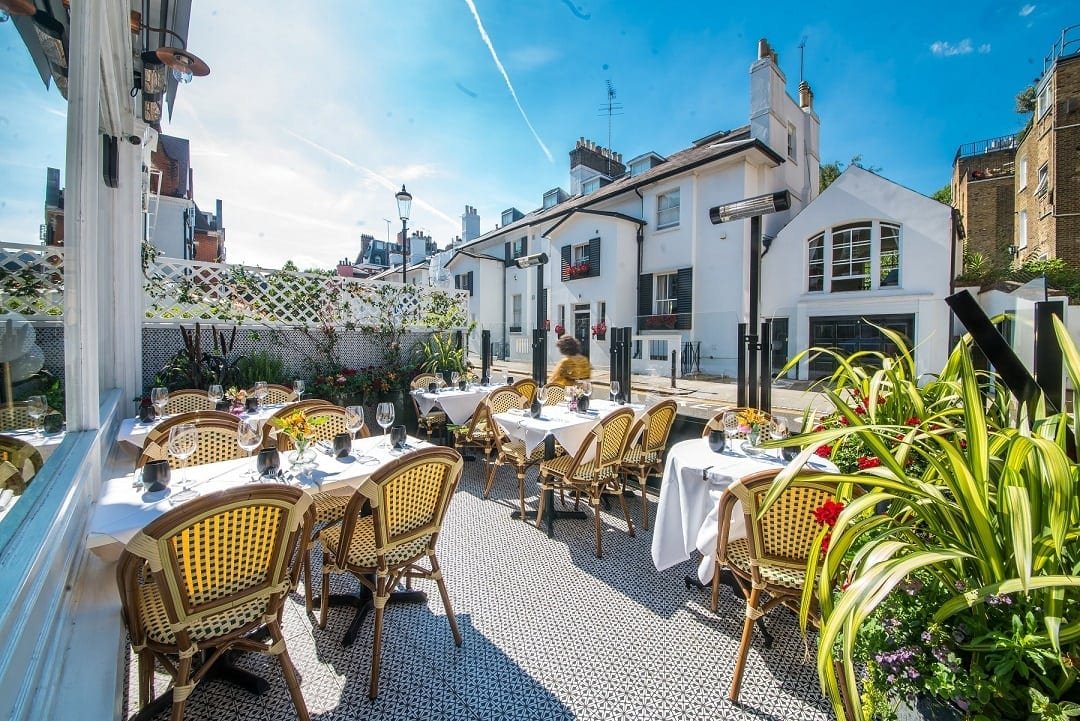 Photo Credit: The London Economic
Chakra
On the cobblestones in a cute little back lane of Kensington sits Chakra.
If you can, and weather permitting, make sure to sit outside on their lovely open-air patio.
If you're a vegetarian, does burrata dusted with Indian spices intrigue you? It sure piqued our interest.
At Chakra's, the menu celebrates North Indian cuisine with Punjab influences. Dishes feature contemporary twists and use fresh, seasonal ingredients.
They've got a vegan menu too and if you want to know where to start – we suggest their Tandoori soya kebab!
They've also set up 'Chakra to Go' with Deliveroo to keep you fed during the lockdown.
Chakra can be found at 33C Holland St, Kensington.
Photo Credit: Happy Cow
Havan
If you're looking to stop for a drink in Kensington and feel good about yourself, look no further than Havan.
Havan is a cosy matcha bar where you can sip away surrounded with products that are 100% vegan, cruelty-free and ethically made.
They also do sweet and savoury nibbles like matcha cake and 'shroom' dogs. Yummy.
It's heaven at Havan – 262 High St, Kensington.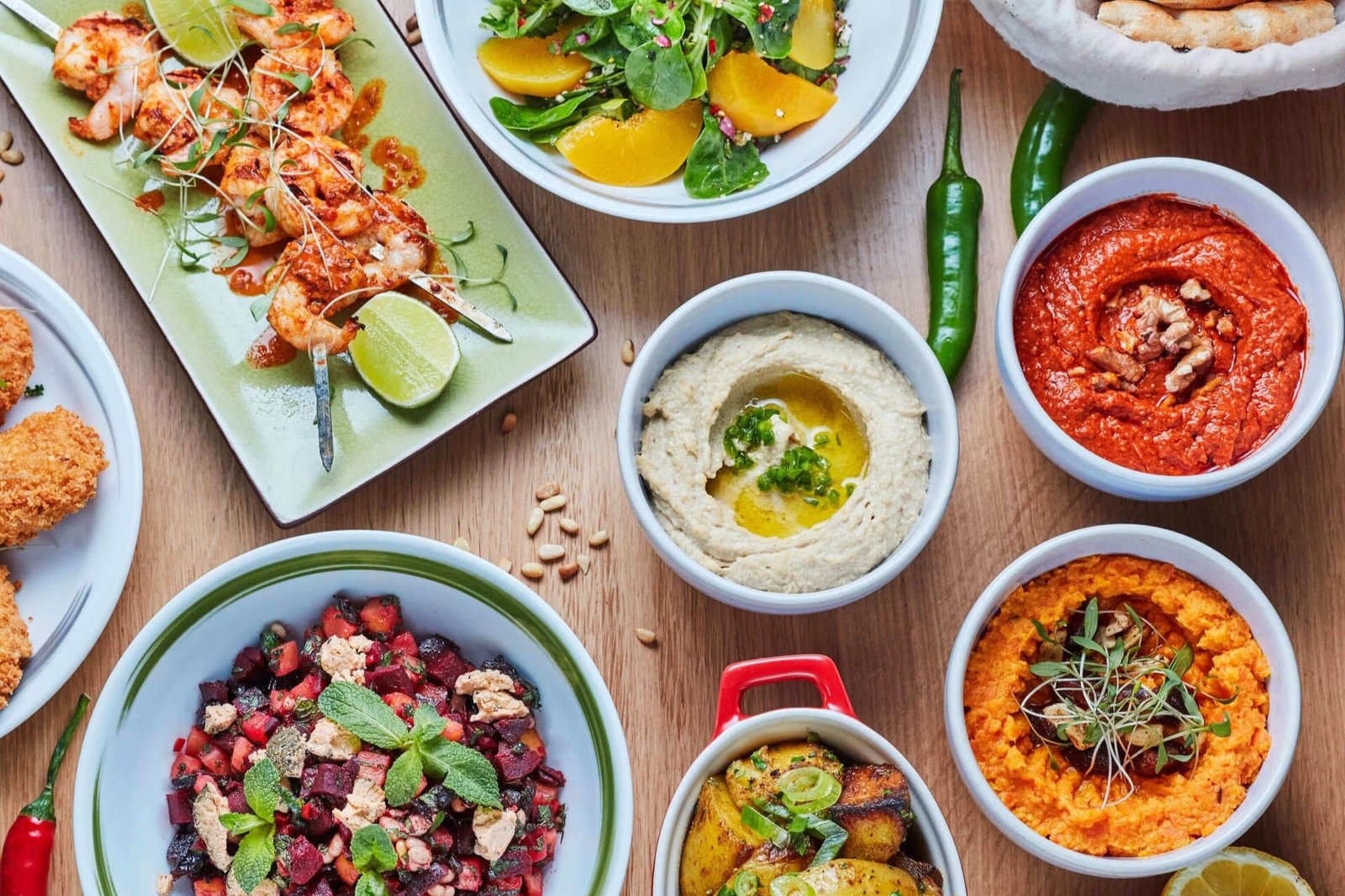 Photo Credit: Ceru
Ceru
Ceru is a Levantine eatery with more than enough on the menu for vegans and vegetarian alike.
Plus, almost everything on the menu is also gluten-free!
There are loads of dips and salads on offer, and we highly recommend their sticky aubergines. At Ceru, aubergines are glazed with date syrup and tamari dressing for a delicious smoky flavour.
Or (for veggies), why not try their beetroot salad with shanklish (a crumbly Levantine cheese)?
Either way, head to Ceru at 7-9 Bute St, South Kensington.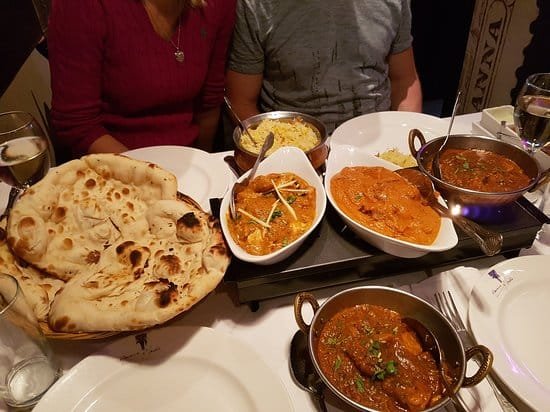 Photo Credit: Tripadvisor
Memories Of India
Memories of India has been picking up certificates and awards over the past few years.
It's no surprise, either, if you've ever eaten here before. The menu is fantastic Indian fare full of mouth-watering flavours.
From tandoori grills to traditional thalis, you'll definitely find something to tickle your taste buds.
If you're looking for a new favourite check out their vegetarian Hara Bhara Kebab. In this dish, mildly spiced vegetable cutlets are served with green bananas and split peas.
They're also doing 20% off collection takeaway during the lockdown.
Get your own memory of India at 18 Gloucester Rd, South Kensington.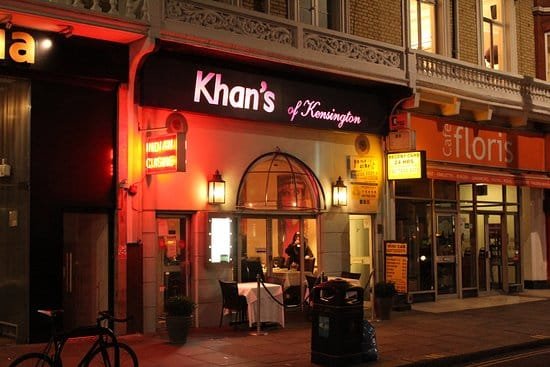 Photo Credit: Tripadvisor
Khan's Of Kensington
Welcoming guests since 1988, Khan's has long been a Kensington favourite.
It's a popular but casual dining space and the perfect place to enjoy tandoori grills, curries, and biryanis.
They even do a vegetarian set menu for one. With this option, you'll get Punjabi Somosa and Baby Baingan Massala. Then Saag, Pilau rice, Raitha and Naan bread! All for a reasonable price.
Plus, get 15% off takeaway at Khan's – 3 Harrington Rd, South Kensington.
Photo Credit: Flora Indica
Flora Indica
Flora Indica, would you believe it, pays homage to Scottish botanists who travelled through India. Are you intrigued yet?
In an 1855 book ('Flora Indica') they documented all the wonderful plants and flavours they found.
Nowadays, the menu features modern takes on Indian classics with top-quality ingredients. You can opt for sharing plates or a la carte.
And it's not just in the food that they put their botanicals to use.
They've even got their own beers and a healthy selection of gin pairings. Perfect to pair with some chilli-tossed cashews whilst at the bar!
As for main dishes, why not tuck into a Paneer kofta? At Flora Indica it's served up with Jerusalem artichoke and baby spinach.
For our vegans, we recommend their fantastic Achari broccoli. This is a dish that balances that charred flavour with the acidity of cherry tomatoes and cooling sour cream.
Experience Flora Indica for yourself at 242 Old Brompton Rd, Earl's Court.
The Round-Up
Well, there you have it – straight from the horse's mouth. These restaurants are aces when it comes to vegan and vegetarian restaurants in Kensington.
In the list of our top ten vegan and vegetarian eateries in Kensington, we've picked out places to grab a bite no matter what the time of day.
Start off with a refreshing cup of matcha at Havan before grabbing a sweet treat at Maroush Bakehouse.
If you're looking for a fresh take on Indian cuisine, check out Dishoom and Khan's.
From Levantine food to pizzas and Indian food, there's no end of tip-top vegan and vegetarian restaurants.
Photo Credit: Veg News
If that list has sparked your interest and got your mouth watering, then perhaps you want to get your plant-based fix.
Over at Plant Sumo, you can get sustainable, nutritious, and delicious meals. All delivered straight to your door! We'll take care of the menu, and the legwork.
So why not head over to Plant Sumo today to sign up for your first subscription box?
FAQS