Why Vegan Foods are In Demand
With the rise in veganism, vegan food products are becoming more popular and sought. The number of people who eat meatless meals has doubled in the last decade. This trend is supported by consumers who cited concerns about animal welfare as the reason for their shift to veganism. People are now more conscious about the kind of food they eat and want to ensure that it doesn't contain animal products.
Advantages of Going Vegan
Going vegan has many benefits. It is suitable for the environment, animal rights, and the individual's health. It can also improve your mood and reduce your risk of developing certain diseases.
Some people are just not convinced that going vegan is the right decision. They think it will be too difficult to change their diet and lifestyle due to going vegan. But there are ways to make this transition easier for you and your family. Some of these ways include educating yourself on what going vegan means, focusing on positive aspects of being vegan, finding a support system that can help you stick with your new lifestyle, and planning by making sure you have everything you need before making this change.
Best Vegan Restaurants in Knightsbridge
Holy Carrot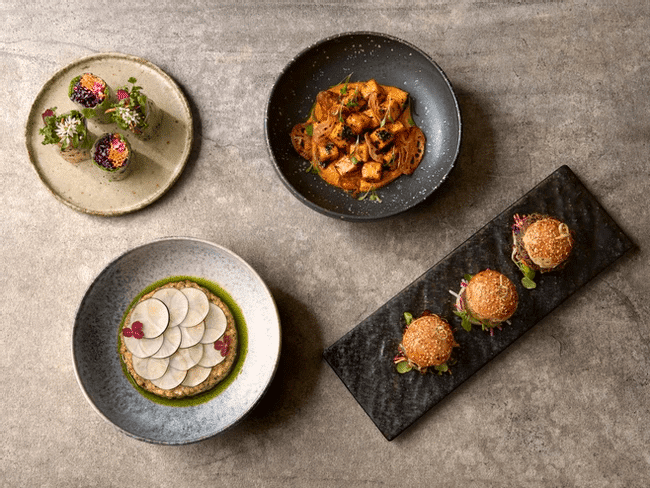 Address: 2-4 Hans Cres, London SW1X 0LH, United Kingdom
Phone: +44 20 3897 0404
Holy Carrot is located at Urban Retreat, Knightsbridge's leading beauty and wellness destination. Customers will have access to a year-round detox, which nourishes from the inside out, and the ultimate healthy yet fun food options as they enjoy their treatments. After getting your hair, and nails, or even taking a yoga class at Urban Retreat's resident restaurant, Holy Carrot, you can enjoy lunch in the retreat's restaurant.
The sexy tofu is a must-try. If you didn't know tofu could be so hot, Holy Carrot would show you how. You can have 'sexy tofu' with it: organic glazed tofu with aubergines, red peppers & peanuts.
The Chinoiserie – The Carlton Tower Jumeirah
Address: 1 Cadogan Place Ground Floor The Carlton Tower Jumeirah, London SW1X 9PY, United Kingdom
Phone: +44 20 7858 7185
The newly renovated Knightsbridge hotel's elegant lobby houses Chinoiserie, an all-day dining experience that offers a relaxing all-day dining experience. A luxury setting and delicious food make The Chinoiserie the perfect place whether you're looking for breakfast, afternoon tea, lunch or dinner.  
From a simple sandwich to luxury caviar, the all-day menu has delicious dishes for a quick lunch or a more formal dinner. Starters include carpaccio of tomato, Scottish smoked salmon, spicy prawns, and marinated mini burgers starting at £18.  
A selection of classics, including the Chinoiserie club and Wagyu beef burger, is available, along with some contemporary selections. In addition to truffle croque-monsieur on sour dough bread, wagyu sando is served on homemade brioche.
Afternoon Tea at The Capital Hotel
Address: 22, 24 Basil St, London SW3 1AT, United Kingdom
Phone: +44 20 7591 1200
The Capital Hotel's Sitting Room is the perfect place to enjoy afternoon tea on an intimate scale instead of a grand scale. The luxury townhouse hotel maintains lofty culinary standards even during teatime, making it a favourite destination for foodies. You'll occasionally find quirky themed teas, but the regular menu has something for everyone: smoked salmon sandwiches with crusts cut off, chicken salad with egg and crême, crab mayo sandwiches with mayo; warm home-baked scones with clotted cream and jam, and decadent cakes like a saffron egg-custard tart or gooey chocolate cake. With its price, tea in a top-tier London hotel is one of the most affordable.
Egerton House Hotel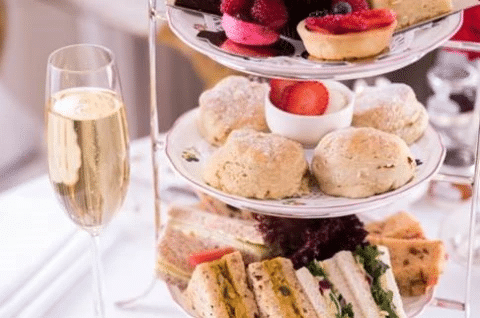 Address: 17-19 Egerton Terrace, London SW3 2BX, United Kingdom
Phone: +44 20 7589 2412
One of London's most famous luxury hotels, the Egerton House, is only a five-minute stroll away. The hotel occupies two grand old houses and maintains a human scale. Square Meal favourites include carrot cake and macaroons, but we wouldn't say no to the passion fruit cheesecake, served with clotted cream and jam in the drawing-room. Besides tea and coffee, there is unlimited Champagne, which makes the entire experience more enjoyable.
Restaurant Ours
Address: 264 Brompton Rd, South Kensington, London SW3 2AS, United Kingdom
Phone: +44 20 7100 2200
Ours Restaurant is an acclaimed Mediterranean restaurant located in the heart of Knightsbridge. Simple and elegant, with indoor trees and exposed brick walls, it creates an enchanting atmosphere that can only be seen a few steps away from the famous runway entrance. They have a menu-driven by seasonal, fresh ingredients, and the restaurant seeks to be as eco-friendly as possible!
Knightsbridge has become a hotspot for vegan eateries, which is excellent news for the increasingly health-conscious population. Many restaurants in this area offer vegan cuisine alongside their traditional dishes. What are you waiting for? Visit them!