It would be fair to say that the Chelsea area is somewhat bougie.
Eat out to help out is long gone but we're still looking for somewhere to eat out. Particularly, a great Asian restaurant in Chelsea. We want somewhere to get a tremendous pan-Asian or Asian-fusion meal – without breaking the bank (we'll try).
Do you recognise these restaurants but just haven't popped in yet? Or you might be new to town and looking for inspiration. Maybe you're just passing through and don't want to look like you're loitering in London's fanciest area. We'll look out for you.
We've come up with a list of nine sublime Asian restaurants in Chelsea. We'll be talking about OKA and Zheng, and the sad passing of Eight over Eight. Check it out after the jump!
Photo Credit: Secret London
Hunan
It's crazy to us that there are still people out there who don't know about Hunan!
But don't let the rather plain-looking interior fool you. This joint is anything but ordinary.
Hunan isn't your typical Chinese restaurant. Their biggest draw? There's no menu.
All you have to do is tell them what you like to eat and how spicy you like it. Then, you can relax as they do the rest.
Hunan serves up small tapas-style portions with an emphasis on sharing. They'll start you off with some nibbles while the plates get larger (and larger!). The name, however, is a bit a misnomer.
Hunan serves up something more akin to a Sichuanese style. Their food also has a distinct Taiwanese influence. Funnily enough, the restaurant is named after the home of the Chef's mentor.
Try sour, peppery Sichuan cucumber salad. Or fragrant 'soup dumplings', and a Hunanese dish of tender beef. If you've still got room, then you're in for a treat. Bring on the big guns – classic crispy Peking duck and hand-pulled noodles.
It's not the cheapest, but Hunan features a gorgeous old world wine list, and you can dine like an emperor.
Head down to 51 Pimlico Rd, SW1
Try their signature dish – a hearty broth of minced pork, Chinese mushroom and
Ginger – if you're lucky!

Photo Credit: The Resident
Zheng
Zheng is the first London restaurant from Chef Izlinda Baharom. Together with husband-and-manager Adam Abdullah, she has migrated from Oxford. Lucky for us, she brought the wonderful Zheng with her.
They specialise in a dreamy fusion of Malaysian-Chinese cuisine. Great food and a cosy atmosphere, what's not to like?
Zheng is located in the very heart of Chelsea and thrives with its 'mix and match' formula. Their self-proclaimed 'best of Asia' flavours are served up alongside great service and atmosphere.
Head on down to 4 Sydney Street, SW3
Try Malaysian street food staples like char kuey teow. We love these charred flat noodles with sausage and prawns.
Photo Credit: Patara
Patara
The Patara group now have restaurants from London to Austria. They even stretch back to Thailand, home of restauranteur Khun Patara Sila-On. Their chefs, too, are Thai-trained and serve up contemporary and traditional dishes.
We're inclined to agree that Patara might have the best Thai food in London. They nail classics like satay skewers and wok-fried water spinach. It's no wonder they've been going strong in London for thirty years!
Dishes are cleanly executed and nicely presented without skimping on portions!
Head on down to 181 Fulham Road, SW3
Try their Tom Yum. Their spicy, sour soup is like rocket fuel!

Photo Credit: Open Table
OKA
OKA is a cosy spot to enjoy modern, seasonal takes on traditional pan-Asian cuisines and sushi. It's a favourite for romantic dining around the King's Road area. Plus, the prices are reasonable!
We love the likes of the Mongolian rack of lamb with garlic-infused rice and kimchi. Or, pan-fried seabass with oyster soy. If you're feeling particularly adventurous, why not try their Marmite chicken?
Their stir-fried chicken is cooked in a Marmite and soy reduction and served with rice and pakchoi. The similarity between Marmite and soy is something we always knew would work! We were just too scared to try it ourselves.
Head on down to 251 King's Road, SW3
Try the Marmite chicken – seriously, you won't regret it!
Photo Credit: Tripadvisor
E&O
Having undergone a refurbishment just last year, E&O is back and better than ever. Standing where former Chelsea-favourite Eight over Eight used to be, they've got a lot to live up to.
You can still have that famous Eight over Eight DJ-and-dining experience on the weekends, though. E&O serves treats like little spare ribs with black bean sauce, and we love their chicken with pink onion paste.
It's still packed with the Chelsea set. Yet, E&O has created a great neighbourhood pan-Asian joint. It ticks all the boxes for decadent diners and is perfect for a cocktail after.
Head on down to 391 King's Road, SW3
Try the duck and watermelon salad – fresh, fatty, and fun!
Photo Credit: Dinings
Dinings
The inventively-named Dinings toes the line between Asian-fusion and pan-Asian cuisine. They perfectly blend high-quality traditional Japanese dishes with European ones.
The result is an irresistible mix of seasonal and fresh dishes. Their fish even comes fresh from Cornish fishermen! Think Japanese tapas with a European twist. Sounds good right?
Given this fusion in the menu, Dinings the restaurant has a fusion of atmospheres. It's Japanese 'izakaya' dining here, or what we might think of as a laid-back, pub-grub style. The food is far from ordinary, though.
Head on down to Lennox Gardens Mews, SW3
Try sitting at the bar as they serve up your Toro tuna tartar.
Photo Credit: inChelsea
Benihana
If you haven't been to a Benihana before, you're in for a treat. Step into an authentic Japanese farmhouse interior dotted with teppanyaki grills.
It's safe to say that you won't see the famous 'shrimp tail toss' in any other restaurant on this list. There is an extensive menu, however, and the chefs genuinely are masters at what they do.
Plus, you won't get fresher food anywhere – even if it only takes a few minutes from the kitchen! Have a bit of fun and enjoy a great meal with a buzzing atmosphere.
Head on down to 77 King's Road, SW3
Try the Hibachi chicken – an absolute must. Or, if you want to go a bit more upmarket, they offer wagyu pairings.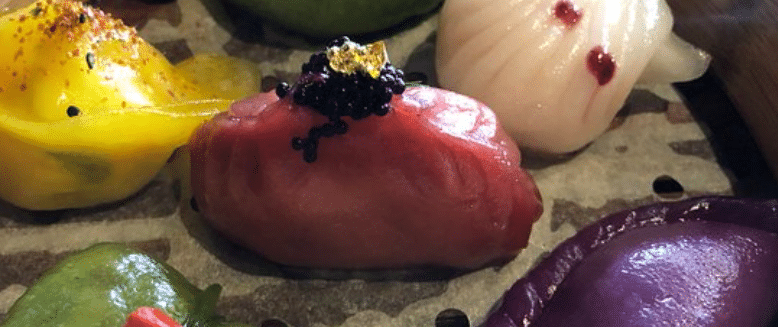 Photo Credit: Tripadvisor
Bo Lang
You'll find Bo Lang nestled in the ultra-chic part of Kensington and Chelsea. Don't be put off though, Bo Lang offers a seductive dining setting, and they even have live music.
The menu is eclectic, with a mix of Japanese and Chinese kitchen influences. Head chef and dim sum master Kai Wang has travelled all over the world creating modern and traditional dishes.
Inspired by old Shanghai and Kyoto, Bo Lang has a lavish interior. Plus, it's always changing with new antiques on display at Bo's bar.
Bo Lang's does dim sum and does it well.
Head on down to 100 Draycott Avenue, SW3
Try the signature dim sum platter, without a doubt.

Photo Credit: The Good Earth
The Good Earth
The Good Earth group has a reputation for solid consistency without being too fancy. What they do, they do well though. The Knightsbridge branch, on Brompton Road, does exceptionally well.
On the menu are old-school and regional favourites like honey-glazed ribs and Wonton soup. Although, there are also more adventurous pan-Asian dishes on offer. Satay skewers, mixed tempura, and beef fillet with wasabi are just a few that come to mind.
The interior is all jade, gilded sculptures, and ornate scrolls. You might spy smart-looking businessmen propped up the sushi-style counter. You might even see people popping in for takeaways.
Head on down to 233 Brompton Road, SW3
Try Yu Shang tofu mixed with chicken and shrimp.
London is full of fantastic restaurants, from Notting Hill to Shepherd's Bush. Chelsea in particular to a haven of sublime Asian restaurants and eateries. We've shown you just nine of our absolute favourites, and we hope you'll be off to check them out yourself.
Sometimes, though, it's hard to get a rundown of what ingredients go into Asian cooking. Plus, you're more than likely to find meat and fish on the menu.
If you can't find many plant-based options on our list, why not try an alternative? Over at Plant Sumo, you can get sustainable, nutritious, and delicious meals. All delivered straight to your door! We'll take care of the menu, and the legwork.
So why not head over to Plant Sumo today to sign up for your first subscription box?
FAQs
1. Do any Asian restaurants in Chelsea have halal options on their menu?
Here are Asian restaurants in Chelsea that offer halal options.
The Halal Guys

Thai Zaab Street Food

Wok's Cooking

Banana tree
2. What is the best Asian restaurant in Chelsea?
Asian food in Chelsea is a must-have experience! Some of the best restaurants are Chop-Shop, Abacky, and Very Fresh Noodles.