Africa is a truly massive continent, abundant with so many diverse and sophisticated cultures and cuisines.
From mouth-watering Morrocan style tabbouleh to Nigerian Jollof rice, it boasts flavourful dishes that will appeal to every palette.
And here in London, local people through their knowledge and expertise of traditional African cuisine have given you the opportunity to experience this incredible food.
Experience it even…right on your doorstep.
If you live in Shepherd's Bush, or anywhere on the central line, in fact, you're in luck.
Here are our picks of eight places you can get amazing and authentic African food in and around Shepherd's Bush.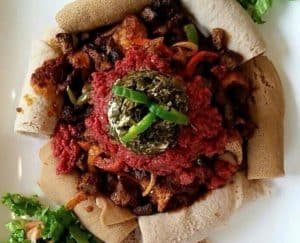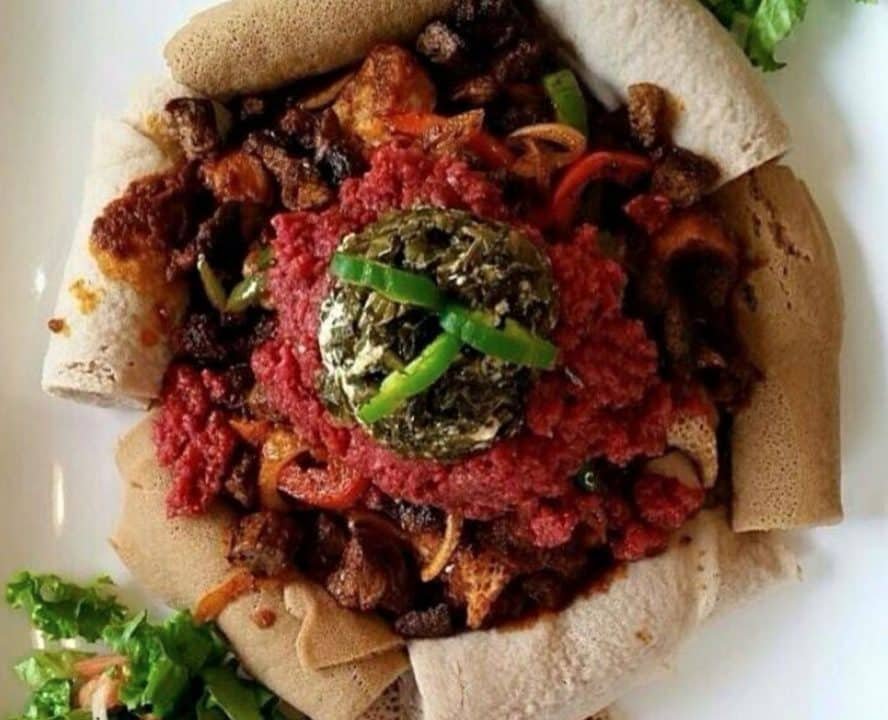 Image Credit: Hamer Restaurant Facebook Page
1. Hamer Restaurant
Hamer restaurant is an Ethiopian restaurant that celebrates the cuisine of the Hamar, an Omotic community of Southwestern Ethiopia.
As pastoralists their culture places a high value on cattle, meaning there is an emphasis on milk and cheese in the cuisine and lots of meat options such as beef, chicken, fish and lamb.
Hamer restaurant offers an authentic experience of Ethiopian food that doesn't scrimp on the servings and should be eaten traditionally, without utensils.
Highlights of the menu include special Kifto, finely chopped beef marinated with Ethiopian spices and butter which is then served with spinach and cottage cheese.
And Yebeg Alecha Fitefit, a mild spicy Lamb stew mixed with pieces of injera, a traditional Ethiopian spongy and sour flatbread.
A highly affordable and delicious option, if you want a true experience of Ethiopian cuisine in Shepherd's Bush, Head over to Hamer Restaurant at 92 Goldhawk Road.


Image Credit: Mosob Restaurant Facebook Page
Mosob is an Eritrean family-owned restaurant, full of food based on the homemade recipes of the owner's mother.
These hearty recipes, after being loved by family and friends have gone on to make Mosob a popular choice in the Shepherd's Bush area.
With Eritrea's historic links with Ethiopia, Sudan, Saudi Arabia and Italy, their cuisine is a fascinating and delectable mix of middle eastern, traditional West African and Mediterranean flavours.
While there is a definitive focus at Mosob on lamb, beef and poultry options, they also have a striking amount of vegetarian and vegan dishes, largely due to the dietary influence Coptic Christians have had on the country, with their periods of meat-free fasting.
A striking feature of Eritrean dishes is their prominent use of Berbere, a spice mixture of, ajwain, chillies, cloves, coriander and rue berries which turns dishes a shocking red hue.
But if you eat at Mosob, only the dishes will be red– it's very affordable and renowned for its friendly atmosphere.
Head down to 339 Harrow Road in Shepherd's Bush today to enjoy this authentic experience of Eritrean cuisine.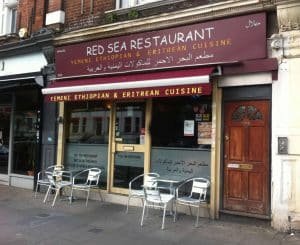 Image Credit: Tripadvisor
A mixture of North African and Yemeni cuisine, The Red Sea restaurant offers friendly service and fabulous food.
With a separate section for Abysinnian dishes, this restaurant focuses on specificity and tradition.
Incredibly affordable, it is only £10 for a Red Sea Platter– a mammoth plate of Injera, topped with seven different meat and vegetable mains, which also comes with further flavoured injera scrolls.
I've been there myself and can say without a doubt- it's filling and delicious stuff.
Located on 328 Uxbridge, The Red Sea restaurant is somewhere you're not going to want to miss in Shepherd's Bush if you want a hearty and delicious meal of Ethiopian cuisine.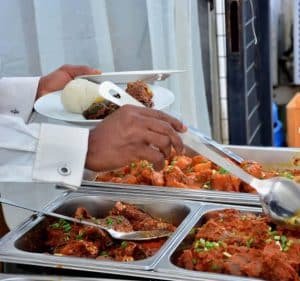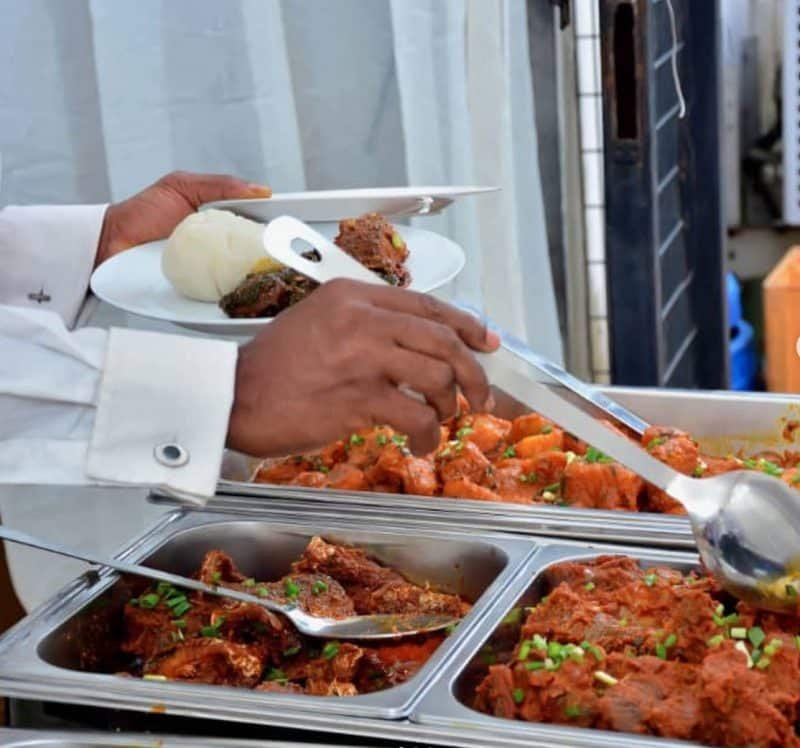 Image Credit: JollofPot.com
A global chain based in the US, Jollofpot specialises in catering and offering takeaway of gourmet African food.
With an incredible variety of meat and vegetarian dishes, all with traditional drinks, soups and sides, Jollof pot is a sensational experience of African cuisine you simply can't miss.
Their comfort food is especially appealing- In particular the African seafood gumbo, Dundun (spicy fried yam) and Akara (deep-fried beans fritters)
They also offer traditional 'swallows' which are carbohydrates cooked to a dense paste-like pounded Yam or Plantain Amala meant to be eaten with soup, like Fish pepper soup or Ogbono which is an Ogbono seed and wild mango soup.
Their UK stand is located near portobello road market, but you can get catering for parties, weddings and any social events from them anywhere as they deliver.
Image Credit: Adams Cafe Official Website
By day, Adams cafe is a Mediterranean influenced local cafe- but by night it transforms into a restaurant serving Tunisian and Moroccan cuisine.
A restaurant highly recommended by Howard Popeck, a reviewer at London-Eating, he mentions a true highlight of their menu is their tagines.
In particular their Tajine de Poisson ( tagine of monkfish, tomato, pepper, saffron potatoes, fresh herbs) and their Tajine de Poulet aux Abricots (A sweet tagine of chicken, potato, apricots, almonds, sultanas.)
Another beloved offering is their grilled fish and cheese including the Halloumi Grill (Skewers of halloumi, pepper, courgette served with couscous and sweet stewed butternut with sultanas) and the Espadon Grillé (Swordfish steak served with rice, salad & spinach).
To start your meal we recommend the Tunisian classic of 'Brik' a pastry, which at Adams cafe comes in two variants- Brik à l'Oeuf (A delicate, crispy fan of filo pastry encasing a soft egg and herbs) and Brik au Thon (Brik with a tuna, potato and egg filling).
Located on 77 Askew Road, Adams road is a classic spot of Shepherds Bush, boasting versatile and mouthwatering Moroccan and Tunisian options.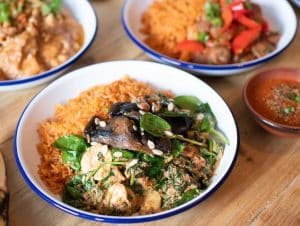 Image Credit: Spinach & Aguchi official website
Spinach and Agushi began as a small stall in a street food market in Hackney back in 2004. Now they boast one of the UK's most popular Ghanian supper clubs that elevates African food to, in their own words 'royal standards'.
Standards that are accessible to everyone: their central dish, Spinach Aguchi a hearty Ghanaian spinach stew with crushed melon seed and mushroom is vegan!
And for meat eaters there are many highlights, in particular, the groundnut stew with the halal chicken thigh in a rich creamy sauce is hailed by reviewers as a scrumptious offering.
From their tamale box to the Kumasi package to the Bolgatanga package all of which offer a mix of meat, vegetable and rice sides and stews for delivery, Spinach and Agushi are perfect for food delivery within Shepherd's Bush for any special occasion.
Image Credit: Zayane Official Website
7. Zayane
Zayane is a Moroccan restaurant located on 95 Golbourne road with European influences and modern culinary techniques.
The team uses a mixture of British seasonal ingredients, and spices imported from Morocco, to create a contemporary experience of Moroccan cuisine.
Akin to authentic Moroccan cafes and souks, Zayane also serves a selection of Moroccan teas, fresh juices and smoothies.
The menu is quite extensive for such a small place and consists of a large selection of mezze dishes which are all displayed at the counter, as well as delicious tagines.
So zip down to Zayane today for a magnificent Moroccan meal.
So…there you have it!
Eight amazing places to get African food in or around Shepherd's bush. Once you've tried these options out, you'll be opening to all new kinds of ways of experiencing food, maybe even open to plant-based food.
With Plant Sumo, it's not only delicious, nutritious and with zero prep, it's also delivered directly to your door.
Head to our main page today to sign up for your first subscription box: https://plantsumo.com
FAQS