Here's a fact for you. Notting Hill has the second-highest number of vegan restaurants in the capital! Bet you didn't know that did you?
Just walk down bustling Portobello Road and see for yourself. The whole area is packed with vegan, and vegan-friendly restaurants, cafés, and even bars!
Perhaps you want to find somewhere in your area that does the best buckwheat pancakes. Or maybe you're from West London and you haven't found that perfect spot for a top-notch acaï bowl yet.
There's so much choice, it's hard to know where to start. Whether you're on a plant-based diet, vegan by choice, or just looking to try something new, we're here to help.
We've listed out 7 favourite vegan eateries in Notting Hill. They're perfect for anything from a cup of coffee and breakfast to date night. So if you're local to the area, or looking for London's vegan mecca, read on!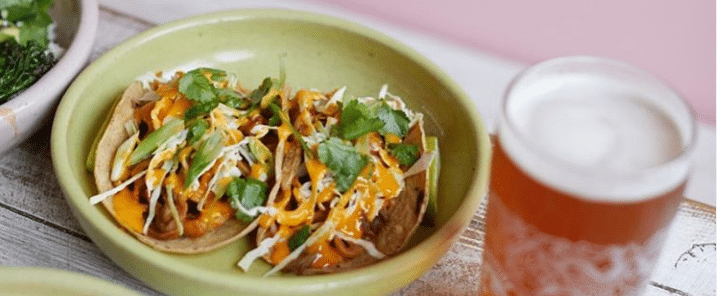 Photo Credit: farmgirlcafe/Instagram
Farm Girl
Farm Girl was founded by Aussie girl Rose Mann. They offer vegan Australian café culture, and most importantly, coffee! If you've ever had brunch in Melbourne, you might consider yourself a coffee snob – and for good reason.
Farm Girl is tucked just behind the idyllic St Peter's Church on Portobello road. Inside, they've got a relaxed atmosphere of coastal cool meets the countryside. They've partnered with The Roasting Party for their signature Rose latte.
They've got locations in Soho and Knightsbridge offering delivery and click and collect! We like to stop in for a tropical oat bowl with hibiscus syrup to start the day right.
Farm Girl has become a bit of a West London legend. They've got a dedicated fanbase, with almost 90k followers on Instagram! Get down there today to see how Aussie brunch has set the bar.
Our Favourite Food: Their BLT. We promise we're not cheating – it's made with coconut bacon!
Head Down To 59a Portobello Road for Farm Girl's all-day vegan menu.
Photo Credit: Time Out
If you're looking for something similar, you might be interested in this other product:
Farmacy
Farm Girl and Farmacy – are you seeing a theme here? Farmacy is open for breakfast, lunch, and dinner. Owner Camilla Fayed says her restaurant was inspired by vegan joints out in L.A.
Their menu is not only free from dairy, but also additives, refined sugars, and chemicals. Farmacy gets its produce delivered weekly from their biodynamic farm in Kent. They even serve alcohol with their range of clean cocktails!
You might still spot a few eggs at breakfast, as they offer vegetarian options, but there's plenty to choose from. Try sprouted buckwheat granola and house-made almond milk for breakfast. Or, try mushroom tacos or pad thai at dinner.
Farmacy serves up food for a holistic lifestyle. They believe that we are connected to everything we eat. Whether you believe in 'food as medicine' or not, their food is absolutely delicious.
Farmacy even serves a vegan high tea, and they do delivery on weekdays, until 7 pm!
Our Favourite Food: Loaded mushrooms tacos with charred corn salsa.
Head Down To 74 Westbourne Grove for your helping of holistic food.
Photo Credit: juicebabyuk/Instagram
Juicebaby
Juicebaby is all about encouraging you to make those little changes. Whether it's swapping that acidic coffee for a cold-brew, or soda for a juice, they've got you covered.
Juicebaby utilises a slow cold-press with a 3-ton hydraulic press. They have an absolute commitment to quality. You won't find any cheap and fast extraction methods here!
With cold-pressed juices on the go, you can maximise on all those nutrients on offer. They also do breakfast acaï bowls and bowl and sandwich selections for lunch. Why not try out their marinated buckwheat and courgetti soba noodles?
Our Favourite Food: The Green Glow – there's something about a cucumber and apple cold-press that you can't beat!
Head Down To 181 Westbourne Grove to grab something on the go if you are searching for some fresh vegan food Notting Hill.
Photo Credit: Redemption
Our team has put together a list of similar products that you might be interested in:
Redemption
Ok, so this one's technically a bar, but we'll let it slide. Redemption has 3 locations around London. They prove that vegan, alcohol and sugar-free living doesn't need to be boring.
Redemption has a daytime and evening menu. It's perfect if you just want a drink and some nibbles – like a wild blossom tonic and some kale crisps. Or, pop back in the evening for a rum(ish) cocktail and aubergine tahini!
Get lost in their selection of plant spirits and raw food options.
Our Favourite Food: The titular 'Redemption Burger'. Packed with shitake mushroom, hemp seeds, quinoa, and that kimchi slaw – to die for!
Head Down To 6, Chepstow Road for your Redemption fix in Notting Hill.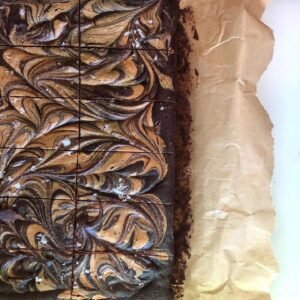 Photo Credit: Leafwild Cafe/Facebook
Leafwild Café
In the words of owner Anna Parifenko, Leafwild is:
'A concept: an organic, gluten-free café with a holistic approach based on mindfulness.'
Leafwild is our next stop in our virtual tour of vegan restaurants Notting Hill and should be your one-stop-shop for all-day vegan brunch. They have loads of acaï bowls and buckwheat pancake combos to choose from. Rated as having the best coffee in Notting Hill by Time Out, Leafwild is also pet-friendly!
Our Favourite Food: Their vegan 'salmon' on toast was inventive and delicious!
Head Down To 156 Ladbroke Grove to check out Leafwild Café.
Photo Credit: Jūsu Brothers
Did you know that we have another product that might be just what you're looking for?
Jūsu Brothers
Jūsu Brothers offer up a balanced diet of Japanese-inspired taste sensations. Whether you're dining out or just stopping for breakfast after your morning run, Jūsu is the place to be.
Jūsu is the latest venture of the London Village Kids – a collective making waves in the capital. Jūsu serves a variety of pan-Asian flavours and natural ingredients. It's a celebration of fantastic food and a healthy way of life.
Try their vegan and gluten-free Red Bowl. Made with acaï, blueberries, and almond butter topped with a delicious sprinkling of chia. It even has (you heard right) bee pollen!
Our Favourite Food: Their juices are not only tasty but they have wicked names! Try the Komorebi (when sunlight filters through the trees). A lovely blend of broccoli, spinach, lemon, avocado, and apple.
Head Down To 147 Westbourne Grove to dine at Jūsu Brothers.
Photo Credit: Nama
Nama
What would a vegan eatery list be without somewhere for dessert? Now that you've had the best vegan cuisine from breakfast to dinner, it's time to top it all off.
Nama does desserts as well as catering, courses, and cakes for all occasions. Triple 'c' – we like the sound of that.
This little gem is a favourite just off Westbourne Grove. They use fresh and seasonal produce from nearby Notting Hill farmer's market. Nama specialises in raw vegan food. They believe that food cooked above 115°F begins to lose its vital vitamins.
If you're after something savoury, try their 'sushi' with courgette and cashew hummus. Although, we're heading to Nama for dessert!
Our Favourite Food: Their raw salted caramel chocolate cake – what's not to like?
Head Down To 110 Talbot Road to put the cherry on the cake, so to speak.
Well, there you have it. Notting Hill is an absolute hub for vegan and vegan-friendly eateries.
Image Credit: Adobe Stock
You can find vegan eateries all around Portobello Road and Westbourne Grove. We've just picked out 7 of our favourite vegan spots for you to try out.
Try starting the day at Leafwild Café for breakfast. Pair that with some Aussie-inspired coffee from Farm Girl. Or maybe grab a juice on the way through from Juicebaby.
Try heading to Jūsu Brothers for lunch. Then end up at Redemption bar for a vegan alcohol-free cocktail to round out the night. We don't know about you, but then we might sneak into Nama to grab a treat for the way home!
Once you've gotten your teeth into all that lovely vegan food, maybe you'll want to start bringing that plant-based diet home with you.
With Plant Sumo, you can get sustainable, nutritious, and delicious meals. All delivered straight to your door!
Why not head over to Plant Sumo today to sign up for your first subscription box?
.
This other product might be of interest to you:
Here are some of the best vegan restaurants in Notting Hill and Holland Park.
Pastan

Farmacy

Flat Three Restaurant

Portobello
If you're looking for something similar, you might be interested in this other product: