Who's in the mood for Persian food? I know I am. While many Persian staples include chicken and lamb, most dishes can be made with veggie substitutes, to make a delicious plant-based meal option!
We have compiled a list of 10 perfect places for Persian food in (and near) North Acton that all have vegan options available.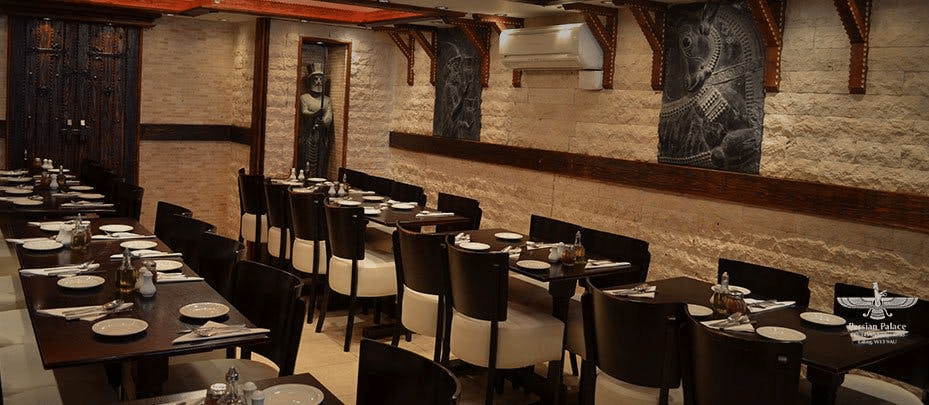 Image source: persianpalace.co.uk
Persian Palace
143-145 Uxbridge Road, Ealing, London W13 9AU
Persian Palace is located in Ealing, London, just a short drive from North Acton. It is a Persian and Iranian takeaway restaurant that offers dine-in and to-go. It also has a home delivery service that delivers to North Acton, as well as other parts of London. On their website, you can check to see if delivery reaches your postcode.
The kebabs at Persian Palace are one of their most popular dishes, from their chelow kebab koobideh to their joojeh kebab. They also serve a variety of stews that can be made vegan friendly if you are looking to stay plant-based.
It is open every day from 12:30pm – 22:30pm and until 23:30pm Friday through Sunday.
The restaurant also provides catering services for weddings, parties, corporate events and more. You can reach them at +44 02088404233
or by email at info@persianpalace.co.uk
Persian Nights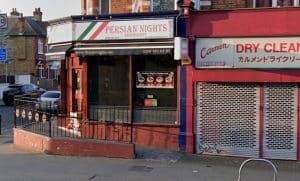 379 Uxbridge Rd, Ealing Common, London W3 9SA
Persian Nights is a family restaurant that offers a selection of authentic Persian food for dine-in or take-away. It also offers seafood and a variety of vegetarian dishes.
The interior of Persian Nights is beautifully decorated with paintings and has a warm cosy atmosphere. Another unique feature is their live music and belly dancing Friday and Saturday nights.
It is open Sun-Thurs 12:00pm – 23:30pm and Friday-Saturday 12:00pm – 1:00am.
You can reach Persian Nights for private functions at +4402089920203 or by email at info@persiannights.co.uk. You can also book a table online through their reservation portal.
Sufi Restaurant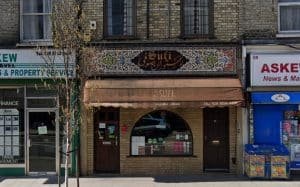 70 Askew Rd, London W12 9BJ
Sufi Restaurant was established in 2007 as a Persian restaurant, specialising in dips, stews, and lamb kebabs. They serve both lunch and dinner every day.
If you are looking for some tasty home-cooked naan bread, Sufi makes theirs fresh every day. One of their most popular dishes is the Mirza Ghassemi dip, which is plant-based and made from grilled aubergine, sauteed garlic, and tomato.
Check out their blog for short posts about how they prep their food and use chargrill to bring out some incredible taste!
Their phone number is +442088344888, and you can make reservations or fill out a "contact us" form on their website.
Aquarium Persian Restaurant
4 The Broadway, Gunnersbury Ln, Acton, London W3 8HR
Aquarium, located on the outskirts of South Acton, is open every day 11:00am – 23:00pm in person and for take-out. They are even conveniently available on Deliveroo to make eating at home that much easier!
You can reach them at +4402089928204.
Rice Persian Kitchen
293 Chiswick High Rd, Chiswick, London W4 4HH
Rice specialises in modern Persian dishes, inspired by classic recipes. Their name comes from the importance rice plays in Persian cuisine.
One of their favourite dishes is their Chelo kebab (aka the national dish of Iran) along with their generously portioned wraps. They even have a speciality wine list to keep you entertained through the night.
You can get in touch at +442089941661 or info@ricechiswick.co.uk.
Mahdi Restaurant
215-217 King St, Hammersmith, London W6 9JT
Mahdi Restaurant pride themselves with their authenticity and flavour. Mixing ancient and new tastes to create a unique blend, Mahdi aims to dazzle your taste buds.
Serving both dinner and lunch for dine-in and take-out, Mahdi has an extensive menu featuring a vegetarian section alongside its main meals.
They also specialise in catering and event management, serving crowds of up to 500. You can contact them at +442085637007 for any inquiries.
Beluga Restaurant and Bar
7 Ashbourne Parade, Hanger Hill, London W5 3QS
Beluga Restaurant combines Persian food with other Middle Eastern staples in a Mediterranean themed atmosphere.
Some of their staples include Ghormeh Sabzi, Gheymeh, and Bamiyeh.
They offer both indoor and outdoor seating, with a coffee bar, and in-house bar, and shisha garden that includes complimentary wifi. The garden is a great area to rent out for parties. You can reach them at +442089977700.
Eram Shishlik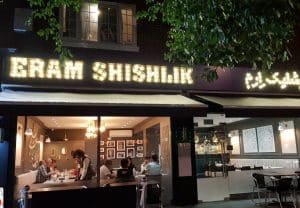 5-6, Culmington Parade, Ealing, London W13 9BD
Eram Shishlik is a Persian Mediterranean fusion restaurant that is open every day from 12:00pm – 22:00pm. They take pride in their unique blend of flavours, using saffron, dried limes, cinnamon, and parsley to create a Persian and Iranian style blend.
You can reach them at +442035561659 for delivery or visit their website to order or reserve a table.
Behesht Restaurant
1082-1086, Harrow Rd, London NW10 5NL
Behesht is best known for its decorative interior, which is filled with elaborate Persian fabrics, carvings, and artefacts. They have old copper lamps, fountains, and antiques that will make you feel like you have been transported through time.
The kitchen has an open plan so diners can watch chefs prepare fresh bread in a tanour bread oven and kebabs on a traditional grill. They also have a tea room, serving authentic Iranian tea.
If you are looking for a more intimate setting, they even have 2 private dining rooms for rent that fit up to 16 guests. You can contact them at +442089644477.
Kish Express
7-9 Kilburn High Rd, North Maida Vale, London NW6 5SD
Kish Express opened in 2009 and is best known for its generous portion sizes. Their signature dishes include chicken and lamb kebabs, traditional stews like Ghormeh Sabzi, and basmati rice served with every meal. If you are looking for plant-based meals, their stews can be made meatless!
They are open every day 11:00 am – 1:00 am and are available for reservation through their online portal or by calling +442076242525.
Want more?
Check out our blog at Plant Sumo to explore more nearby eats and other plant-based recommendations. If you are looking to eat out but stay local, we've got you covered!
Written by Meghan Hale, a content writer, and editing machine. You'll find me yelling at my dog to stop barking, whether it be at the neighbors or on a long afternoon walk xD.