What's better than freshly home-baked flapjacks that are a little crispy on the outside but soft and chewy on the inside? If you're like me, probably nothing.
Flapjacks are quick to whip up with minimal ingredients and can be prepped ahead of time for a nutritious and filling at-home or on-the-road snack! And of course the options are endless. From chocolatey flapjacks, to fruity, seed and nut flapjacks, to even banana peanut butter tasting ones, you can't go wrong.
If you're keen to flapjacks, especially healthy flapjacks, you know there's nothing quite like that first gooey bite, right after it comes out of the oven. Yum.
Here at Plant Sumo, we want to help you bake the best vegan flapjacks ever that are also on the healthier side! So pop on down to the recipes below to check out 5 unique flapjack recipes that are sure to be tomorrow's next baking project.
1. Homemade Protein Flapjacks
Image source: wearesovegan.com
These protein-packed Homemade Protein Flapjacks by Roxy & Ben, are a healthy twist on traditional flapjack recipes. With over 8g of protein in each bar, these bars will leave you full and satisfied― no need to worry about finding another protein source today! This is a great healthy flapjack recipe.
Ingredients
2 medium bananas
150g quick cook oats
25g sunflower seeds
30g pumpkin seeds
30g raisins
30g walnuts roughly chopped
pinch of salt
180g smooth peanut butter
5 tbsp maple syrup
3 tbsp coconut oil
1 tbsp soya milk
Instructions
Preheat the oven to 180°C and line a 7" x 7" baking tin with parchment paper. Make sure you also line the sides of the baking tin. This will make it easier to remove the flapjack from the tin after it is baked.
Peel the bananas, place them in a mixing bowl and mash them with a fork until they become runny. Add the oats, sunflower seeds, pumpkin seeds, raisins and walnuts to the mixing bowl.
Then transfer the peanut butter, maple syrup and coconut oil to a small pan on a low heat. Stir to combine and leave on the heat until melted.
Pour the peanut butter liquid and milk into the mixing bowl and stir until the dry ingredients are fully coated with the wet ingredients.
Transfer the flapjack mix to the pre-lined baking tin and use a spatula to level the mixture.
Bake the flapjack in the preheated oven for 30 minutes.
Remove the flapjack from the oven and leave to cool in the tin for 5 minutes. This will set the flapjack so it doesn't break when you move it.
Remove the flapjack from the tin and leave to cool for 10 minutes before cutting into 10 bars.
2. Vegan Fruit and Nut Flapjacks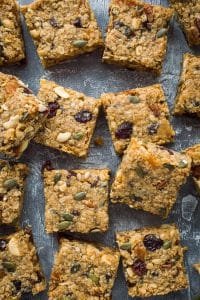 Image source: domesticgothess.com
One of the most popular healthy flapjack variations is a fruit and nut mixture. A combination of sweet and salty, these Vegan Fruit and Nut Flapjacks, by Hannah Hossack are everything but crumbly and can be made with whatever fruit and nuts you have available in the cupboard. We have tried this one ourselves, it is a great fruit flapjack recipe.
Ingredients
350g fine rolled porridge oats
80g plain flour
100g mixed nuts (I used almonds, pecans and cashews) roughly chopped
200g mixed dried fruit (I used sultanas, cranberries, apricots and figs) larger pieces roughly chopped
50g mixed seeds (I used pumpkin, sunflower and hemp)
200g dairy free butter (I used Stork block)
175g golden syrup
200g light brown soft sugar
Instructions
Preheat the oven to 160C. Grease a 23cm square cake tin and line with baking parchment. (If you are making plain flapjacks without any mix-ins then use a 20cm tin instead.).
Mix together the oats, flour, nuts, fruit and seeds in a large bowl.
Place the vegan butter, golden syrup and brown sugar in a pan over a low heat. Heat, stirring occasionally, until melted and smooth.
Pour the syrup into the oats and stir until thoroughly combined, there should be no dry patches at all.
Tip the mixture into the prepared tin, spread it out level and press down firmly until well compacted.
Bake for 25-35 minutes until set and golden (they will still be a little soft to the touch and will firm up a lot as they cool).
Leave to cool for 10 minutes then cut into slices with a sharp knife while still in the tin. Leave to cool completely then turn out and re-slice. Store in an airtight container for up to 10 days.
3. Chocolate Peanut Butter Flapjacks
Image source: onegreenplanet.org
Who doesn't love chocolate and peanut butter? I mean, c'mon it's a legendary combination. These Chocolate Peanut Butter Flapjacks by Hayley Canning hit the spot with their peanut buttery goodness and minimal ingredients, making for a healthy, yet delicious spin on flapjacks! This is an absolutely perfect vegan flapjack recipe.
Ingredients
34g Smooth Peanut Butter
68g maple syrup
34g coconut oil
238g Oats (gluten free if necessary)
35g cacao
Melted vegan chocolate to drizzle on top [optional]
Instructions
Preheat the oven to 182ºC
Line a small deep baking tin
Place the coconut oil, cacao, maple syrup, and peanut butter in a pan and place over a low heat. Stirring to combine.
Add in the oats and mix until the oats are evenly coated
Pour the mixture in to the prepared baking tin and push down with a spatula to create and even layer
Bake for 12-20 minutes or until golden brown
Remove from the oven, drizzle with chocolate, and leave to cool in the tin completely before slicing and enjoying
4. Lemon and Coconut Flapjacks
Image source: avogel.co.uk
If you've never had cashew butter before, you're missing out. Now try them in some flapjacks, and you've got yourself a golden combination. These Lemon and Coconut Flapjacks by Holly Jade are zesty and sweet, low in sugar, and are a great 4pm energizer! This is another favorite vegan flapjack recipe of ours.
Ingredients
2 large bananas
1.5 tbsp of Maple Syrup
5 tbsp of Crunchy Cashew Butter
4 tbsp of Coconut Oil
355g of gluten-free oats
1/2 cup of Desiccated Coconut
1 lemon (juice & zest)
Instructions
Grease a flapjack tin with coconut oil and pre-heat your oven to 180 degrees.
Peel and mash the bananas, then place them into a saucepan along with the maple syrup, cashew butter and coconut oil. Then gently heat until smooth.
In a large mixing bowl add the oats, desiccated coconut, lemon juice and zest. Pour the warm mixture over the dry oats and mix together with a wooden spoon until fully combined.
Spoon the mixture into your greased tin and carefully place in the oven and leave to bake for around 15-20 minutes, or until golden brown.
Allow to cool before cutting into delicious squares!
5. Carrot and Raisin Flapjacks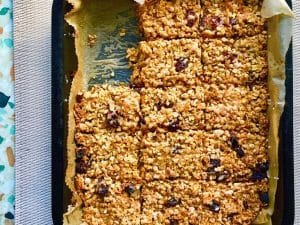 Image source: onegreenplanet.org
And last but not least, here is my favorite flapjack recipe of all, Carrot and Raisin Flapjacks. If you love carrot cake as much as I do, then these flapjacks, by Andri Neocleous, will rock your world. The perfect combination of sweet and savory, these flapjacks are super moist and the perfect recipe for fall! If you're trying to make them a bit healthy, try skipping the drizzle and subbing coconut sugar for brown sugar.
Ingredients
For the flapjacks
3 1/3 cups rolled porridge oats
1/2 cup dairy-free butter spread
1/4 cup sunflower oil
1/2 cup light brown sugar
3 tablespoons agave syrup or maple
1/2 cup raisins
1 carrot finely grated
1 1/2 teaspoons vanilla essence
1 1/2 teaspoons ground cinnamon
For the drizzle
4 heaped tablespoons icing sugar or more for thickness
1 teaspoon non dairy milk
1-2 tablespoon water
1/2 teaspoon cinnamon
Instructions
Preheat the oven to 350°C and line a 8 x 12-inch baking tray with baking paper (using some oil to stick it down to the tray).
Add the butter spread, sugar, agave syrup, vanilla essence and oil to a medium pan on low/medium heat and stir until the spread melts and sugar dissolves.
Put the oats, grated carrot, cinnamon and raisins in a large bowl and stir to combine.
Add the liquid ingredients from the pan to the dry ingredients and stir with a wooden spoon until the oats are fully covered.
Scoop the mixture onto the pre-lined baking tray and flatten evenly using a metal spoon.
Bake for 25 minutes until golden brown (they should still be soft to touch). If the raisins start to burn cover with foil.
Combine all the ingredients for the drizzle in a bowl using a spoon, add more sugar/water if the mixture is too thin or thick respectively.
Make sure the flapjacks are completely cool before adding the drizzle or else it will just melt. Use a teaspoon to drizzle it over.
Even if you're not a flapjack devotee, don't worry. Plant Sumo has plenty more vegan options you can try! Sign up for your subscription box today.