Consider yourself a vegan? Well, there are a few vegan cake recipes that every plant-based person needs to know.
We've already shown you how to make the mighty Oreo Cheesecake, but you'll definitely want to check out this simple vegan sponge cake recipe as well.
The sponge cake is a classic dessert that has stood the test of time. You probably eat one every time it's your birthday.
Well did you know that a vegan sponge cake recipe can have endless delicious variations that can transform your dessert experience every time?
As soon as you've learnt this easy vegan cake recipe, you've basically learnt how to make at least three different desserts.
For example, a Victoria sponge cake and chocolate cake both begin with a soft sponge cake recipe.
Not only are we going to share this easy vegan cake recipe, but we're going to teach you all of the variations to create a bunch of different desserts and expand your baking repertoire just like that!
Ordinarily, a sponge cake relies on butter, eggs and milk. However, turning this classic into a vegan cake recipe is totally easy.
In fact, it's probably even easier than using an ordinary sponge cake recipe.
With no butter, you can say goodbye to that excruciating forearm ache that comes with trying to cream butter and sugar with a hand whisk. (Phew!)
This simple UK vegan cake recipe with luscious vegan frosting is inspired by the wonderful Alison from Loving It Vegan.
Let's dive in and answer the question of how to make vegan sponge cake.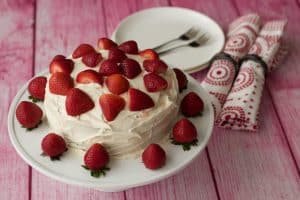 Source: Loving It Vegan
Ingredients
For the Cake
Coconut Oil – For greasing. Let's avoid the tragedy of a cake stuck in its tin.
220g All-Purpose Flour – This is the base ingredient of the sponge cake and it's going to help hold everything together. All-purpose flour is otherwise known as plain flour.
200g Caster Sugar – It wouldn't be a cake if it wasn't sweet! White caster sugar is the best option if you want to create a light, soft and fluffy cake. You could also use golden caster sugar for more intense flavour and aroma.
1 tsp Baking Soda – This is how the cake is going to rise. It's the same thing as bicarbonate of soda.
½ tsp Salt – This sounds weird, but it's going to offset the sweetness a little. I promise you it won't taste salty!
240ml Soy Milk – Our source of moisture!
2 tsp Vanilla Extract – Vanilla extract is a flavour enhancer that works amazingly paired with sugar.
80ml Extra Virgin Olive Oil – We're not using butter, so some silky olive oil is our fat of choice.
1 tbsp White Vinegar – This is going to react with the baking soda to help our cake rise. Once again, I promise that you won't taste it, it works – trust me.
A Handful of Fresh Strawberries – Totally optional!
For the Icing
450g Icing Sugar – This sugar is incredibly fine so that your icing won't be grainy.
45g Vegan Butter – Vitalite or Pure are good options.
4 tbsp Soy Milk
2 tsp Vanilla Extract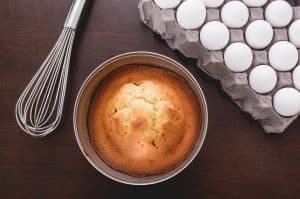 Source: Unsplash
Tools
One of the best things about this easy vegan cake recipe is that pretty much everyone has all of the tools you need to make one.
No cumbersome food processors or stand mixers needed here. This is also super helpful if you're baking with kids, safety first!
Mixing Bowl
Weighing Scales
Sieve
Hand Whisk
Electric Hand Mixer
Baking Parchment
Rubber Spatula
Two 7-inch (18cm) round cake tins – This recipe makes two 7-inch cakes that can be sandwiched by icing, or one 9-inch cake. If you're making a larger two-layer 9-inch cake, you'll want to double the recipe.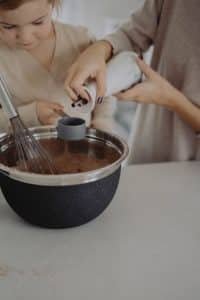 Source: Unsplash
Method
This is such an easy sponge cake recipe, that it's practically a revelation.
You should make sure that you carefully follow the recipe if you want to bake a successful vegan sponge cake, but there is a really good two-step way to remember it as well:
Mix the dry ingredients, then mix in the wet ingredients.
The Cake
Preheat the oven to 180°C.
Grease two 7-inch round cake tins with some coconut oil and cut out two circles of baking parchment and place each one into the bottom of each cake tin.
Sift the flour into a mixing bowl.
Add the sugar, baking soda and salt and give it a quick whisk until it's all combined. (These are the dry ingredients).
Add the soy milk, vanilla, olive oil and vinegar and whisk it until the batter has an even texture. (These are the wet ingredients).
Pour the batter into each tin evenly. Scrape the bowl down with a rubber spatula so that you get every tasty morsel into the tin. (It's also something you can lick afterwards – no raw eggs!).
Bake for 30 minutes.
After 30 minutes, insert a clean knife into the centre of the cake. If it comes out clean, then your cake is fully baked.
Place your vegan sponge cake on a cooling rack until completely cool.
The Icing
In a clean mixing bowl, add the icing sugar, vegan butter, vanilla and half of the soy milk.
Mix with an electric mixer on slow speed.
Pour in the rest of your soy milk bit by bit, while slowly increasing the speed until you have a smooth consistency.
Your buttercream should be spreadable, but thick enough to stick to the cake. Too thin? Add a bit more icing sugar. Too thick? Add a little more of your soy milk.
Spread some icing on the top of one of your cooled vegan sponge cakes, making sure to leave enough icing in the bowl to cover the rest of the cake.
Place the un-iced vegan sponge cake on top of the iced one.
Carefully use the remaining icing to cover the rest of the cake.
Add some fresh strawberries at the last minute, if you are using them.
Pat yourself on the back for making a delicious vegan sponge cake. (Well, deserved!)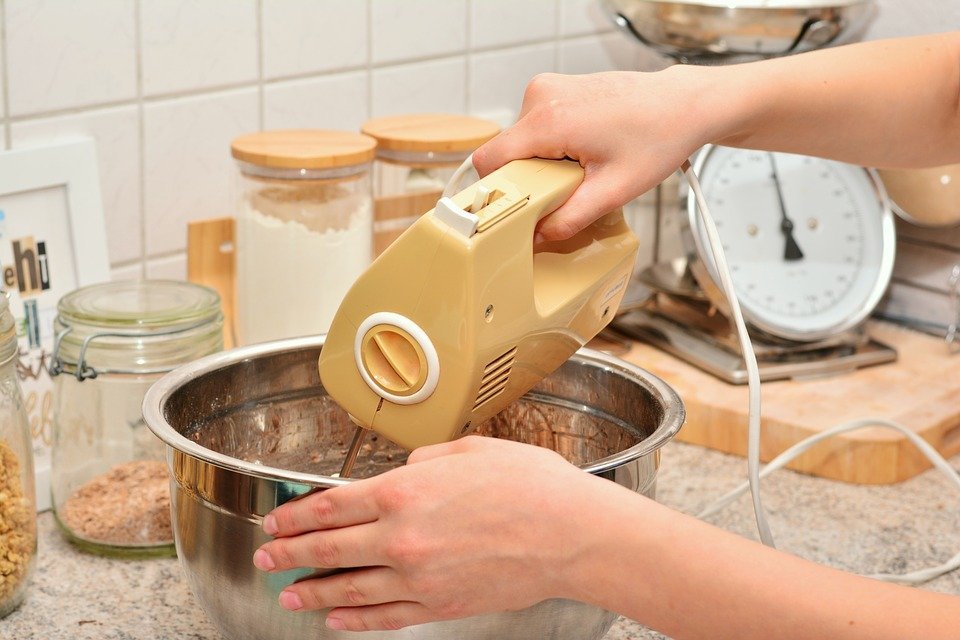 Source: Pixabay
Pro-Tips
Method
Stop whisking as soon as everything is combined. Over mixing will lead to a chewy texture. It's not the end of the world if it happens, it will still taste great!
If you want a really even and professional look to your vegan sponge cake – weigh your batter so that you can divide it perfectly into each tin. This will mean that you'll get super even cake layers. (Prue Leith would swoon!)
Substitutions
Allergic to soy milk? Use almond milk!
No coconut oil? Use non-stick spray oil OR vegan margarine.
No extra virgin olive oil? Vegetable oil will work too!
Variations
You can't really go wrong with a simple vegan sponge cake, but with a plethora of variations on this easy sponge cake recipe, why not spice things up a bit?
Most of these variations are super simple, just a couple substitutions or some extra frosting. The oven temperature and baking time don't change.
Soon, you'll be able to boast an expansive baking repertoire with little effort.
It's pretty impressive stuff.
Vegan Victoria Sponge Cake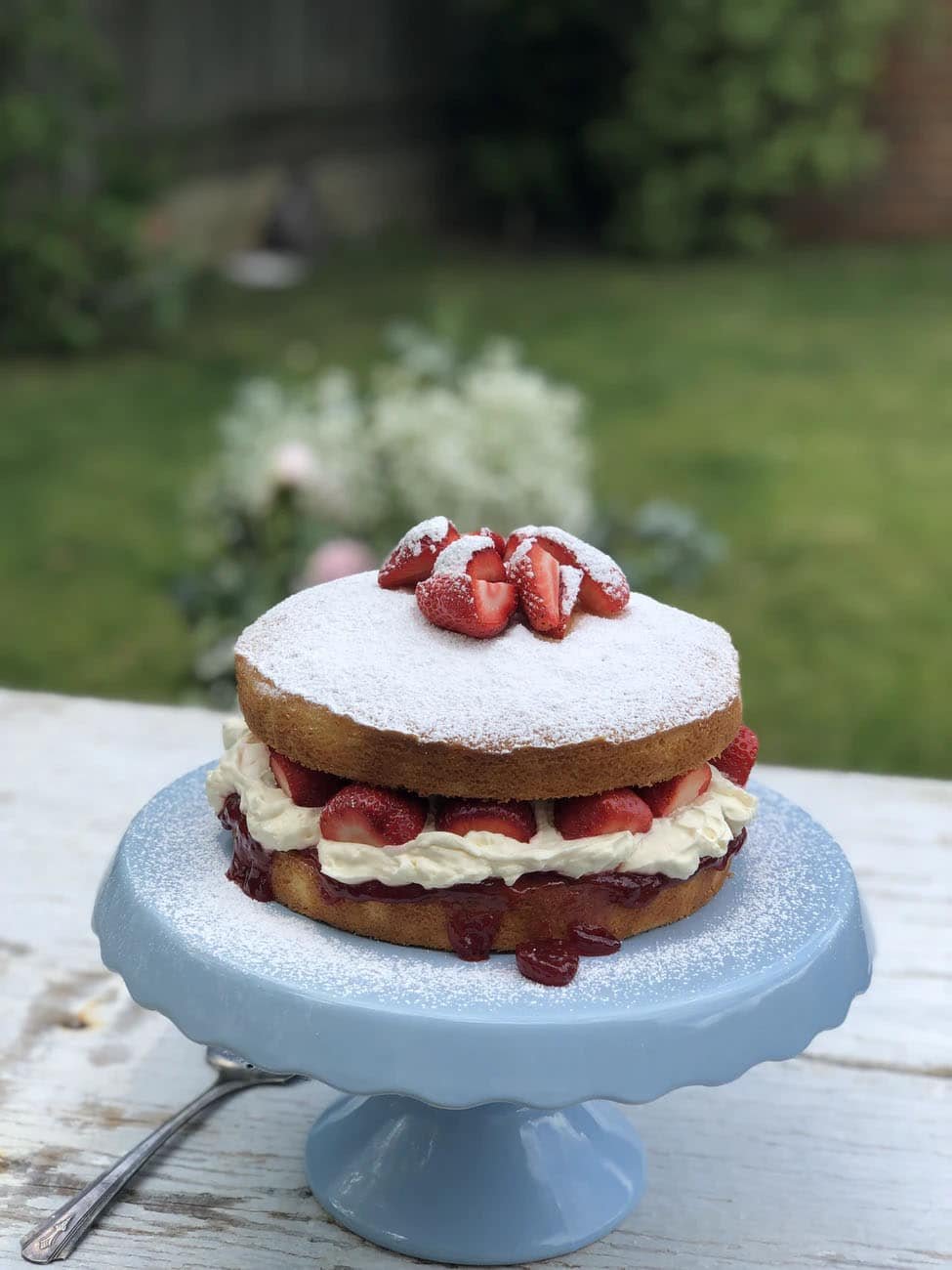 Source: Unsplash
To transform this soft sponge cake recipe into a vegan Victoria sponge cake recipe, you need to follow the recipe as normal but reduce the frosting recipe by half.
This is because a classic Victoria sponge cake only has icing in between the layers of cake, not around the sides.
Then, simply frost the top of one of your vegan sponge cakes and spread 4 tablespoons of strawberry jam on top, along with some fresh strawberries, if you have them handy. Then just plonk the second vegan sponge cake on top.
You can even dust the whole thing with icing sugar to give it that regal afternoon tea kind of look!
Vegan Chocolate Sponge Cake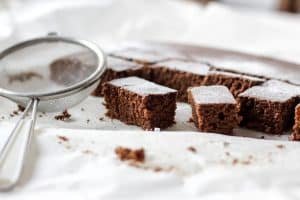 Source: Unsplash
This simple sponge cake recipe is enchanting, but do you fancy a trip to the dark side?
How about a devilish vegan chocolate sponge cake recipe?
For this you'll need to follow the vegan sponge cake recipe as normal, with these small changes:
Reduce the flour to 190g of All-purpose flour
Add 42g of unsweetened cocoa powder
Add in one flax egg
The method is the same as above. Mix the dry ingredients, then mix in the wet ingredients.
Gluten-Free
Some of us need our food to be vegan and gluten-free. Well don't worry, we've got you covered with a simple gluten-free variation on this easy sponge cake recipe.
You only need to make some changes to the ingredients!
Ingredients:
238g Gluten-Free All-Purpose Flour
200g Caster Sugar
1 + ¼ tsp Baking Soda
½ tsp salt
240ml Soy Milk
2 tsp Vanilla Extract
120ml Extra-Virgin Olive Oil
1 tbsp White Vinegar
2 tbsp Applesauce
The method remains exactly the same.
Who would have thought that a simple sponge cake recipe could be this versatile!?
Overall, the vegan sponge cake is kid-friendly, a certified crowd-pleaser and absolute baking essential that everyone needs to know how to make.
Just by learning this simple vegan sponge cake recipe. You learned how to make a bunch of other desserts too. (Talk about a time saver!)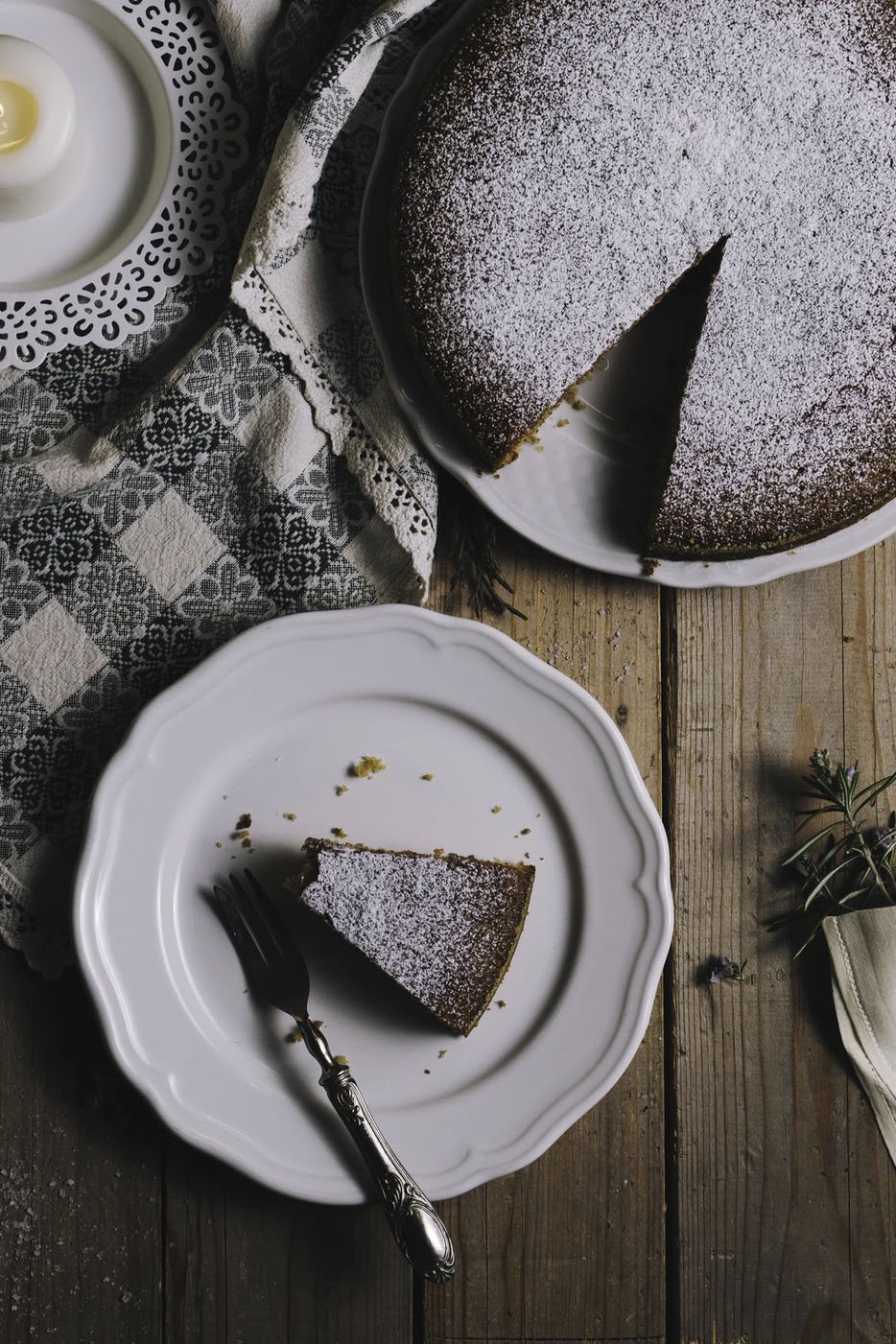 Source: Unsplash
Well, guess what else is super versatile…Plant Sumo!
Getting nutritious and delicious vegan meals delivered straight to your door is even easier than making a vegan sponge cake.
Fancy some vegan gnocchi or a Seitan stir fry tonight? Well, Plant Sumo has got your back.
You can sign up for your subscription box right here, and build a custom combination of awesome plant-based meals.