Calling all vegans! Get ready to have your cake (delivered) and eat it.
We've already told you about some of the best vegan and vegetarian restaurants in London, but we simply can't ignore the sweet, ethical and tasty vegan cakes that London has to offer too.
As of 2019, there are said to be a whopping 600,000 vegans in the UK.
On top of that, January 2020's 'Veganurary' (in which people commit to eating vegan for the month of January) had 400,000 participants. That's a lot of vegans!
Because of the huge new demand for vegan food, there is now a tonne of mouth-watering options for vegan cake delivery in London. Hallelujah!
Now, you must be wondering….where can I find vegan cake near me!?
So here it is, your guide to the eight best places for vegan cake delivery in London.
1. Flavourtown
Source: Flavourtown Official Website
Fulham's own multi-award winning Flavourtown Bakery does what it says on the packet.
Their cakes pack a punch.
Flavourtown isn't a dedicated vegan bakery, but they have loads of vegan options.
Vegan Cookies and Cream Cake? Check. Vegan Red Velvet Cupcakes? Check. An outrageous Vegan Death by Chocolate cake? Double-check.
By using premium vegan ingredients like Valrhona cocoa powder, Belgian chocolate, and organic flour, it's hardly surprising that these cakes taste out of this world. In fact, several reviewers have said that Flavourtown's vegan cakes taste just as good as regular cakes, or where even the best cakes that they had ever tasted.
You might want to make your own cake, check this product:
And, get this:
All of their cakes are baked fresh and onsite. Everyday.
They are also completely beautiful and highly customizable! So if you're needing a vegan birthday cake delivery in London soon, you're in for a real treat.
Each vegan birthday cake is made especially to order and you can include a hand-piped personalised message. ('Happy Quarantine Birthday!' is a popular one these days…)
Their hand delivery service covers a total of 59 different areas of London. You can see if they cover your postcode here.
So, if you are looking for highly-instagrammable and luscious vegan cakes in London, Flavourtown is the place for you.
2. The Hummingbird Bakery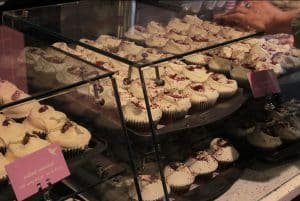 Source: Tripadvisor
Founded in 2004 and with six branches across London, it's likely you're already familiar with the Hummingbird Bakery.
I mean come on, their infamous glass display of cakes is the stuff of sweet Parisian dreams, but it's quality American-style baking you'll find here.
At the Hummingbird Bakery you can find all of the classic cakes, but vegan.
They have Vegan Devil's Food Cake, Vegan Red Velvet Cake, Vegan Vanilla Cake and more. If you don't fancy a whole cake, you can have a cupcake selection box instead.
It's all very sophisticated.
They also have a monthly special cupcake (all the more reason to visit regularly!). January's is the Vegan Cinnamon Doughnut Cupcake. It sounds LUSH!
If you are in a hurry for an epic classic vegan cake delivery in London, the Hummingbird Bakery offers same-day delivery.
You might want Doughnut Cupcakes at your home:
3. Cutter and Squidge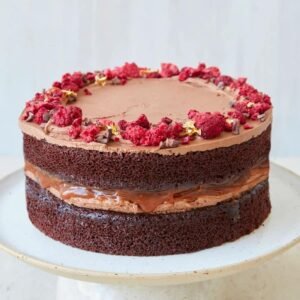 Source: Cutter and Squidge Official Website
Such a cute name right!
Well, their cakes are equally cute and use 100% natural ingredients.
Cutter and Squidge was founded in North West London by two health-conscious sisters and cake enthusiasts, so their cakes are perfect for anyone looking out for their health.
They state that they keep their fat and sugar content low enough not to leave you with that sickly feeling after eating, but high enough that their cakes taste absolutely delicious. What more could you ask for?
Furthermore, Cutter and Squidge's range of vegan cakes that can be delivered in London is expansive.
From Mini Brownie Boxes to Vegan Chocolate Fudge Cake and Vegan Blueberry and Lemon Cheesecake, anyone can find something to delight their taste buds here.
You can also order a bespoke vegan birthday cake for delivery in London. They are made to order and perfectly fit any of your requirements. It's happiness guaranteed!
Cutter and Squidge have locations in Soho and Bank, but deliver all over London.
For a healthy vegan cake delivery (I admire you) you need to get it from Cutter and Squidge!
You might want to get this chocolate fudge cake:
4. Bad Brownie
Source: Bad Brownie Official Website
This is Bad Brownie, but they are oh so good.
Bad Brownie boasts a huge range of exotic vegan brownies that can be delivered in London in their gourmet brownie boxes.
These are brownies like no other. They are decadent, fudgy and full of crazy flavours. Ever heard of a Bacon and Maple Syrup Brownie? Yeah.
Their founders even went on Dragon's Den and secured investment from entrepreneur Touker Suleyman who was stunned by how delicious they were.
Bad Brownie is all about squidgy, gooey and chocolatey brownies, so they are the perfect choice for vegan chocolate addicts.
Their Vegan Brownie Bites Box will ensure that you get a taste of up to six different brownie flavours, so you'll definitely be satisfied. Each one is decorated exquisitely too. No boring brown squares here.
Their Salted Caramel Brownie is their most popular brownie and it has finally come about in a vegan option. In fact, it's so popular they have started selling the salted caramel sauce by the jar, literally.
It would be a sin not to get these TV-worthy brownies in your next vegan cake delivery.
5. Crosstown Doughnuts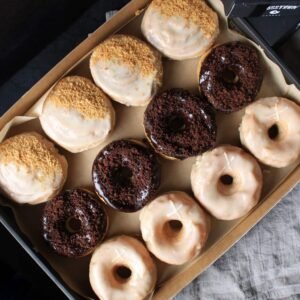 Source: Crosstown Official Website
Okay, so they don't exactly offer vegan cake delivery in London, but hear me out.
Three words: Vegan. Sourdough. Doughnuts.
Crosstown creates super high-quality handmade doughnuts, even the jam is handmade, they claim that this ensures maximum deliciousness.
Also, their world-renowned yeast-raised sourdough is now available for vegans London-wide (Whoo-hoo!)
Their unusual and innovative flavours are what makes Crosstown different. Examples include Chai Custard, Blackberry and Pear and Chocolate and Honeycomb. Yes please!
They even offer a 'Working From Home Kit' that comes with a selection of doughnuts and coffee or chai for that extra bit of motivation that you were looking for.
This gives you a fun flavour range and all the caffeine you need to…start that new report? (I don't know what your job is, sorry!)
Regardless, with a Crosstown Doughnut in hand, Veganurary is off to a flying start.
You can check their delivery area here.
6. Ruby's Of London
Source: Ruby's of London Official Website
Oh, Ruby, you have it all, don't you? Cakes, cupcakes, brownies AND baked doughnuts.
And it is all 100% vegan.
Ruby's Of London was founded by a certified vegan baker who specialises in free-from products andhas been established for over a decade, originating in Greenwich Market.
They are also award-winning and have a consistent 4.5-star rating on Tripadvisor.
If you're looking for a vegan birthday cake to buy, they also offer a whole range of candles and cake toppers too. You can get it all in one place. Easy!
Get cake toppers at your home:
So if you're London-based and looking for tasty and beautiful vegan cakes near you. These guys are bonafide vegan bakers with a huge range of flavours and dietary-options.
For example, if you're not a sugar lover, they offer a naturally sweetened collection that uses organic coconut sugar and agave to sweeten their cakes.
Ruby's of London's delicious treats don't just taste divine (one reviewer cited their doughnuts as 'addictive') but are completely stunning and available for delivery all across London.
7. Lola's Cupcakes
Source: Lola's Cupcakes Official Website
If you've stepped foot in London Kings Cross Station then I know that you're familiar with Lola's Cupcakes.
But did you know that they offer vegan cake delivery in London?
With a healthy 4-star rating on Tripadvisor and a range of over ten different flavours, you really can't go wrong.
Their zingy Vegan Passion Fruit cake sounds particularly inviting. But they also offer Rocky Road and Chocolate and Hazelnut cupcakes, if that's more your thing.
If you're riding solo, you can order a single Vegan Brownie Box. No shame!
In fact, their vegan cakes are very affordable and have recently become one of their most popular ranges. These vegan cakes may be saving the world, but they are also saving your wallet.
With stores on virtually every corner, Lola's Cupcakes can be delivered conveniently all over London.
8. Cakes Today
Source: Cake's Today Official Website
Free muffins!
Cakes Today will give you two free muffins when you order their Vegan Coconut and Lime Cake or their Vegan Banana and Cinnamon Cake.
The perfect reward for all of your hard work clicking away and ordering that cake right?
Well, don't just do it for the muffins.
Their cakes are a totally delicious treat that comes in over thirty different flavours and designs, including a delightful Vegan Tropical Surprise Cake and a hearty Vegan Coffee and Walnut Cake.
They even offer vegan cakes that are just for kids, in case your little ones are plant-based too.
If you simply cannot wait for your vegan birthday cake delivery in London, Cake's Today offers same-day delivery until 10 pm. This is ideal if you are in a pinch!
These scrumptious cakes are just perfect for the busy family vegan and guaranteed to get you (vegan) brownie points, whoever you buy them for.
Well, folks, that's all. Now I'm super hungry.
Unfortunately, we can't eat cake for every meal. If you are looking for cheap, accessible and completely tasty plant-based meals, Plant Sumo can deliver them directly to your door. It's the ultimate convenience.
You can sign up to your Plant Sumo subscription right here.
Want to make your own cake? check this cake kit:
Search up "birthday cake delivery London" or "cakes delivered near me."  From there you will find a list of bakeries that deliver in your area. The farther the location the more it might costs.
Interested in getting a vegan dessert for a birthday? Google "best birthday cakes London" and see which one of those are willing to deliver. If this is last minute then you might want to search "same day cake delivery London."
Google "cake delivery London" and you will have plenty of options to find a vegan dessert delivery service for your friend or family.