Is Cavallo Nero synonymous with kale?
Cavallo Nero, also known as Tuscan kale or black kale, is a brassica that looks and tastes like kale. Its name translates as "black cabbage" in Italian, and it has a  strikingly dark green colour. It originated in Italy but is now grown in the United Kingdom.
What to look for when shopping for Cavallo Nero
Long, slender dark green leaves with a thin white vein running down the centre are ideal. Leaves with tears or blemishes should be avoided.
Cavallo Nero is in season in the UK from June to March, most of it grown in Lincolnshire. During this time, it is also available in its native country of Italy.
What goes well with Cavallo Nero?
Cavallo Nero is most commonly associated with Italian cuisine and goes exceptionally well with autumnal Italian flavours. It's served with Spatchcock pigeon,  pancetta, and porcini by Theo Randall, as well as  Saddle of venison with shallots and salt-baked celeriac by Laurie Gear.
As an alternative to spring greens, you can make 'crispy seaweed' with Cavallo Nero by chiffonading and deep-frying. You can also make healthy snacks from Cavallo Nero, such as kale crisps.
How is Cavallo Nero prepared?
Cavallo is a versatile vegetable that can be boiled, stir-fried, steamed, or massaged with dressing and eaten raw. The best way to prepare it is to remove the central stem and shred the leaves. It is best not to eat the core because it is generally quite challenging.
250 g of Cavallo Nero leaves

Two tablespoons of extra virgin olive oil

50-gram unsalted butter

 Peeled garlic clove

Season with salt to taste

A lemon's juice
How to cook Cavallo Nero:
Now, let's get down with our main event and learn how to cook Cavallo Nero. Please try to follow our instructions and advice step by step.
Step 1 
Remove the challenging bottom part of the stalks and cut the leaves into strips across the grain.
Place in a pot of salted boiling water for about 10 minutes, or until tender but still firm in the centre.
Step 2 
Warm the oil and butter in a frying pan and add the garlic clove. Season generously with salt and pepper and cook for 5 to 7 minutes until the Cavallo Nero is soft and coated in the buttery mixture. Allow to drain and rest. Squeeze the lemon juice over the leaves and serve in a bowl.
Ingredients
1 tbsp of toasted sesame oil

Two carrots cut into matchsticks

200g of broccoli florets

75g of cashew nuts

200g pack of sliced Cavallo Nero

1 tbsp of miso paste

1 tbsp of honey

1 tbsp of light soy sauce

2 tbsp of Japanese rice vinegar

200g of thick rice noodles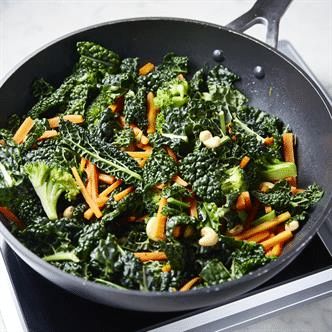 Procedure
Heat the oil in a large frying pan and cook the carrots, broccoli, cashews, and Cavallo Nero for 5 minutes. Combine the miso paste, honey, soy sauce, vinegar, and two tablespoons of water in a blender. Add the pan, cover, and simmer for 5 minutes.
Can you eat the Cavallo Nero stalks?
Cavallo Nero is a vegetable that can be boiled, stir-fried, steamed, or massaged with dressing and eaten raw. It's best not to eat the core because it's generally quite challenging. Remove the central stem and shred the leaves for the best preparation.
Is Cavallo Nero a bitter vegetable?
A loose-leaf cabbage is native to Tuscany, Italy. The leaves are a dark green, almost black, hence the name "black cabbage." It has a tangy, bitter flavour with a sweet aftertaste.
Why is kale terrible for you?
Although raw kale is more nutritious, it may harm your thyroid function. Like other cruciferous vegetables, Kale is high in goitrogens, compounds that can disrupt thyroid function. Raw kale, in particular, contains a type of goitrogen known as goitres.
Can Cavallo Nero be microwaved?
Yes, you can microwave kale! Microwaving kale is a quick and easy way to cook your greens without compromising their nutritional value. Kale cooks quickly in the microwave, making it an ideal snack or quick side dish for lunch or dinner.
Can I put Cavallo Nero in the freezer?
You certainly can. However, it will not last as long. It will remain safe to eat, but the texture and flavour will degrade much faster in the freezer if not blanched.
These are the ways to cook Cavallo Nero. But after that, you can leave your questions in the comment section if you have questions about today's article. We will try to give you an answer as soon as possible. 
Good Luck!