Italian food – it's comforting. It's sophisticated. And it's everywhere in London!
All thanks to both its beloved reputation and a new generation of Italian chefs who are revolutionising the cuisine.
And when I say everywhere, I mean everywhere. Especially in Islington, renowned for its trendy cafes and experimental restaurants, where Italian food remains an extremely popular choice.
There is a total mix in the Islington area between eateries offering the traditional rustic recipes of Northern and Southern home cooking and restaurants inspired by the experimental chefs of Milan and Rome, which seek to innovate and contemporize the cuisine.
Here, we'll give you the rundown of both, with our top nine picks of Italian restaurants in Islington that are sure to inspire you – and give you a delightful dining experience!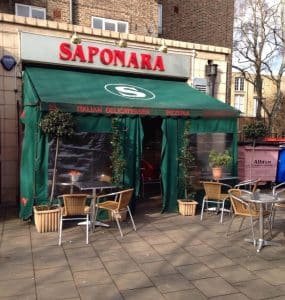 Image Credit: TripAdvisor
Saponaro
Saponaro is a Southern Italian restaurant that has been in Islington for donkey's years- since 1989!
It's a family-run pizzeria operated by the Saponaro brothers who are originally from a rural village in the Basilicata region of Southern Italy. From their background they bring down to earth, classic Italian recipes with high-quality ingredients and flavours, all served with exceptional hospitality and charm.
They offer a diverse range of pizzas from the classic cheesy 'Quattro Formaggi' to the 'Tutta Carne' with authentic regional Italian salami, along with classic starters like Bruschetta and Carpaccio salads. They also feature pasta specials which alternate each day, with tortellini, Gnocchi and Lasagna made fresh that morning.
All their pizzas are stone-baked, and they offer a tasty, down to earth, authentic experience of Southern-style Italian pizza.
We Recommend: Asking for the special pasta of the day!! Or alternatively, sample their new addition to the menu – the 'Leggera' pizza with tomato, mozzarella, zucchini and shaved parmesan is a delicious vegetarian option.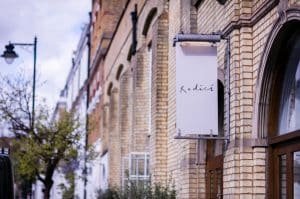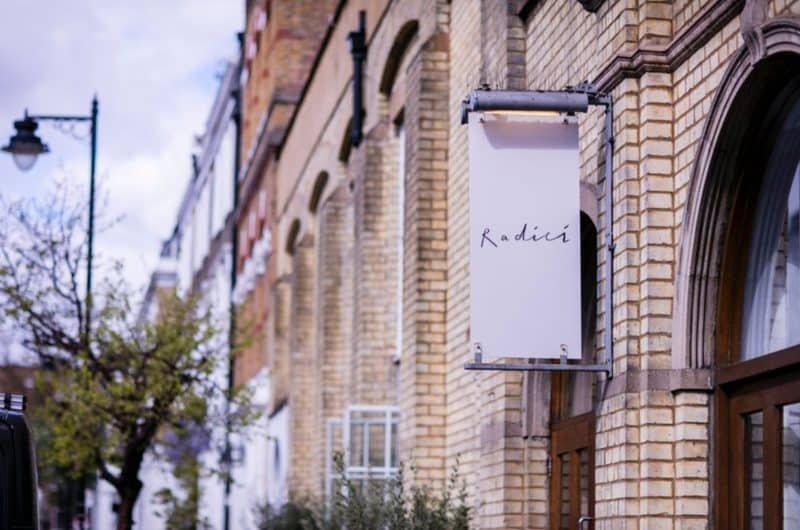 Image Credit: SquareMeal
Radici
Radici is a trendy, upmarket experience of Italian food opened in the spring of 2017 by acclaimed Chef Francesco Mazzei. It seeks to elevate and celebrate the rustic, humble cuisine of the Mezzogiorno, Francesco's home region in Southern Italy.
With pizza brunch and an a la carte menu featuring creative and explosive dishes like a turnip top and anchovy starter and charcoal beef Salsa Verde, Radici is rife with Italian dishes sure to excite you. They also offer so much more than food!!!
Their diversity of fruity and elegant cocktails are brought to you by award-winning bartending superstar Simone Caporale. And the terrace is perfect for dining al fresco, evening drinks or having lunch out in the sunshine.
Not a cheap option, but if you want divine food and an exquisite experience of Italian food, you're bound to remember Radici.
We Recommend: The roasted sea bream is an impeccable, perfectly balanced dish for those willing to indulge. For something a bit more affordable, the classic 'Margherita' here really stands out due to the sheer quality of the ingredients. Finish off with a fancy cocktail, like the iconic Aperol spritz.
Image Credit: SquareMeal
Berto
Berto is a hand-made fresh artisanal pasta concept restaurant that creates intricate and delicious fresh pasta on-site daily. Restaurant owners Claudio and Gianluca were inspired to create Berto by their expert pasta maker and friend Piero, or 'Berto' as they call him, who owns a pasta shop in their home town of Ronciglione, just North of Rome.
Serving fresh egg tagliatelle, pappardelle and gnocchi alongside filled pasta like ravioli, all their items are dressed with classic and experimental sauces made with high-quality Italian ingredients.
And they do eat in and take away Islington! So if you want pasta on the go, just go 'past' Berto's on your way to where you need to be.
Generous dishes at reasonable prices of £8 to £13 they offer seasonal specials, and all their pasta can be customised with traditional, wholemeal and gluten-free flours.
We Recommend: Their ravioli. Indulgent and generously filled, it's almost addictive.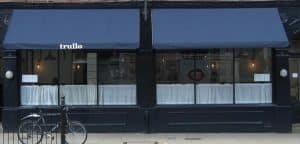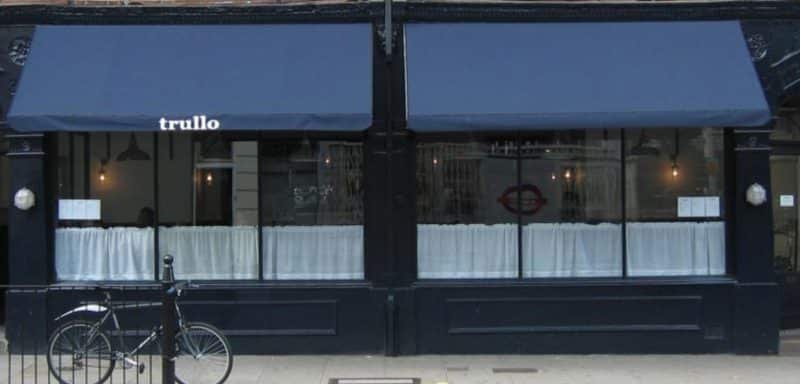 Image Credit: SquareMeal
Trullo
Opened in 2010, Trullo offers a seasonally focused, simple yet delicious Italian menu that changes daily, featuring fresh hand-made pasta and charcoal-grilled fish and meat.
Must-have items from the menu include their delicious Dorset lamb rump with poached Rosevale potatoes. For a starter, maybe sample their sophisticated Olasagasti anchovy antipasti with chopped egg, and for dessert, you could finish up with their subtle yet decadent fig and almond tart.
A more expensive option, their minimalist decor and decadent, creative dishes surely make the price tag worth it.
We Recommend: The Cornish line-caught cod with braised hispi cabbage and brown shrimp, it tastes like the British seaside has been matured in intense Italian flavours.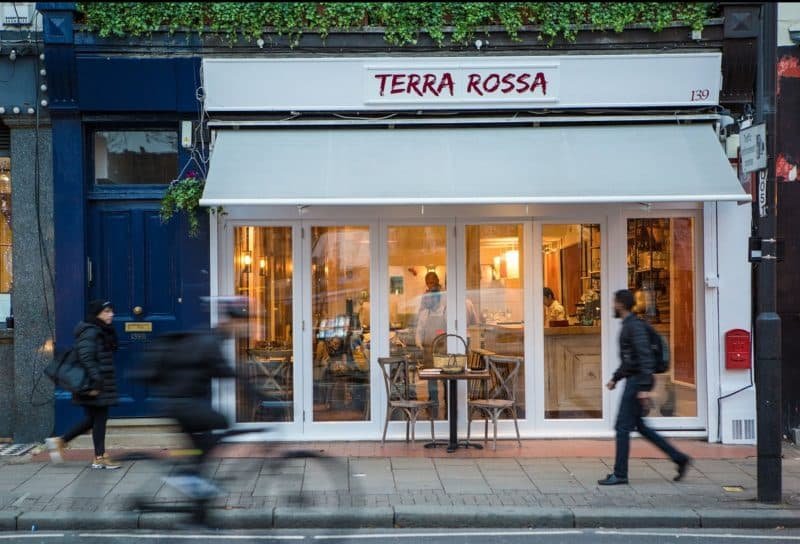 Image Credit: TripAdvisor
Terra Rossa
The TripAdvisor travellers choice of 2020, Terra Rossa brings the flavours of Puglia from Southern Italy to London.
Sample their signature pasta dish, the 'Paccheri Al Ragu Di Mare' with slow-cooked octopus, or maybe their signature dessert the 'Pasticciotto', a signature Salento pastry cake filled with custard. Or pick yourself from their expansive range of pizza, pasta, risotto and oven-roasted dishes.
A family and dog-friendly establishment, Terra Rossa specialises in simple, wholesome cooking and wants their patrons to enjoy the 'Masseria life'- where food makes time slows down and invites you to relax.
We Recommend: The homemade orecchiette pasta made with wholemeal flour and wild asparagus inspired directly from meals the head chef enjoyed as a child. Enjoyed of course, with a glass of Puglia wine.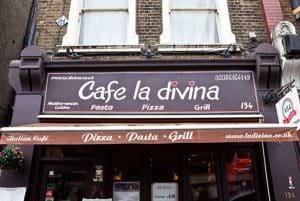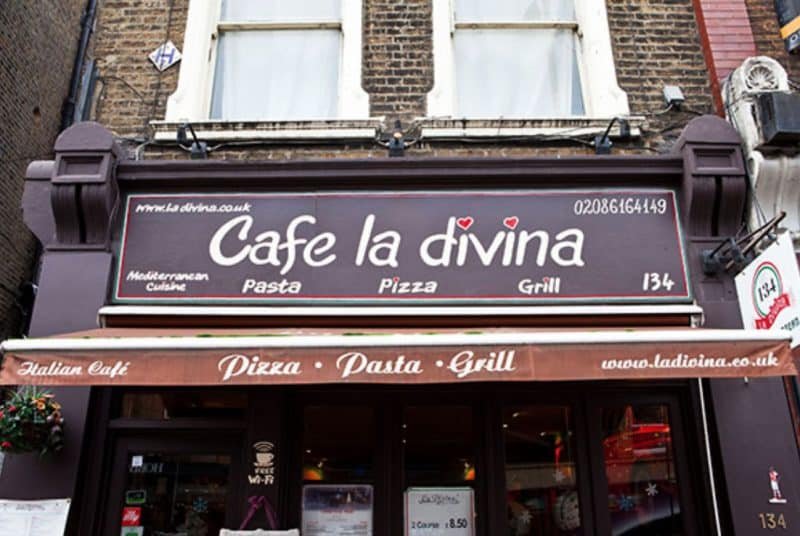 Image Credit: LaDivina.Co.Uk
Cafe La Divina
An Italian inspired cafe with a quirky retro style and interior bursting with 1950's advertising signs and trinkets, Cafe La Divina is a visual and culinary treat.
Opened in 2009 it's a family-owned restaurant which offers a range of anti pasties, pastas, pizzas, salads and hot drinks.
Its location is especially appealing, located just minutes away from the Almeida and King's Head theatres, meaning you can enjoy the sights and then sit down for a 'Salmone' pizza with smoked salmon, or anything else you might fancy.
We Recommend: Their 'Fagottini Di Pollo', delicious chicken stuffed with mozzarella, spinach and mushrooms in a white wine butter and sage sauce, served with mixed vegetables and mashed potatoes.
Image Credit: TripAdvisor
Stef's at Oregano
Located just off Upper Street in Islington, Stef's at Oregano is an authentic Italian restaurant which offers pasta, risotto, new specials every day and pizzas cooked in a traditional pizza oven.
Offering both dine-in and delivery, their specialities focus on meaty mains, including two in particular that are sure to impress.
First is their 'Tagliata di Manzo con Rucola', Sliced sirloin steak with rosemary, garlic, olive oil and rocket topped with parmesan shavings.
Second is their incredible 'Tonno alla Griglia' tuna steak served on a bed of baby spinach and roasted red peppers drizzled with balsamic vinegar, served with French beans and sauteed potatoes
We Recommend: Their 'Risotto ai Frutti di Mare', Arborio rice with large prawns, fresh clams, fresh mussels and calamari in a light tomato and a white wine sauce. Of course, enjoyed with their bottomless prosecco.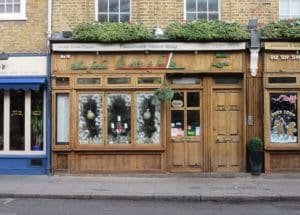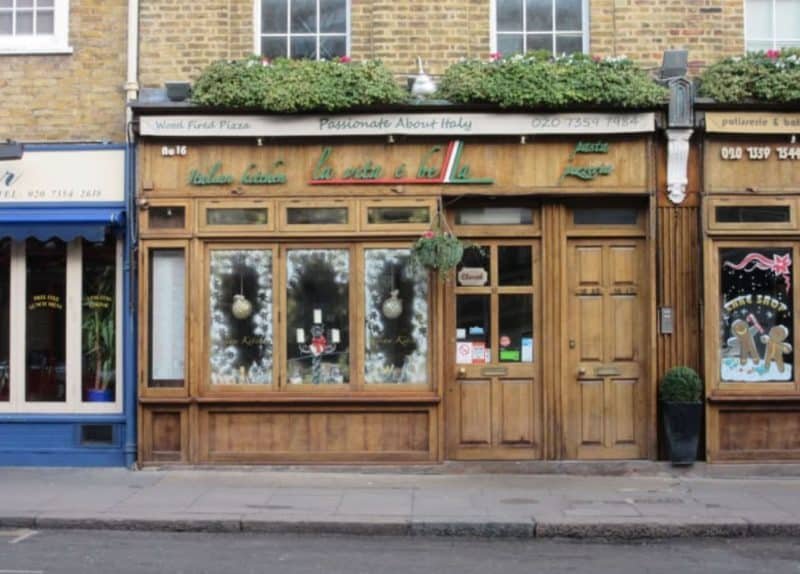 Image Credit: Tripadvisor
La Vita e Bella
Since 2015, La Vita e Bella has been a mainstay on Theberton street, offering Italian inspired cuisine which includes their own freshly baked bread and wood-fired oven pizzas.
Their meat and vegetables are carefully handpicked and served in innovative and exciting dishes by their award-winning chefs from Sardinia and wider Italy.
Highlights of their menu include their Chicken schnitzel and 'Bianca' vegetarian pizza with goats cheese, grilled zucchini, caramelized onion, sun-blush tomatoes, mozzarella & pesto sauce.
Available for takeaway, or dine in A La Carte.
We Recommend: Their fillet steak, char-grilled and served with rosemary potatoes, sautéed spinach and a choice of sauce including mushroom, gorgonzola and peppercorn.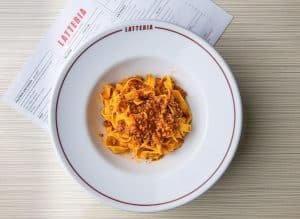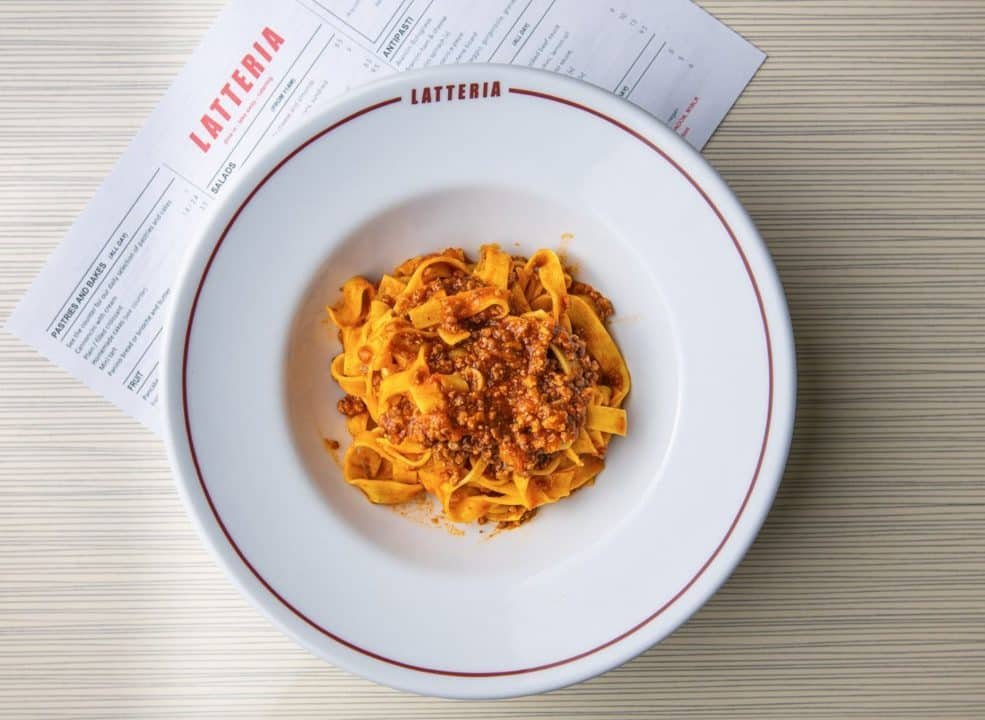 Image Credit: TripAdvisor
Latteria
Latteria burst onto the Islington scene in 2019, a fresh Italian cafe established by chef Giuliano Lotto who was inspired by the "pasticceria, panino shops and pizzerias" of Milan.
It's an all-day menu, covering breakfast, pastries, sandwiches, salads, pizza, pasta and pastries. All their pizza dough and pasta are made fresh in-house and their ingredients are sourced from Italy.
Standout menu items include their crab spaghetti and Tuscan bacon and butter beans which are featured alongside classics like Chicken Milanese.
Located near the Angel station, it's the perfect place to visit after a long commute home.
We Recommend: The crab spaghetti mentioned above. Creamy and rich, it's a hearty and satisfying dish.
So…there you have it!
Nine incredible Italian restaurants to inspire you in Islington.
Once you've checked these out, maybe you'll want to try our Italian options? Like our plant-based Gnocchi and spaghetti Bolognese, all 100% delicious and 100% plant-based.
They're also zero prep, and delivered directly to your door! What could be better!
Head to our main page today to sign up for your first subscription box today: https://plantsumo.com