Willesden is fast becoming one of the most highly sought after areas to live in north-west London.
With its proximity to Queen's, and Brondesbury Park, saying that it's a nice area would be an understatement.
What has come hand-in-hand with its rise to the top of the cool list, luckily for us, is loads of great restaurants. So if you're looking for vegan and vegetarian restaurants in Willesden, you're in luck.
And just because you asked so nicely, we're sifted through our favourites to present you with a list. We'll be going through our 10 favourite vegans and vegetarian restaurants in Willesden.
So if you find yourself around Willesden and looking for veggie or vegan grub, read on to get a low down on the hotspots!
Photo Credit: Paradise Plantbased
Paradise Plantbased
Plantbased and wholefood ingredients with raw options? No wonder this quirky little café is called Paradise!
They've got vibrant coloured juices served in Tikki glasses and a vegan 'full English'. How could you not want to start your day here?
Whether you're just popping in for a coffee and a cookie, or a spinach wrap, Paradise feels like home.
Everything from the food to the interior is cosy and inviting. It's no wonder when you realise that most of the wall hangings and decorations are upcycled and made by hand!
If you're there for lunch, we highly recommend their 'Posh Mac'no'Cheese' with cashew and sweet potato sauce.
You can find Paradise Plantbased at 59 Chamberlayne Rd, Kensal Green. Or find them on Uber Eats and Deliveroo.
Photo Credit: Online Guide
Shayona
M-m-m-my Shayona sure does have 'the knack' for creating great vegetarian dishes!
Ok, so maybe that pun was cheesier than a paneer curry, but we stand by it.
Where else do you know around Willesden that offers a Thali buffet? Well, Shayona does, and after lockdown, it's where you'll find us (Mon-Fri noon – 4 pm).
Until then, seriously consider them for your next takeaway. We personally love their Bhinda Kadhi from the weekend specials. This is a dish of spiced okra prepared with cooling yoghurt. Sounds good, right?
So why not head on down to 54-62 Meadow Garth to pick something up today?
Photo Credit: It's Vegan Made/Facebook
It's Vegan Made
At It's Vegan Made, they've got cupcakes, doughnuts, icing, fudge, and catering covered.
So even when you get back to the office, there'll be no excuse for not having a vegan made treat from the vegan maid!
Haven't you always wanted a vegan glazed doughnut with poppy seeds? What about a peanut butter toffee vegan cupcake?
Well, you can indulge that sweet tooth at It's Vegan Made. They even do gluten-free, vegan options!
Phone ahead to It's Vegan Made at 91B Acton Ln to get your sweet fix!
Photo Credit: Portico
The Curled Leaf
The Curled Leaf is so much more than just a place to grab food.
The Curled Leaf is run by Alketa and her partner Luli. They're a yoga teacher and a Chinese herbalist, so it's like stepping into a temple.
It's a tea house, a vegetarian restaurant, and a yoga studio all in one!
Where else do you know that you can get quality tea and acupuncture at the same place?
Stop in for freshly-made vegetarian treats like eggplant on a cornbread muffin. Or, pop in to try one of their many teas with a delicious peanut butter slice.
Let the Curled Leaf nourish your belly and your soul at 98 Mill Ln, West Hampstead.
Photo Credit: Amelia's
Amelia's Vegan Kitchen
It says a lot about a restaurant when your meal comes served on a heart-shaped plate.
We love their charming dishes like 'mashpie' – falafel pie on sweet potato mash. And it's all dedicated to making you feel good.
It's no wonder that with great food, atmosphere, and staff, Amelia's has solid 5 star reviews.
Fill your body with vitamins, nutrients, and flavour at Amelia's!
Amelia's can be found at Monks Park Community Cafe, Monks Park, Wembley.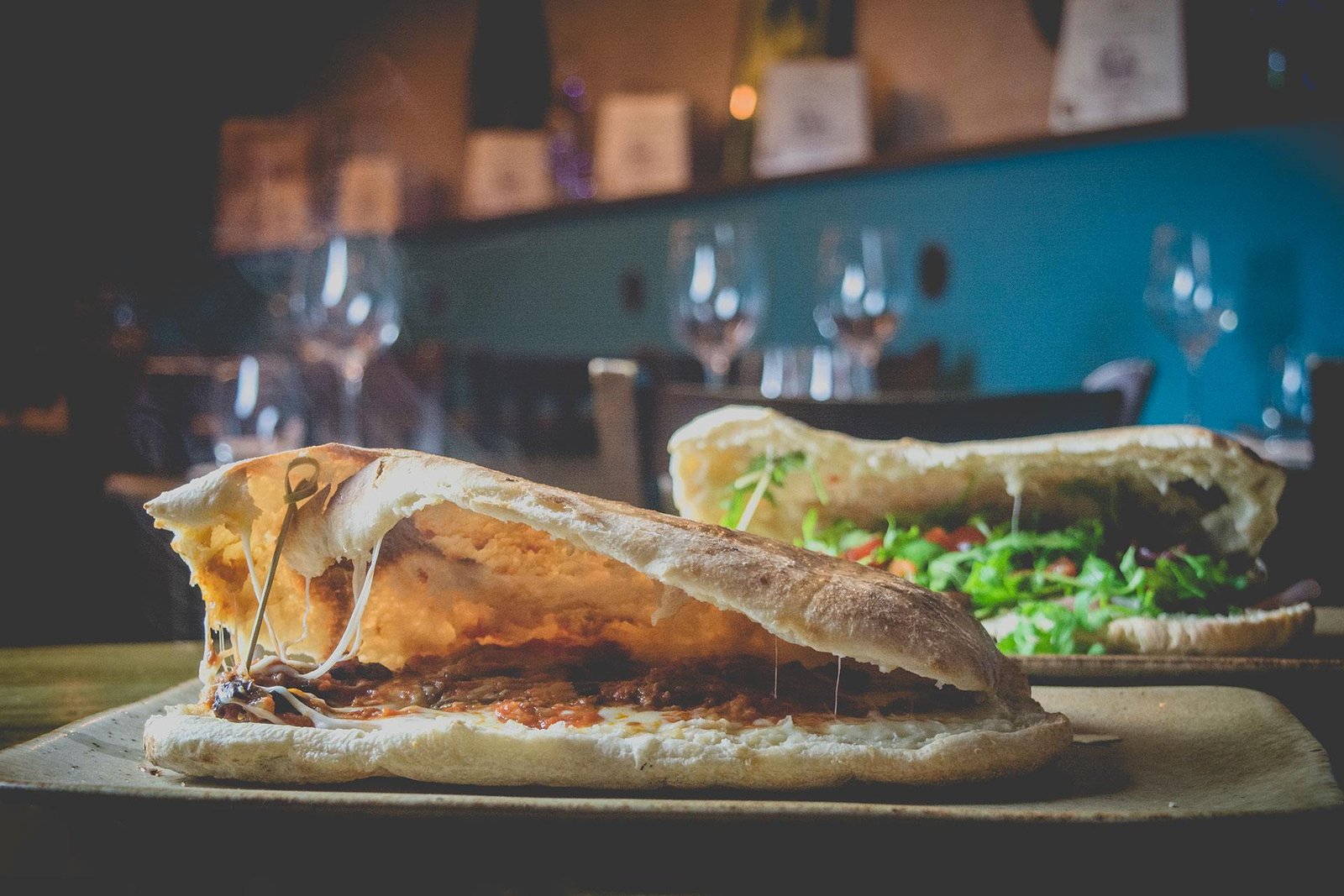 Photo Credit: Spasso
Spasso
When a restaurant is called 'fun' in Italian, it's usually a pretty good sign.
A quick note to vegans, however, this one is just for the vegetarians in Willesden we're afraid.
For vegetarians, we recommend their creamy burrata with rocket and cherry tomatoes.
After that, you have to try their Caprese pizza, oven-baked on sourdough.
All in all, Spasso is about delicious food, good wine, and friendly staff. Simple ingredients, maximum results.
It's got a Neapolitan street food vibe, and we love it. Fear not – there's more than enough for vegetarians to find on the menu at Spasso.
So head on down to 61 Walm Ln, Willesden to find out for yourself.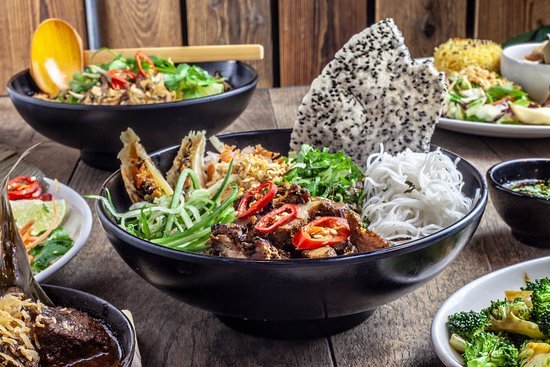 Photo Credit: Tripadvisor
Banana Tree
We always like to see it when a restaurant has a separate menu dedicated to vegans and vegetarians in restaurants.
It really makes our life easier without having to trawl through the menu and ask a million questions.
Lucky for you, that's exactly what you'll find at Banana Tree. What you'll also find is a great restaurant that's dedicated to sustainability.
They've switched to wood and recycled cardboard for their takeaway boxes, straws, and cutlery!
Their restaurants recycle and run off green energy. Plus, they've even cut out ingredients containing palm oil.
Pretty impressive stuff. What's even more impressive, though, is the food. We love vegan and vegetarian Pan Asian specials like their crispy Gyoza.
Check out their cheeky 'Phad Thai' for some top-notch wok-tossed noodles (what a mouthful!).
Or, opt for for a Bun Bo noodle salad if you want those bright, fresh Vietnamese flavours.
Head down to 237-239 West End Ln, West Hampstead to tuck in today!
Photo Credit: Zomato
Bombay Nights
We've had more than a few 'Bombay Nights' in West Hampstead before the lockdown. We're sure we'll be having more when it's over.
At Bombay Nights they serve up Indian fine dining that's been winning awards since the nineties!
At Bombay Nights, Chef Minu Pinto serves up proper Indian food in an elegant but welcoming environment.
We love their fantastic little flavour adjustments to classics. See if you can spot that hint of tamarind in their vegetable samosas. We're all for it if it tastes that good!
For vegetarians who like a bit of a tastebud kick – try their chilli paneer that's browned to perfection.
Last time we checked, they were even offering 25% off collection-only orders!
Get in touch with Bombay Nights at 90 Fortune Green Rd, West Hampstead.
Photo Credit: What The Pitta
What The Pitta!
If you're looking for the 'best vegan döner kebabs in London', look no further.
You can find locations all over London, but luckily for you, there's one just down the road from Willesden.
There's a nice story behind these restaurants too, started by a reformed meat-eater.
Plus, you couldn't ask for a better set of skills behind a kebab joint than Turkish chefs trained in Germany.
Anyone who knows a good kebab will know how true that statement holds.
Starting with a pop-up shed at The Pump in Shoreditch, What The Pitta! now has a deserved cult following.
They even won the 'Best London Takeaway' award for the kebab category. Let that sink in for a moment.
Perfect for vegans and non-vegans alike, get your next takeaway from What The Pitta!
You can find What The Pitta! at Unit 1, Parkfield Estate, Culvert Place.
Photo Credit: Fam Vegan/Facebook
Fam Vegan
Ok, so for the last entry on our list we're going to stretch it just a little bit. You might have to take a cab, but it'll be well worth it to end up at Fam Vegan.
'We don't mess with no meat here', reads their byline. Nor do they need to. Fam Vegan put the bae back into 'basics'. (Just say it out loud, it'll make sense!).
Their menu is easily broken down into basics, wraps, and dessert. We adore their cauliflower buffalo wings. And if we're feeling naughty, we usually indulge in blueberry Bakewell.
Either way, everything on the menu is to die for from the 'fam' over at Fam Vegan.
Plus, they do catering if you're looking to host your next party vegan!
Get yourself down to 26 High Rd, Willesden to hit up Fam Vegan.
Credit: Giphy
In the words of the great DJ Khaled, that 'another one'!
You'll find that the area is full of wonderful vegan and vegetarian restaurants in Willesden.
There's no shortage of incredible Indians, from Shayona to Bombay nights. Or, if you've got a sweet tooth, or want something to start the day, then It's Vegan Made, and The Curled Leaf have got you covered.
And if you want feel-good vegan comforts, then Fam Vegan and What The Pitta! are solid choices.
But, if you find that you can't get yourself down to any of them at the moment, you're not out of options yet!
Over at Plant Sumo, you can get sustainable, nutritious, and delicious meals. All delivered straight to your door! We'll take care of the menu, and the legwork.
So why not head over to Plant Sumo today to sign up for your first subscription box?