We think that if you know London, and we mean really know it, then you'll agree that the best Indian food is in North London.
More specifically, in the borough of Brent. And even more specifically than that – in vegetarian restaurants around Wembley.
If you live in the area, or you've found yourself looking at moving for the prospect of great vegetarian food, we've got you covered.
We've come up with a list of our favourite, top 10 vegetarian restaurants in Wembley in and around Wembley to set you on the right path to a great meal.
Check out our vegetarian restaurants list below!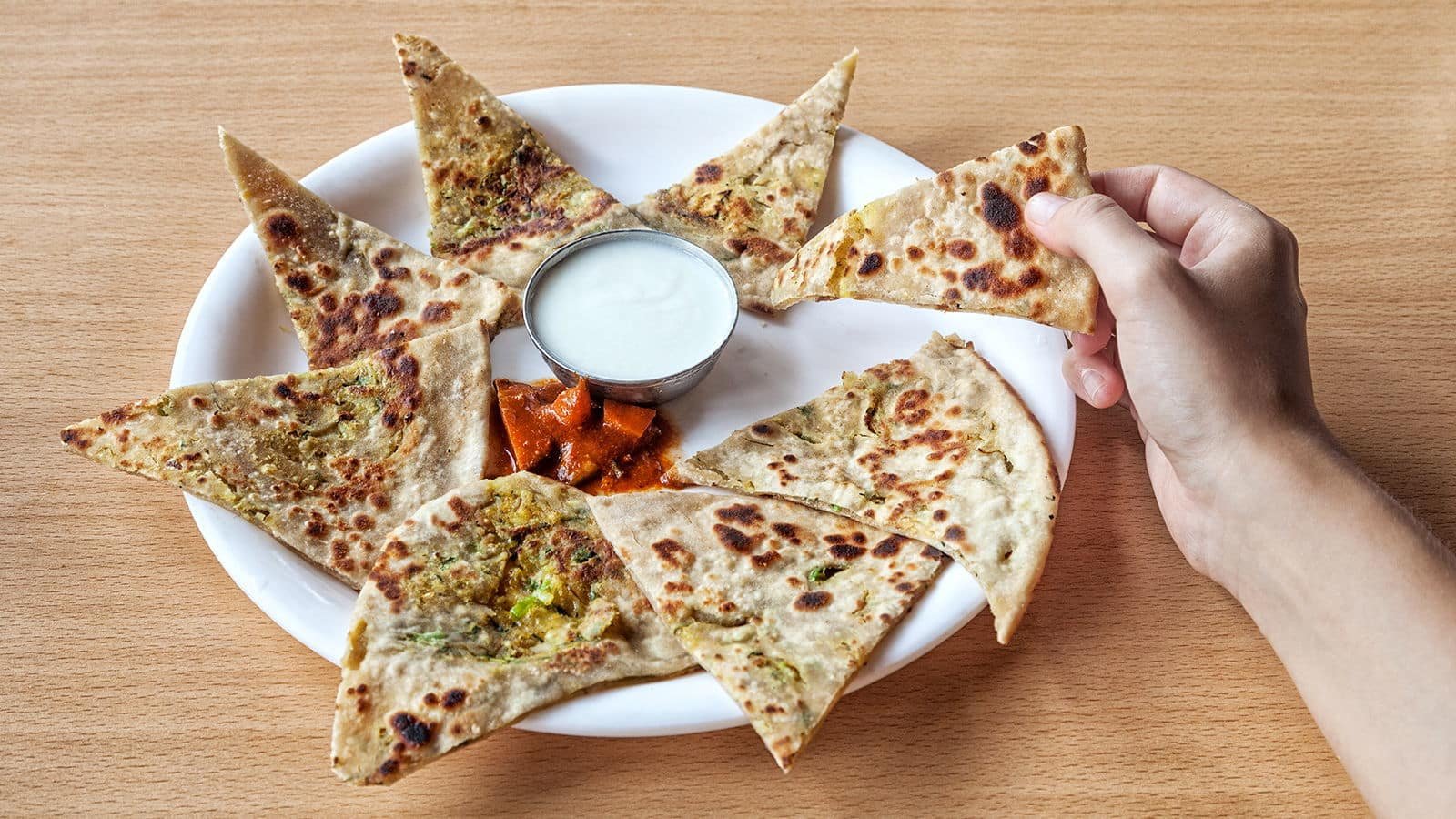 Photo Credit: Time Out
Sundurban Tandoori
From the outside, Sundurban might look fairly unassuming. The food, however, is anything but.
Anyone switched on to vegetarian restaurants in Wembley area will know that on the weekends Sundurban is packed out. So it's a shame to see them have to close their doors for a few weeks.
Hopefully, out the other side of this lockdown, we'll be back to Sundurban enjoying everything they have to offer.
Whether it's the chatty and helpful staff, of the pièce de résistance itself – the food.
Have you ever had (or even heard of) mushroom Bhaji before? If not, then get yourself down to Sundurban to try it.
We always find ourselves drawn back to their wonderful vegetable Niramish!
Plus, during the lockdown, they've got a discount on for collection-only takeaway.
So head down to Sundarban Tandoori at 5 Sudbury Heights Ave, London.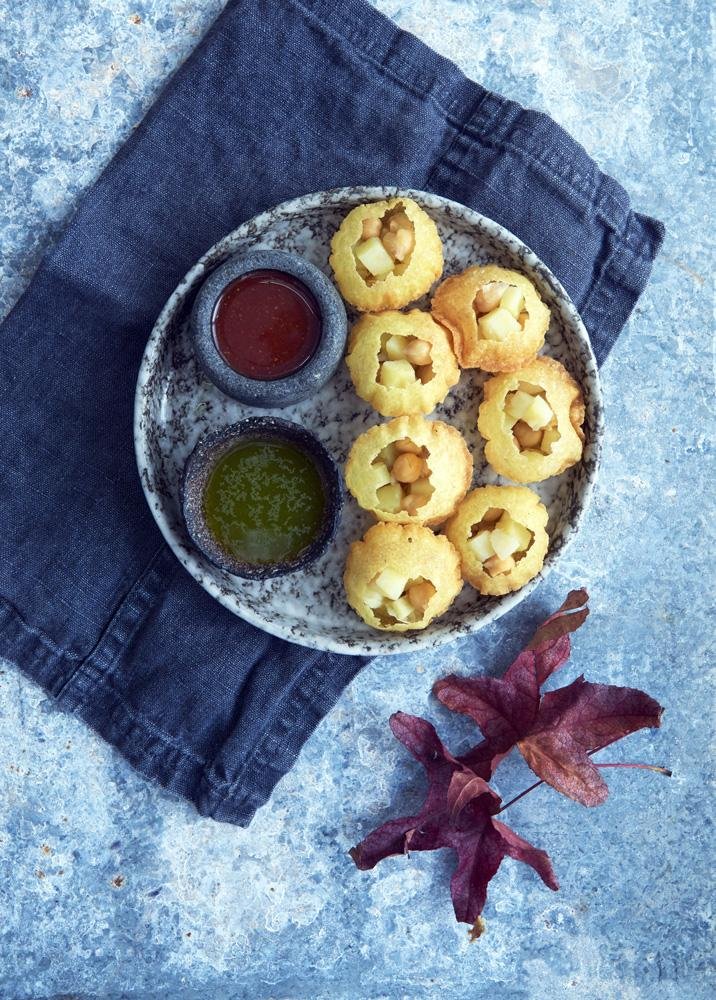 Photo Credit: Sakonis
Sakonis
When a vegetarian restaurant in Wembley has been around for going on four decades, you know that it must be doing something right.
Funnily enough, Sakonis started off as a fruit and vegetable stall at Wembley market.
Since then, they've grown from a snack back into a fully-fledged restaurant. And we couldn't be happier for them.
They've even got a Farsan (or savoury snack) shop! In the restaurant, whether it's a la carte or buffet, you'll find that same dedication to fresh produce that you would have back when they were a market stall.
They've got everything on the menu from South Indian to Indo-Chinese and even street food dishes.
And their coriander chutney that comes with the Gujarati Dhokla? It's to die for.
Check out Sakonis at 127-129 Ealing Rd, Wembley.
Photo Credit: Jai Durga
Jai Durga
Jai Durga is not only a 100% vegetarian restaurant in Wembley, but they also do vegan and Jain food.
For those who haven't heard of it, Jainism is a sub-set of Hinduism.
With concern to the welfare of all things, they don't even eat root vegetables. They believe that to uproot the plant is to kill it and disrupt the life around it.
What you maybe be surprised to hear is that Jain cuisine doesn't suffer at all because of this. Some of the best vegetarian Indian restaurants I know are Jain-friendly!
As for Jai Durga, curries are served up on Thali platters which gives off a lovely authentic Indian vibe.
The menu is extensive, and we particularly like the huge variety of Naan, Roti, and Chapati on offer to soak up those sauces.
If you're feeling particularly brave, try our favourite – the spicy 'Bullet Naan'!
All that, and more at 18 Watford Rd, Sudbury, Wembley.
Photo Credit: Sundarban
Sarashwathy Bhavan
When you go to a restaurant, and you get a Thali (rice set meal) with fifteen different delicacies, you know you've struck gold.
That gold mine is a little joint we know as Sarashwaty Bhavan. If you want:
Tasty, contemporary food
A reasonable bill
Friendly service
Then you've come to the right place. They've even got forty varieties of dosa (crispy rice crepes).
Usually, you can find us sat at a table dipping one (or more) of those varieties into their speciality Onion-Chilly-Tomato-Cucumber Raitha.
Get yourself down to 549 High Rd, Wembley sometime to join us!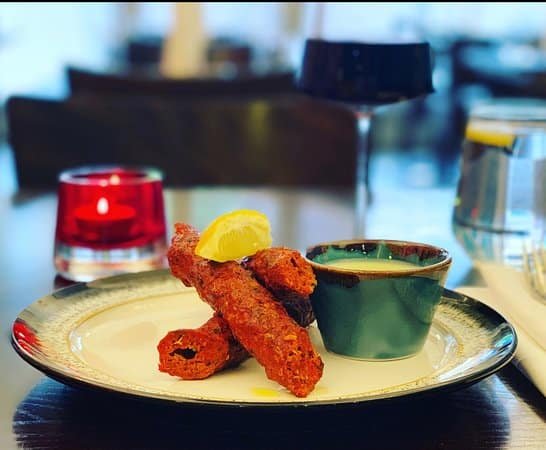 Photo Credit: TripAdvisor
Kanishkaa
When you do get the chance to dine out again, one of your first stops should be Kanishkaa.
We love their light and airy dining room with quirky wall-hangings and that gorgeous, bright full-wall decal.
Whilst not a vegetarian restaurant, veggies will find more than enough on the menu. Look out particularly for Rajasthani specialities!
We also love their Aloo Matar with that kick of ginger. They still won't tell us what the secret sauce is, though.
See if you can squeeze it out of them at Kanishkaa, 305 Harrow Rd, Wembley.

Photo Credit: Pradip's
Pradip's
If you found yourself rushing around, looking for sweet selections for Diwali, you should've gone to Pradip's vegetarian restaurant in Wembley!
Oh well, now you know for next year. Until then, you can still stop in for Pradip's excellent range of savoury and sweet snacks.
With a family business that has evolved over four generations and three continents, it's safe to say that at Pradip's, they know what they're doing.
Alongside their selection of Gujarati vegetarian dishes, there are also vegan and Jain options.
Why not spice it up with a chilli milli kebab made with millet?
Or finish up with some world-class Gulab Jambu? These are like a delicious, sticky milk powder and wheatflour doughnut dipped in syrup.
If that sounds like your cup of chai, check out Pradip's at 154, 156 Kenton Rd, Kenton, Harrow.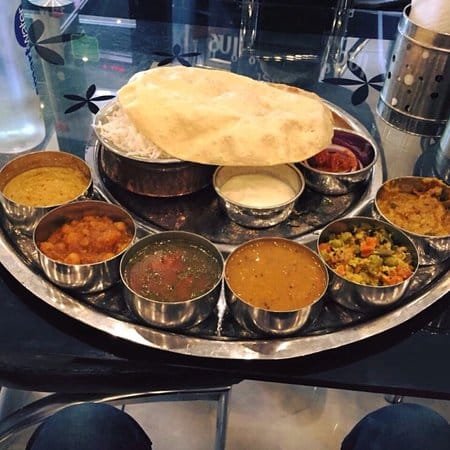 Photo Credit: TripAdvisor
Crispy Dosa
Their full name – 'Crispy Dosa 100% Vegetarian Restaurant Wembley', might not be the most catchy. But it sure does do what it says on the tin.
If you're looking for dosas or even an Indo-Chinese fix, then this could well be the place for you.
Crispy Dosa has a great relaxed atmosphere inside, and they also do vegan and Jain options.
When you do find yourself getting a meal here, why not try their onion Rava Masal dosa? Rava dosa stuffed with potato masala and onion? Sounds like a winning combo to us.
Get your dosa fix down at 1280 Greenford Rd, Greenford.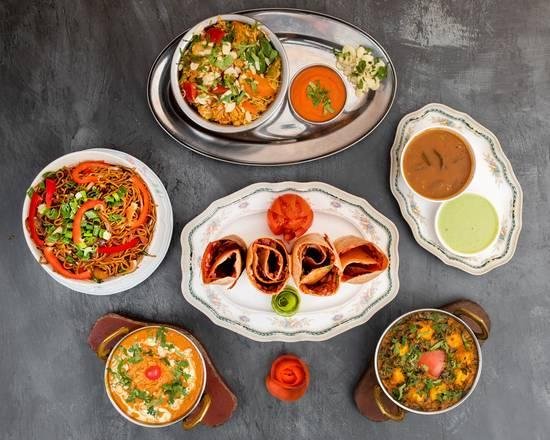 Photo Credit: Uber Eats
Rose Vegetarian
I'm going to level with you – Rosa Vegetarian may actually be my favourite restaurant in London. That's regardless of writing this list or not.
In a high street packed with awesome Indian and vegetarian options, Rose is always where my heart is.
The decor inside is like a cafeteria, and there are no bones made about the fact that people come here for one purpose – to eat. Well, and to socialise.
It can be busy, and the air is always filled with talking and laughter. Then, once that food hits? It's game over.
It's no wonder that in the last lockdown there were queues going out the door from mid-afternoon.
The food is impeccable consistent and packed with flavour. They have, without a doubt, the best Chole Bhatura (mild chickpea curry) that I've ever tasted.
Mopping up their curries with that fluffy Bhatura bread is like eating a cloud.
Now that the secret's out, why not check out Rose vegetarian for yourself?
Find the Rose team at 532, 534 Kingsbury Rd.
Photo Credit: Beyond Zone 1
Asher's
We're going to level with you. We're not quite sure why Asher's is called 'Asher's (africana)'.
If you can leave your confusion at the door, though, you'll be in for a treat.
That treat is, namely, some of the best Gujarati food in and around Wembley. Plus, Asher's has vegan and even gluten-free options for those with further dietary requirements.
Asher's is another establishment that's big on Thalis with a real focus on food over decor.
Start by nibbling on Kachori (deep-fried bread) while you wait on a top-notch curry!
Asher's can be found at 224 Ealing Rd, Wembley.
Photo Credit: Just Eat
Mithai And Namkeen
You know you're in for something new when you get to pick between fried or roasted Papadums.
At Mithai and Namkeen, the endless options don't stop there.
We personally love their stuffed Parathas with Aloo or Gobi in them (vegetable curries). You don't see that too many other places!
They've got loads of great regional dishes, and a solid selection of sweets to finish up a great meal.
Go experience Mithai and Namkeen for yourself at 875A Harrow Rd, Wembley.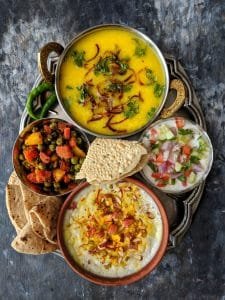 Photo Credit: Pinterest
And so, our time together comes to an end (for now!).
If you didn't know before then you certainly do now – Wembley is vegetarian heaven.
It's also a paradise for anyone who likes Indian food in general, and there's no end of restaurant choices.
You can find sweet and savoury snacks over at Pradip's. Or, try going Jain for the day over at Crispy Dosa.
If you're looking for something spicy, try out favourite 'Bullet Naan' at Jai Durga. The options for vegetarian food around Wembley really are endless.
Like Paddy McGuiness says, 'the power is now in your hands'.
Or maybe all the choice is too overwhelming right now, and you want some sure-fire vegetarian flavour.
Over at Plant Sumo, you can get sustainable, nutritious, and delicious meals. All delivered straight to your door! We'll take care of the menu, and the legwork.
So why not head over to Plant Sumo today to sign up for your first subscription box?
FAQS
Here are some family friendly restaurants in Wembley that are perfect for vegetarians!
Sakonis

Kishna pure vegetarian restaurant

Big Moe's Diner