So, you might have missed the boat a bit.
With summer slinking off into the distance, we've got maybe two good weekends of sunshine left in the year. Let's at least make the most of them!
Maybe you want to get ahead of the game for next year. Or, you want some alternatives to those cardboard veggie 'sausages' that you got for your last BBQ. Perhaps you're even crazy enough to BBQ in the cold to get your vegetarian BBQ sausage fix.
you might want to make your own sausage at home:
Who are we to judge?
We've shopped, we searched, and we've sizzled. We've managed to bring you 2020's most comprehensive list of the best vegetarian sausages for BBQs.
We're going to answer that question that's kept you up at night – what are the best vegetarian sausages for BBQs?
For vegetarians, party-hosts, or just those trying something new – read on!
Photo Credit: Linda McMcartney
Linda McCartney
Of course, we have to start by paying homage to the Queen.
Linda McCartney's sausages are pretty much the gold standard. They were one of the first ready-made vegetarian foods that I ever tried, and I was hooked. You'd better believe that I tried to have them for breakfast, lunch, and dinner!
We love her veggie sausages, with rehydrated soya protein that gives them a texture like no other. It's her Vegetarian Red Onion and Rosemary Sausages that we'll be putting on the grill, though. They have the perfect juicy texture for barbecuing.
Plus, over on their website they even have a BBQ guide for all their products. So you know that they're up to the task!
Linda McCartney Red Onion And Sage – 'The gold standard'.
If you're looking for some great kitchen appliances for your home, check out grills. 
Photo Credit: Cauldron
Cauldron
I'm aware that I might catch some flak from Southerner's about this one, but here goes.
Cauldron's Cumberland Bangers don't just belong on your mashed potatoes. They have a place on your grill just like any other sausage on this list. These ones are more like a lincolnshire sausage but they're far from your everyday banger.
They might not get that 'seared look' on the BBQ but they look authentic. Trust us when we say that this one will have meat-eaters fooled, and maybe even converted! They've got a fantastic blend of black pepper and rosemary for a sophisticated sausage.
Cauldron Cumberland Bangers – No-one ever said gravy on a hotdog was illegal!
Photo Credit: Quorn
Quorn
Another mainstay of any vegetarian's fridge will undoubtedly be Quorn. Quorn were way ahead of their time. They saw that vegetarians wanted to get involved in BBQs just like everyone else.
They've got a range of different sausages that work well on the BBQ. Their darker golden hue is perfect if you're missing those burn spots.
Quorn sausages have a herby, but definitely not a meaty taste. Just remember for your guests that they are just veggie, not vegan. We also like their cocktail sausages – give them a quick go on the grill and get out and serve them!
Forget corn on the cob – put some Quorn on the barby!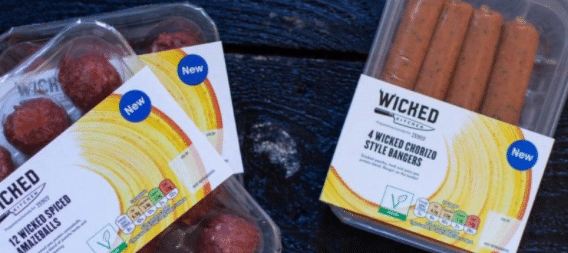 Photo Credit: Vegan Food And Living
Wicked Kitchen
'Grabbing Vegetables By The Bulbs.'
So reads the Wicked Kitchen tagline. Honestly, what's not to like?
Created by a couple of 'wicked' brothers, this kitchen serves up BBQ goodness all year round. We liked their 'chorizo bangers' a bit better than their 'little brats'. If you want to know why you can nip off and read our review of the whole Wicked Kitchen range!
Wicked – In name and taste!
Photo Credit: Vegan Food And Living
Beyond Meat
Beyond Meat, sausages are not only vegetarian but plant-based!
Made from a blend of pea proteins, fava beans, and rice, you won't believe it's not meat when you hear it sizzle on the grill. You'll be glad that it isn't, though.
You might want to check these sausages:
Seriously, one of Beyond Meat's biggest selling points is that sizzle. They act like pork sausage on the girl. You'll be waiting for that casing to break and the juice to bubble out! Plus, they offer a range of sausages from Original Bratwurst to Sweet Italian.
Do you need more convincing? Their sausages are so good that they're on the menu at Lewis Hamilton's Neat Burger. His plant-based restaurant chain must know what they're on about!
Beyond Meat – Snap, crackle, and pop on the grill.
Photo Credit: Good Housekeeping
LikeMeat
Ok, so after Wicked Kitchen's brats failed to impress we needed a 'best in class' for 'German' sausages. Boy did we find them!
LikeMeat's pea-based sausages have been smoked and have an aroma and taste almost like smoked ham. They're definitely not a top pick for vegetarians who can't stand the thought of meat. They're perfect, however, for anyone who is or was a fan of frankfurters.
LikeMeat sausages have a great bite on them and their smoky smell was born for barbecuing.
LikeMeat – But even better!
Photo Credit: Heck
HECK!
You'd be hard pressed to fool someone that Heck sausages are for meat-eaters.
With a green colour that you can spot from a mile away, they're definitley veggie. This makes them perfect for those who aren't just looking to replicate a meaty flavour. Plus, they're a lot healtheir than some of the other sausages on the market.
With a mix of quinoa, spinach, and kale, you might even lose weight living at BBQs! (Don't quote us on that). Although this natural mix doesn't mean that they taste too earthy.
HECK! – Why would you need meat?

Photo Credit: Fry Family
Fry's
Fry's meat-free burgers are BBF's (Bun's Best Friends) – so you know that they know their way around a BBQ.
They've got a range of sausages from smoked dogs to vegan ones. They also do a specific 'hotdog sausage'. Who else is doing that?
For our money, though, and for something a bit different, we're picking up a pack of braai dogs. These sausages are infused with a special blend of flavours and seasoning.
When combined, they create the taste of a real South African barbecue. Have them with mielies for a true SA favourite, or in a bun!
Saffa-style braai sausages? Sign me up.

Photo Credit: Richmond
Want to buy your own sausage stuffer?
Richmond
Yes, that 'Richmond'! We were shocked too. Who would've thought that the frontrunners for thick pork sausages would show up on a veggie BBQ list? Either way, here they are.
Richmond has branched out into the plant-based game with these meat-free sausages. They even have the same crispy skin as a meat sausage. Plus, with their secret Irish recipe, it's fair to say that Richmon know a thing or two about sausages.
Richmond – Rich in flavour.
Photo Credit: Tofurky
Bonus: Tofurky
'Mustard's Better Half.'
Remember earlier when we said that we needed a 'best in class' for brats? We thought we'd found it with LikeMeat's smoked sausage. Then, along came the Tofurky beer brats.
Want to try smoked sausage, here you go:
Made with microbrewed Full Sail ale, we fell in love instantly. These really are the OG for tofu sausages, and they work perfectly on the grill.
Top off a hotdog with some sauerkraut and a beer for that marriage of authentic flavours. Just because you aren't eating meat, doesn't mean you can't enjoy a drink!
Tofurky – Brats and beer, sounds like a good idea.
39% of British people are eating less meat and fish than just a couple of years ago. It's no wonder that we're looking for meat-alternatives. Where could we possibly need them more than on the BBQ?
From brats to smoked sausages, and even Cumberlands – we've scoured the net and sizzled on the barby. For our efforts, we've managed to bring you a list of the best vegetarian sausages for BBQs in 2020.
Has that got your taste buds tingling and you just can't wait? Why not head over to Plant Sumo for all your sustainable, nutritious, and delicious plant-based meals?
All delivered straight to your door! We'll take care of the menu, and the legwork.
So why not head over to Plant Sumo today to sign up for your first subscription box?