Ever since Tesco's 'Wicked Kitchen' range first hit supermarkets in 2018, I have been a massive fan.
Created by American Chef Derek Sarno in collaboration with Tesco, Wicked kitchen offers a diverse and exciting line of chilled meals, sandwiches, desserts, pizzas, salads, pastries and meat alternatives.
They also recently added several new items to their range in 2019, as they have become a reliable source of quick, convenient and delicious vegan food.
Most of their items can be eaten directly from the packet or need five minutes in the microwave or oven.
You might want to see this product:
This ease of preparation is a valuable feature of any food product considering the hectic work schedules that dominate our modern world.
A feature that both the Wicked kitchen range and the meals we provide here at Plant Sumo share.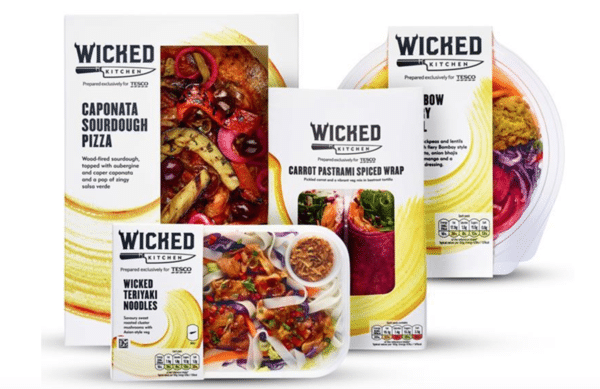 Image Credit: The Official Wicked Kitchen Website
Sarno said he envisioned the 'Wicked Kitchen' range as plant-based meals designed with meat-eaters in mind. Which as someone who has eaten my fair share of meat, I would have to agree with.
All the meal options they provide have centralised plant-based proteins and meat alternatives, in the same way, the typical western diet centres meal times around meat.
Making them a truly fantastic option for anyone experimenting with or transitioning into a plant-based diet.
I speak from personal experience. At university, I experimented a lot with my diet and new ways of enjoying food.
But no matter if I was a meat-eater, flexitarian or full-on vegetarian I always popped one of their products into my weekly shop.
From this, I became what some would call a 'Wicked' connoisseur.
I have tried almost all of their items, from savoury snacks to sweet desserts, and while I would not classify any of their offerings as 'bad' there are definitely things that made me go WOW and things that made me go……meh.
So here are the highs and the lows, of the Wicked Kitchen.
Let's start with everyone's favourite: dessert.
DESSERT
WOW: Red Velvet Brownie
Image Credit: Tesco: https://www.tesco.com/groceries/en-GB/products/302088013
Honestly one of my ultimate favourite offerings from Wicked, hence me featuring it front and centre.
It's just absolutely delicious. You could've told me I was eating a non-plant-based brownie I would've believed you.
This is especially significant since in my own personal experience I have often found vegan desserts lacking in the same indulgence and creaminess of products made with eggs and milk.
Want to know some best Vegan Deserts recipes? 
So when I picked this up, I didn't expect anything special.
But this brownie completely blew away all my expectations.
The ganache is fruity, tart and sharp, a beautiful compliment to the richness and creaminess of the chocolate.
The red cocoa bling not only looks aesthetically pleasing but also provides a much needed crunchy texture that stops the brownie from being too creamy on the palate.
Decadent and indulgent without being sickly, this offering from wicked kitchen proves that vegan comfort food can rival- and even come out on top- compared to dairy-based desserts.
MEH: Pineapple Dream Cake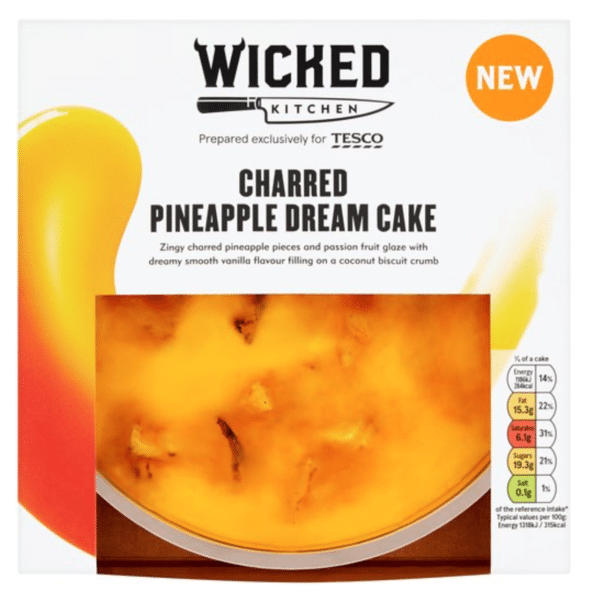 Image Credit: Tesco: https://www.tesco.com/groceries/en-GB/products/302236501?selectedUrl=https%3A%2F%2Fdigitalcontent.api.tesco.com%2Fv2%2Fmedia%2Fghs%2F62dffad9-a7bc-4a35-abdf-d3c0d0c29576%2Fsnapshotimagehandler_516714596.jpeg%3Fh%3D540%26w%3D540
I know what you're thinking- Rachael, you don't like the pineapple dream cake?
Every single review I've seen has been raving about it, some even praising it as one of the most sublime vegan desserts they've ever had.
But honestly? I found it rather disappointing.
I found it lacked the freshness, creaminess and zesty punch other reviewers have praised.
The pineapple wasn't bad, but at the same time wasn't a decadent fruity experience. I found the biscuit crumb slightly dry and cloying.
To be clear- it's not at all a bad dessert. If you're all about pineapple I would say go for it.
But I think going into this I had really high expectations because of the hype that inevitably has shaped my disappointment.
Either way, I wouldn't go out of my way to choose it over the other offerings from Wicked, unlike the ultimate vegan comfort food- their red velvet brownie.
Speaking of comfort food, while I have a definite sweet food I know desserts aren't for everyone. If you favour a more savoury flavour Wicked offers some phenomenal pastries.
PASTRY
WOW: All The Rage Rolls
Image Credit: Tesco: https://www.tesco.com/groceries/en-GB/products/302420876
Another one of my Wicked faves, a sausage roll equivalent that is significantly healthier but just as delicious.
They have an aromatic and powerful garlicky and sage flavour which I adore and find extremely comforting.
The kale is crispy, the soya protein is meaty and hearty and the puff pastry is buttery and soft.
I also really love the onion seeds, which are not only a creative and beautiful addition to the roll, giving it a lovely artisan rusticity but also provide some much-needed crunch to add dimension.
Flaky and with an addictively delicious filling, I would pick it over the now legendary Greggs vegan sausage roll any day.
That's saying a lot, considering I went to uni in Northern England, where Greggs absolutely dominates the high street.
MEH: Packed Puff Pie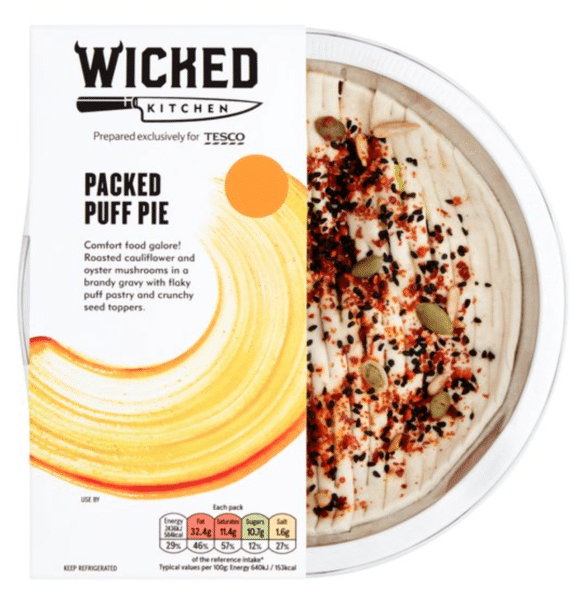 Image Credit: Tesco: https://www.tesco.com/groceries/en-GB/products/302065455
I have no 'comfort' in saying this, but this comfort dish was not what I imagined it to be.
It would be better described as a potato pie, as that was the dominant flavour. I personally found the portion of mushrooms and cauliflower in the pie lacking.
You might want some mushrooms for your recipe:
Message though to any spud fans out there: you will probably love this pie!
I also found the brandy to be a strange addition. As I feel it not only did not blend as perhaps intended with the other ingredients, but made the pie a bit soggy.
Shout out though to the seed toppers, which were delicious.
This pie is one of the only Wicked items I would personally not recommend, though give it a try yourself! You may have a different experience.
If you're not the kind of person who picks up a pastry for lunch, Wicked also offers a diverse variety of wraps and sandwiches in their 'Food To Go' section.
FOOD TO GO
WOW: Sweet Potato Pakora Wrap
Image Credit: Tesco: https://www.tesco.com/groceries/en-GB/products/299372200
Ahh, the sweet potato pakora wrap. So many times I munched on one of these during a lecture, it was my absolute go-to for a quick snack while at university.
Fresh, vibrant and with a mellow element of spice, the fire-roasted red peppers are bursting with flavour and the sweet potato pakora is crispy and comforting.
I have also always been impressed with the quality of Wicked's vegan mayonnaise considering it's my favourite condiment.
It's smooth, creamy and blends perfectly with the spicier elements of the wrap.
If you want to get into the wicked products, this is one I would definitely recommend.
You might want this product:
You might want to try this Avocado Mayo in your recipe:
The tomato bread is a nice addition, but still lacks the dimension of flavour that would elevate this sandwich into a top item on my list.
The fact this is the entry for my most 'Meh' of Wicked's sandwiches and wraps says a lot.
In my opinion, their fresh wraps, sandwiches and deli options are their strongest offerings.
I couldn't even really find, as is evident with this sandwich being my 'meh' option, anything I found particularly 'subpar'.
So while I'm completely sure you would still enjoy this sandwich, In my opinion it isn't one of the standout options from the Wicked line.
But what if you want an easy option for the evening? When you're exhausted after work and can't be bothered with cooking and cleaning?
Wicked offers a diverse selection of Ready meals that are both relatively healthy and innovative in terms of ingredients.
READY MEALS
WOW: Cheeky Tikka
Image Credit: Tesco: https://www.tesco.com/groceries/en-GB/products/304416769
Some of the best vegetarian/vegan food in the world is Indian, or at very least inspired by Indian cuisine, and this ready meal is a testament as to why.
Bursting with spice, body and vitality, the saffron rice was fluffy and light with a subtle creamy element of sweet potato and the roasted chickpeas were full of so many gorgeous layers of spice.
All coated with a luscious thick hearty sauce. Yum.
Also as I'm not a massive fan of peas, the extent to which I loved the pulled pea protein in this surprised me.
I finished it and then thought to myself: hmm, I wish I had another.
MEH: Wicked Mac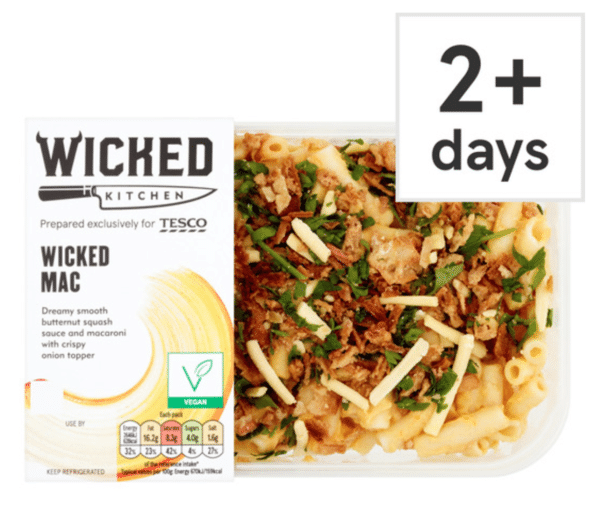 Image Credit: Tesco: https://www.tesco.com/groceries/en-GB/products/304790416
I'm a big fan of Mac and Cheese. And throughout my life finding a vegan version which has been similarly satisfying has been extremely difficult.
Emulating the taste of dairy cheese is an arduous task. It's so easy to make something despite your best efforts which tastes synthetic, with an unsatisfying texture or look.
And Mac and Cheese is such a classic comfort dish that attempting to rival it as a vegan competitor is always going to be a challenge.
To me, while I liked the crispiness of the onions and the pasta itself was nice the cheese flavour of this offering was slightly off, despite their best efforts.
Wicked does have scrumptious mac options- especially their BBQ vegan mac and cheese which I would recommend, but I found the Wicked Mac a bit of a let down.
Reading this, I'm sure you're thinking- doesn't Wicked have any products for cooking? What if I want to just cook vegan recipes myself?
Well don't worry, they also offer products for cooking, including a range of meat alternatives…
MEAT ALTERNATIVES
WOW: 2 Jalapeno Griller Patties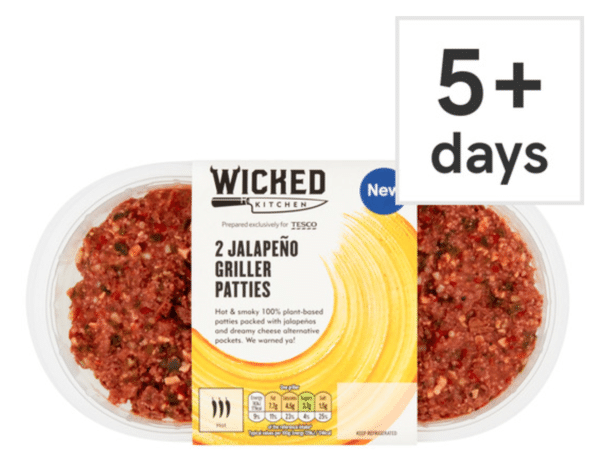 Image Credit: Tesco: https://www.tesco.com/groceries/en-GB/products/304385509
Perfect for a barbecue or home-cooked meal, these plant based patties are an exciting and flavourful take on the classic meat burger.
The cheese that oozes out of the pockets is like a dream– soft, rich and a wonderful accompaniment to the bold meaty plant-based burger.
And the heat that engulfs your taste buds while having it is an enriching kick to the system.
So basically, it's full of flavour, punch and spice, with a texture and consistency that I found to be genuinely very close to meat, for those who desire an alternative not too different from what they may be used to.
MEH: 12 Little Brats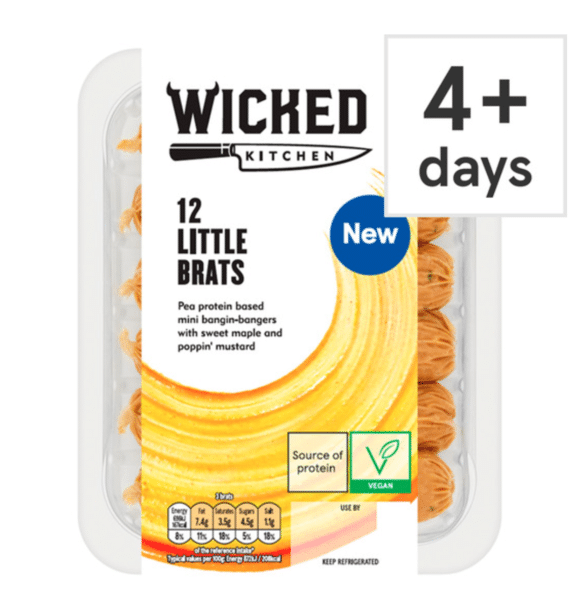 Image Credit: Tesco: https://docs.google.com/document/d/1v6mRhNa1EgLcSqo3vboeEyrVXRopbYXvV7zuxyr-sjw/edit#
While an ambitious idea perfect for all those vegan christmases, these '12 little brats' in my opinion miss the mark in being the ideal plant-based bangers.
The combination of maple and mustard while an idea that should work in theory, doesn't really in practice, as the balance is too shifted towards the maple, leading to a rather syrupy cocktail sausage.
If that's your thing, go right ahead! But for me personally I am not a fan of that kind of sweetness in a sausage.
They also don't emulate the taste of meat, so if you are looking for a plant based sausage that is scarcely different from a pork one, perhaps Quorn's sausages may be more fitting for your specific needs.
So! How to finish, after discussing all this mostly decadent and delicious food?
That's right- A healthy salad.
SALADS
WOW: Rainbow Salad Bowl
Image Credit: Tesco: https://www.tesco.com/groceries/en-GB/products/299372435
This rainbow salad made me smile as much as an actual rainbow does.
On the purely aesthetic level, it's a classically stunning salad, vibrant and fresh with its multicoloured vegetables and leaves.
In terms of its flavour, I was extremely impressed.
The crunchy and zesty red onion and carrot combine perfectly with the tandoori style sweet potatoes and aromatic onion bhajis. The chickpeas and lentils are soft and wonderful on the palette.
The cool minty dressing uplifts the salad, preventing it from becoming too spicy. And the mango, which I was initially unsure about, really works as a fresh addition.
And at only 321 calories per pot, this rainbow salad is both extremely healthy and extremely delicious.
Another one of my absolute faves, whenever I've been feeling in the mood for something fresh and low calorie.
MEH: Tex Mex Salad Bowl
Image Credit: Tesco: https://www.tesco.com/groceries/en-GB/products/301651771
A Tex Mex salad is supposed to be bursting with hot and earthy flavours, owing to its roots in hearty Mexican Texas-style cooking.
But this one? Just felt heavy and a bit bland. A shame considering most of Wicked's salads are packed with flavour.
I personally think it was a mistake to make the heat content of this salad mild, as that spiciness is what the salad is missing.
Its heavy carb content of rice and beans is a lot to digest, and all the other ingredients- including the avocado dressing- do little to make it more dynamic and exciting.
Wicked Kitchen: My Verdict
I love Wicked Kitchen.
I think the vast, vast majority of the products from the Tesco range are absolutely amazing.
The options I liked the least aren't even bad examples of food!!
They just don't in my eyes measure up to the truly innovative and mouth-watering options- many of which I have listed here as personal faves- which Wicked offers.
For the standing of plant-based foods in the supermarket the Wicked range is undoubtedly pioneering.
Sarno has imaginatively reinvented plant-based food in an innovative and accessible way, and for that this range deserves a lot of credit.
Especially since vegans and those experimenting with plant-based food deserve to have the same access to fresh and easy prep meals as meat-eaters, a need which Wicked Kitchen has catered to.
For us at Plant Sumo, we provide a similar service- just delivered directly to your door.
Cheap, nutritious and delicious plant-based meals.
Take a look at our main website at https://plantsumo.com where all our offerings are listed, and sign up today for your subscription.
When you search for "Wicked Kitchen" you might see the term Tesco Wicked Kitchen because Tesco owns Wicked Kitchen which is a company that offers plant-based products and recipes. Wicked Kitchen products are found in Tesco stores all across the UK!
Wicked Kitchen is a company founded in 2012 that specialises in plant-based products. One of their common product types is the meal kits which are easy and delicious according to wicked kitchen Tesco reviews! There are not many gluten-free meal kits but there are some like the Gunpowder Potato Chana Masala and the Cauki Bhaji and coconut rice!