How to cook Jackfruit
Introduction
Jackfruit is increasingly being used as a vegetarian meat alternative in various surprise dishes, including American-style barbeque and sandwiches, which are becoming more popular.
Unripe jackfruit is a delicious complement to savoury recipes such as soups or curries, where it absorbs the flavours and may even be used as a vegan alternative to meat. Make use of your jackfruit by making a vegetarian curry; it can be used in place of components such as tofu or chickpeas. Alternatively, add it to stir-fries, salads, or any other meal that calls for chicken or pig as an ingredient.
A meaty texture develops when cooked, and it has been likened to pulled pork in several recipes. The edible seeds have a taste comparable to that of macadamia or brazil nuts, and they may be cooked or roasted to prepare a meal.
Cooking with unripe fruit is common in Indian cuisine, and the seed is often dried and stored for use in curries later on.
Here, some simple guidance covers all you need to prepare and cook this mouthwatering recipe.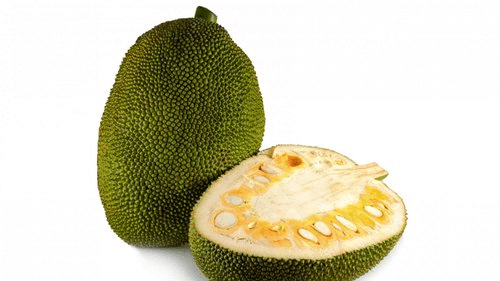 How to Cook Jackfruit in a Delicious Way
How to prepare a jackfruit
To begin, first cut the jackfruit in half lengthwise with a bread knife (please notice that the sap from the jackfruit is quite sticky, so it is recommended to use gloves and gently oil any instruments that may come into touch with the fruit).
Cut each half lengthwise a second time to create quarter-inch wedges. The white core of the fruit will be found in the middle of the fruit, and this should be removed next. It will be possible to bend back each wedge after removing the core, which will result in the pods being looser and more easily separated!
Now, it should be rather simple to separate the pods from the outer prickly rind of the plant. Remove the seeds from each pod if you choose, but keep in mind that these seeds are very nutritious.
Once the jackfruit has been prepared, place it in a nonstick pan with your favourite sauce and cook until heated through.
VARIOUS PACKAGED OPTIONS AND WHERE TO GET JACKFRUIT
The following are the most prevalent forms of jackfruit seen in grocery stores:
Fruit that has been freshly picked (whole or already sliced)
Canned
Starters for a meal
The dried variety is also available, although they are more for snacking purposes and do not need any preparation!
The availability of canned jackfruit in supermarkets also makes it simpler for consumers who don't want to deal with the hassle of breaking down a whole fruit and keeping any leftovers for future use (freezing leftover jackfruit is the way to go, by the way). There are several different types of liquid that jackfruit is packaged in when it is canned, including the following:
Syrup
Brine (also known as brine) is a kind of salt that is used to preserve food (saltwater)
Water
Recipes
1. The duck of jackfruit
Ingredients you'll need to make your dish
Jackfruit,
Two tablespoons of sesame oil
Finely chop the white portion of two big spring onions.
Three minced garlic cloves
Ginger,
coarsely diced, 2 tbsp
Tsp.
Five-Spice Powder from China
2 Tablespoons Tamari
3 Tbsp of Hoisin sauce
2 tbsp of rice vinegar.
For The Hoisin sauce
2 Tbsp of nut butter.
1 Tbsp dark brown sugar
Salt and 2 tsp Rice Vinegar
One clove of garlic, coarsely minced
Black pepper,
2 tbsp sesame seed oil
Four tablespoons of tamarillo
Cooking Method
In a basin, drain the can of jackfruit. Break the jackfruit into threads using the back of a fork.
Heat oil in a frying pan over low heat to soften spring onions. Cook for a few more minutes, after which time you may add the garlic and ginger to the pan.
You may use store-bought or homemade hoisin sauce, sesame oil, and rice vinegar in place of the homemade jackfruit soy sauce. Add the five-spice powder and cook for another 30 seconds or so. Make sure everything is thoroughly combined.
To further separate the jackfruit's fibres, mash them with a spoon once more. Adding salt isn't necessary since the food is already salty enough.
Allow it to cool after simmering for approximately ten minutes.
Turn up the oven to 200 ⁇ C and put the jackfruit pieces on a baking pan coated with parchment paper. Brush a little hoisin sauce over them and roast for 20 minutes until the edges are browned and crispy. Refrigerate overnight to allow the meat to marinate.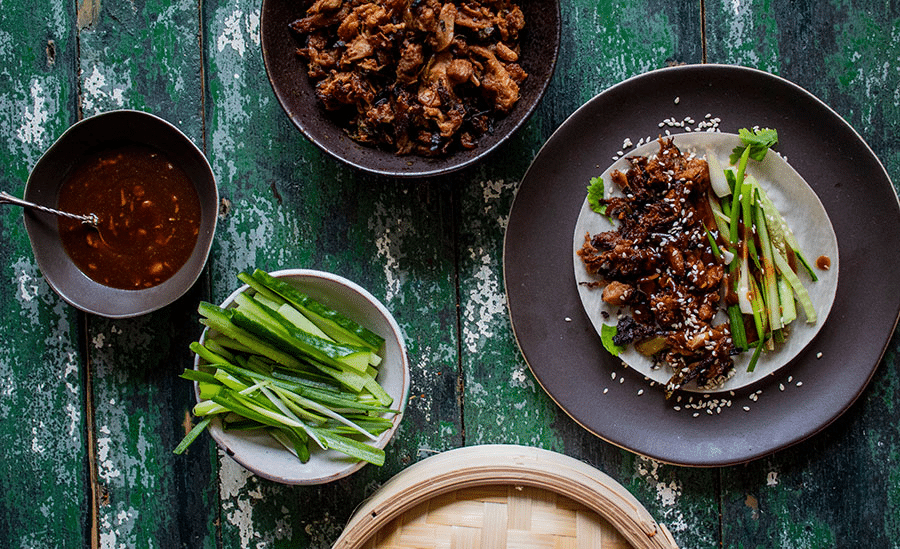 2. Jackfruit 'Crab Cakes' with Tartare Sauce
Ingredients you'll need to make your dish
Celery 100 grams
1.50 Tbsp of olive oil
120 g of cherry tomato
One lemon
One red pepper cooked in the oven
There is a single shallot in this dish
One heaping tablespoon of flaked dulse algae
Tbsp. of flame-roasted red peppers and paprika
Capers: 20 grams
A quarter-pound of jackfruit (drained)
Creole seasoning is two teaspoons.
the mustard of your choice,
A pound of sweet potatoes
Salad greens weighing 40 grams
Buckwheat flour: 4 Tbsp
4 tbsp of dry polenta.
Coconut yoghurt, 80 ml
Flat-leaf parsley in a medium-sized handful
Cooking Method
Boil a kettle and heat the oven to 200C / gas mark 6. Cut the sweet potato into fries and put it on a baking sheet with 1 tbsp oil and a sprinkle of sea salt. Bake for around 30 minutes until the fries are golden brown. Cook for 20-25 minutes at 350°F.
Drain the jackfruit and rinse it. Cover the jackfruit with boiling water in a saucepan. After ten minutes of boiling, remove the pieces from the pot and shred them using two forks.
During this time, mince the celery and red pepper, and grate the shallot finely. It's time to cut the parsley.
Creole spice and Dijon mustard are added to the celery and roasted red peppers and shallots in a bowl with the rest of the fresh parsley. Jackfruit and the remaining fresh parsley are then added—form six 1cm-thick patties and season with salt and pepper to taste.
Apply a light coating of the polenta to the meat. Cook the crab cakes for 2-3 minutes on each side until golden brown in a large frying pan with 1 tbsp oil over medium-high heat.
Capers and coconut yoghurt with a squeeze of lemon juice (to taste) and the remaining parsley should be carefully chopped and added to a bowl with a bit of sea salt to form the tartare sauce.
Mix 1 tsp olive oil with a squeeze of lemon juice to make a fast dressing. Cut the cherry tomatoes in halves and combine them with the mixed greens and the dressing in a bowl.
Set out the jackfruit 'crabcakes', fries, salad, and tartare sauce on two heated plates.
FAQ
Is the jackfruit the world's biggest fruit?
Even yet, the jackfruit isn't your average fruit. It can grow to 100 pounds, making it the world's biggest tree fruit. It also grows on the branches and trunks of trees that may grow up to 30 feet in height!
Why does jackfruit pose a health threat to humans?
Some persons sensitive to birch pollen or latex may also be allergic to jackfruit. Diabetes: Consuming jackfruit might help reduce blood sugar levels. Some people with diabetes are worried that it may impair their ability to regulate their blood sugar levels. Diabetic medicine may need to be tinkered with.
What is the origin of jackfruit?
The Jackfruit tree, which originated in the rain forests of the Western Ghats of India, spread to Southeast Asia, the East Indies, and the Philippines.
What is the rationale for the prohibition on haggis?
It became unlawful to import dishes from the UK into u. s. in 1971 as a result of a federal restriction on the importation of food containing sheep respiratory organs, which accounts for 10–15 p.c of the standard formula. thanks to the chance that fluids like abdomen acid and phlegm could enter the respiratory organ throughout slaughter, the restriction applies to any or all lungs.
The jackfruit's actual name is?
Tree (Artocarpus heterophyllus) is endemic to tropical Asia and commonly cultivated in the wetland tropics for its enormous fruits and sturdy wood.
Where can you find jackfruit?
Answers to alarming questions regarding jackfruit as shown by this image
India is the world's greatest jackfruit grower, and the country has long been thought to be the fruit's original home. The Portuguese word for jackfruit is jaca, derived from the Malayali word chakra. In the Western Ghats, in the southern hemisphere, and in isolated pockets in the northern and eastern hemispheres, it thrives.
Closing words
Overall, jackfruit is a versatile ingredient used in sweet and savoury dishes. It has both nutritional and environmental benefits. Jackfruit is an exciting ingredient to play around with and use in your favourite dishes, especially if you're vegan or vegetarian or just want to eat more plant-based food or meat substitutes in your food.
Many fiber, minerals, and antioxidants are in jackfruit, so your body and taste buds will both be happy. As the world moves toward more plant-based eating and more sustainable farming and food production, the hearty jackfruit tree can help solve the problem of dwindling crop yields as well.
All of these things are getting jackfruit more attention from the industry and from people who buy it, and we think it's a good thing.