We've gone from meat to BeyondMeat. From pork-based to plant-based.
There are so many positives to cutting out meat and going plant-based, even if it's just for one day a week! You might have a positive impact on the environment or even just your tummy.
Yes, we know that the tasty-looking 'Impossible Burger' hasn't made it to our shores yet. That's why we've been searching for the UK's plant-based stars.
Maybe you want to join us? You want to find the best plant-based burgers in UK. You might want to know about their calories, and the best plant-based burger recipes to cook up a storm.
Well, guess what? We've only gone and put together our definitive list of the ten best plant-based burgers in the UK. Find out what they are, where they are, and how to wow your friends and family when you serve them up in our top 10 Plant Sumo burger list – let's read on!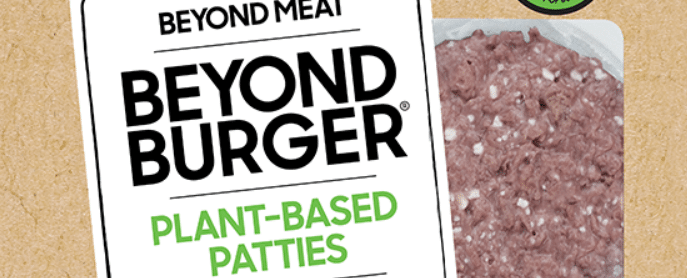 Photo Credit: Beyond Meat
1. BeyondMeat
It looks, cooks, and tastes like meat.
So BeyondMeat UK is pretty much our best answer to plant-based rivals Impossible. Unlike Impossible, this LA-based plant-based burger brilliance has made it to our shores.
With no GMOs, soy, or gluten, it does what it says! Made from pea protein, rapeseed and coconut oil, it has a signature 'smoke flavouring'. Plus, the thickness of the Beyond Burger makes for a satisfying bite.
It's got a great texture that even mimics a real meat patty!
Available at Tesco, or Honest Burgers, Neat Burger, and Halo Burger (various locations).
Calories: 270 calories per bun with a whopping 20g of plant protein!

Photo Credit: Delish
2. Falafel
So you said that you wanted plant-based burger recipes too? We've got you covered.
If you want to spend a bit of time crafting your own plant-based burger, then read on.
INGREDIENTS
You'll need:
A couple of cans of chickpeas
1 small red onion, chopped
2 cloves garlic, roughly chopped
Some parsley leaves
4 green onions, roughly chopped
For spices:
1 tsp. ground cumin
1 tsp. ground coriander
1/4 c. all-purpose flour
Kosher salt
Freshly ground black pepper
Bake your chickpeas in the oven until they split open (8 to 10 mins)
Let them cool, then add them to a food processor
Combine chickpeas, onion, parsley, green onions, cumin, and coriander. Blend until mixture resembles a thick paste then transfer to a large bowl
Stir in flour and season with salt and pepper
Form mixture into 4 large patties
Cook patties on a skillet with oil (3 mins each side)
You can even make a yoghurt-dill sauce for your plant-based burger:
Mix yoghurt, cucumber, dill, and lemon juice until combined
Then, you're ready to assemble your burger!
Available at: The supermarket.
Calories: Approx. 350.
Photo Credit: The Vegan Kind Supermarket
3. Meatless
Aren't they all meatless, though? Ok, but we didn't come up with their brand name.
These soya and pea protein patties have some great seasoning. They've even got beetroot, radish and tomato extracts. Plus, they're healthy with heaps of vitamins and minerals!
These Meatless patties are hefty, and they do well on the grill. They've got a great bite to them, but some say you need condiments to bring out the flavour!
Available at: Sainsbury's, Morrison's and Co-Op.
Calories: 177/per patty.
Photo Credit: Biona
4. Biona
Biona has a great range of burgers. They even do little sliders! We like to opt for their Sweet Potato Buckwheat Burger, though.
With its golden, crunchy outer layer, this vegan burger is packed with veggies. It's even got buckwheat and pumpkin seeds mixed in.
Biona burgers have a great, balanced flavour. Our mouths are watering just thinking about those sweet potato patties.
Available at: Planet Organic.
Calories: 248/100g.
Photo Credit: Tesco
5. Wicked Kitchen
We've spoken before on Wicked Kitchen's whole range. It's safe to say that their Jalapeno Grillers with cheese stunned us.
Their savoury bite hits you with jalapeno spice that gives a fiery kick. However, there's a sweetness that you get from the red peppers to match it. Wicked's Grillers are colourful, sweet, and spicy.
You might even be fooled that someone's cooking up chorizo! While the texture could be a bit firmer, they're still a great pick. Perfect for a BBQ, these plant-based patties are an exciting take on the classic meat burger.
Plus, that cheese that oozes out of the pockets? Dreamlike.
Available at: Tesco.
Calories: 177 calories per Griller.
Photo Credit: Full Of Plants
6. Tomato Burger
Hold up, hold up. We know what you're thinking. First off, that's not a plant-based burger specifically for the UK. Secondly, what a cop-out!
You can get a tomato anywhere, and you'd feel pretty hard done by if you paid for a tomato burger in a restaurant. But a ripe, chunky heritage tomato drizzled with a bit of balsamic and olive oil sure can replace a patty.
If we still haven't sold you, then you can check out this sun-dried tomato burger. The recipe for this plant-based burger is just below:
INGREDIENTS
You'll need:
1 cup sun-dried tomatoes
1 cup red bell pepper
1/2 cup carrots
1/2 cup pumpkin seeds
For Spices:
2 garlic cloves
1/8 cup basil
1/8 cup fennel
2 teaspoons ground flaxseed flour
1 teaspoon cumin seed
1 teaspoon paprika
1/4 teaspoon salt
1/4 teaspoon pepper
Process all the ingredients together until they resemble ground meat
Shape meat into about six patties
Dehydrate for one hour (or put them in the fridge), or until the burgers are firm
Cook them up, and away you go!
Available at: Any supermarket, or your veggie patch!
Calories: The first option? Pretty much none. Approx. 350 for the whole kit and caboodle.

Photo Credit: The Vegan Kind Supermarket
7. Vivera
Vivera burgers are another one with a meaty texture and appearance. They're well-seasoned with garlic, onion, potato and salt and love being in a bun with some relish.
A little different to some of the other picks, Vivera burgers use soy and wheat protein. It can be a bit thin and crumbly, but we're willing to look the other way. It picks up that grill flavour probably better than any other burger on our list!
In addition to their original burger, you can also find the Vivera beetroot burger and Vivera pumpkin burger.
Perfect for those who like a well-done plant-based burger.
Available at: Vivera, Sainsbury's and Morrisons.
Calories: 161/100g.

Photo Credit: The Independent
8. Moving Mountains
It's 100% vegan and 0% cow. Moving Mountains burger is so good that you can even find it in restaurants across the UK!
This plant-based burger is packed with pea, wheat and soy protein. Mix in juicy mushroom, beetroot and onion as well as vitamin B12. Combine the lot for a moist, rich flavour, much like a real meat burger.
It's one of the thickest patties on our list, and feels like a big, messy burger! Check it out in a restaurant near you to see how they've put their spin on it.
Available at: Only in restaurants. Try a Hard Rock Cafe or Wahlburgers. You can get their sausages at Sainsbury's.
Calories: 270 calories per bun with a whopping 20g of plant protein!
Photo Credit: Vegan Food UK
9. Plant Kitchen
Way back in Veganuary (January), Marks & Spencer launched their Plant Kitchen range. Their no-beef beet burger is our personal favourite.
This burger is made from chickpeas, beetroot, green lentils, and brown rice. They then season it with garlic and fresh parsley. It's a real winner. For once, it's a patty that doesn't try to imitate a real meat burger.
The colour is still appetising, though, and the packaging is smartly presented. We love that deep red, crisp exterior. When cooked, this caramelised burger melts into a well-blended mix of vegetables.
It's rich, earthy, and smoky. What's not to love?
Available at: Marks & Spencer.
Calories: 225 calories per patty.
Photo Credit: The Independent
10. Waitrose Jackfruit
We've talked before about how jackfruit can spice up a burger. It's one of our guilty pleasures, and Waitrose has answered our prayers.
First you get a sweet fragrance from the jackfruit. Then it's topped with a BBQ smokiness. Plus, this vegan burger is beautifully crisp and golden. It's salty, moreish, and deliciously moist. The pulled jackfruit filling is quirky, and to die for!
Available at: Waitrose.
Calories: 177 calories/100g.
It looks like times are changing, both in the supermarket and at restaurants. There's a new wave of plant-based burgers trying to mimic the flavour and texture of real meat burgers.
Conclusion
The big question: do they actually taste good?
We think we've pretty much solved that crisis for you. We've run down not only the best but our favourite plant-based burgers. Plus, they're all available in the UK right now.
Has all that talk of plant-based burgers got your tummy rumbling? Are you looking for somewhere to get a plant-based meal without having to go to a chain restaurant?
Over at Plant Sumo, we've got you covered. Get sustainable, nutritious, and delicious meals delivered straight to your door! We'll take care of the menu, and the legwork.
So why not head over to Plant Sumo today to sign up for your first subscription box?
FAQS
A plant-based burger is not bad and can actually improve heart health as contains high protein.
​​Beyond burger in the UK is one of the healthiest burger meats to eat because it contains less fat and sodium than a normal meat burger.