The vegan pastry market is growing rapidly, with many people turning to plant-based cakes, pies, tart, and pastries for their morning breakfast. People are also increasingly interested in veganism as a lifestyle choice. By definition, it is a lifestyle choice that allows individuals to abstain from consuming any animal products such as meat, eggs, dairy (milk), and honey.
With this description, a vegan pastry recipe is almost paradoxical if we are going to think about it. However, there definitely such a thing. To expound, vegan pastries are popular food items made without any animal products. Vegan tart, cakes, and pies have become so popular among consumers that many vegan bakeries have opened their doors across the globe. The popularity of these desserts comes from the fact that they are healthier and taste better than traditional desserts.
A vegan pastry can be made with many different types of flour and sugar, but it usually has a lot of butter in the recipe. Vegan pastries can also have a lot of fruit in them, like apples or cherries. The most common type of vegan pastry is a cake mix with frosting on top. However, a lot of vegan recipes are being introduced by different bakers all across the globe.
But how do you make some? What are their benefits? How do you manage them in your kitchen?
Benefits of Cooking Vegan Pastries
Vegan pastry recipes are not just healthy but also delicious. They are a great way to satisfy your taste buds without compromising on health. Vegan pastry recipes are not just delectable and healthy but also easy to make. Pastry is the perfect snack, dessert or breakfast and there are so many delicious vegan options to choose from.
Some of the benefits of cooking vegan pastries are:
Vegan pastry recipes are healthier than traditional ones. They don't have any animal products in them, which makes them a healthy option for people with dietary restrictions like vegans and vegetarians. These desserts include not only fruits and nuts but also whole grains, making them a nutritious option for everyone.
Vegan pastries require fewer ingredients and less time to cook than traditional ones, so they are more cost-effective as well as time-saving.
Vegan pastries can be customized to suit the tastes of different people, which gives you more options when it comes to cooking them.
How to Prepare a Vegan Pastry
There are many vegan pastry recipes out there in the internet. But some of them are not very easy to make because they require special ingredients that are not easily found in the market. This article will teach you how to prepare a vegan pastry. The goal of this article is not just to give you the instructions, but also provide tips to help you master the recipe. Let's get started!
With just three ingredients, you can make this vegan pastry in no time. It's cheap and saves money on a sweet treat for your clients. This dough provides 949 calories, 15 grams protein, 116 grams carbohydrate (of which 1 gram sugars), 46 grams fat (of which 6 grams saturates), 6 grams fiber, 2.5 grams salt.
Time to prepare: 30 minutes or less
Cooking Time: The cooking time for this meal range from 10 to 30 mins.
Serves: This recipe makes 1 (7-inch) cake pan of a flan case, approximately 250g/9oz.
Ingredients: 150g/5½oz plain flour, plus extra for rolling, ½ tsp fine sea salt, 50ml/2fl oz sunflower oil
Set the oven to 200 degrees Celsius/180 degrees Celsius.
You will need 1/2 cup all-purpose flour and 2 tablespoons salt, mixed together in a large bowl. Add sunflower oil to the bowl, then add in some flakes of breadcrumbs. Rub and stir these in, until it appears to be made from rough crumbs.
Add cold water (3 tablespoons) to flour and mix until it comes together in a ball.
Gently dust the work surface with a bit of flour, then roll out the dough until it forms a circle, roughly 20cm or 8 inches in diameter.
The pastry should be used to line a standard sandwich cake tin with a diameter of 18cm/7in and depth of 7.5cm/3in. Trim any excess pastries, and then use the scraps to patch up any leftover gaps.
Line the case with crumpled baking paper and fill it with baking beans, in half. For most cake recipes, it's best to bake your pastry for 15 minutes, then remove the paper and beans and bake for a further 5 minutes or until crisp.
Making A Vegan Shortcrust Pastry Recipe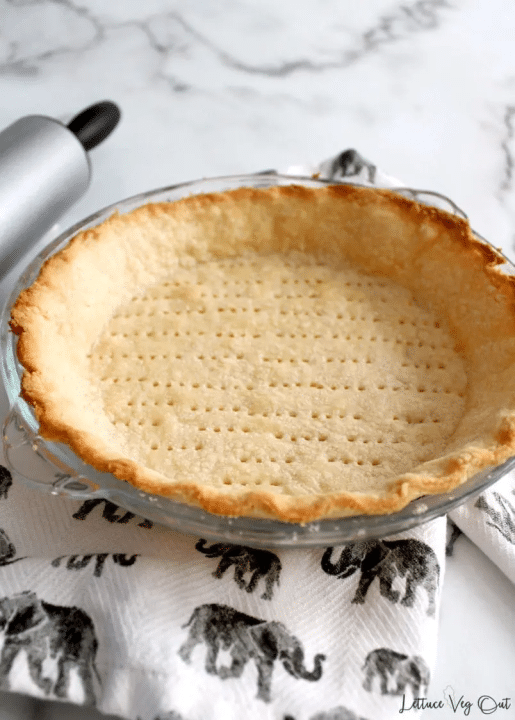 Shortcrust pastry is used for making pies and tarts, which contain butter as the fat source. Pie dough recipes often call for a fat, typically butter or shortening. However, this recipe uses vegetable shortening for a unique flavor and texture. This recipe also includes flour, salt, sugar and ice cold water to create a tender crust with a flaky consistency.
All vegan cooking requires a few simple substitutions and this is one of them! By using vegan butter substitute in place of normal butter, you'll be able to create a dairy-free shortcuts pastry recipe.
Without using animal products and the gums like hydrogenated oils that often contribute to bad cholesterol, this shortcut pastry is without added trans fats or other dangerous fats. It's also much more flavorful and has a higher salt content for savory recipes! If you want to reduce the amount of salt you use, it may be a good idea to find vegan ingredients like margarine or butter.
The ingredients for this recipe are:
All-purpose unbleached white flour
Salt
Vegan butter substitute
Ice cold water
STEP 1: MEASURE INGREDIENTS FOR YOUR VEGAN SHORTCRUST PASTRY
Measure flour in cups by spooning it into the measuring cup until it reaches capacity. Use a flat edge to scrape away excess flour from the top of the measuring cup. Using the lid to scoop flour straight from the bag can compress it and leave you with excess.
Salt can be taken out of its container with a measuring spoon. For the butter, press it down into a ½ C measuring cup so there's no air pockets left. Measure the flour to a slightly heaping initial amount than scrape off the excess using your top edge of the measuring cup. Keep your butter in the fridge until ready to use.
For the water, you will need a bowl and a spoon. Fill the bowl with ice and add cold water to it. When you need to measure more water, put your spoon in the ice and take out as much as you need for just one or two glasses at a time but don't store it away because then it would melt.
STEP 2: WHISK DRY INGREDIENTS (FOR THE CRUST)
Add the flour and salt to a large mixing bowl. Then, gently stir together with a wooden spoon. This will be helpful in creating the base of your shortcrust pastry.
STEP 3: CUT BUTTER INTO FLOUR
To make vegan butter, measure the required amount of butter (1/2 cup), then remove small pieces of the butter with a knife and leave on a small plate. While you should aim to "chop" the butter in by pressing on it with your fingers, begin with half of what is needed. As soon as half is in, start "pounding" it into the flour and then evenly sprinkling more over to ensure even coverage. They are broken into small pieces and coated in flour.
For the first half of the butter, cut until most of the pieces are similar in size to a tiny green pea. Break it into small pieces, and stir them in with the flour. Larger pieces of butter will give you thicker and flaky pastry, but too many large pieces of butter can make for a soggy pie crust. You should avoid being overly generous with the amount of butter used in this recipe.
STEP 4: STIR IN WATER AND FORM A DISK OF DOUGH
Add 3 tablespoons of water from the bowl of ice water. A fork may be used to stir it until a ball of dough begins to form. Consequently, you may press the dough into a ball, and ensure all the flour and butter are incorporated. The dough should easily hold together when pressed but not feel sticky.
If the dough doesn't hold together well, add a tablespoon of water until it begins to come together. If your dough feels sticky, it can be improved by stirring in a little more flour.
Wrap your disk of dough (using plastic wrap) and shape it into a round, flat disk to make rolling easier. Put the shortcrust dough into your fridge for at least 20 minutes. Overnight chilling is acceptable.
STEP 5: ROLL VEGAN PASTRY DOUGH
Dough that has been chilled and rested is ready to be rolled out. You may now preheat your oven to 400 F.
To roll the dough, however, sprinkle a layer of flour over your counter surface, and place the dough. Put some flour on top of the pastry as well, and dust your rolling pin with flour. After this, start to roll it.
STEP 6: TRANSFER PASTRY TO BAKING DISH
Roll the dough onto a rolling pin, place it over one edge of a pie plate and unroll it, leaving enough slack in the dough so it can sink down and fill the dish. Cut excess pastry if necessary.
STEP 7: BLIND BAKE OR FILL AND BAKE VEGAN SHORTCRUST PASTRY
Pie crust and filling are now ready! Whether you like to bake or prep the pie, it's important to follow the recipe. If you're cooking the pie crust with nothing inside it, use a fork and poke a lot of holes along the bottom of the dough.
Conclusion
Vegan pastries have changed the way we think about eating and cooking. They are healthier, cruelty-free and can be made with less fat, sugar and sodium than traditional pastry recipes. They are also customizable to suit your taste buds!
I hope you find these recipes enjoyable and try them out!