Vegan Keto Recipes
Source: pexels
Whether you are giving the keto diet a try or the keto diet is your lifestyle, we have sure-fire, delectable recipes for you to try out.
A keto diet consists of high-fat foods, low-carb foods, and minimal amounts of protein. The keto diet aims to burn fat instead of glucose when the body reaches ketosis.
So most people on a keto diet take in high-fat animal products like butter, meat, and dairy. Vegans can also enjoy a keto diet with proper planning.
With this, we have decided to make things easier for you by providing you some of the tastiest recipes we know.
This diet contains no animal products, lots of high-fat vegan products like nuts, seeds, avocados, full-fat coconut milk, nut butter, vegan butter, cashew cheese, olive oil, coconut oil.
It also contains lots of leafy greens and low-carb vegetables. A low intake of carbs and sugar and only plant-based proteins like tofu and tempeh are acceptable.
To make the keto diet vegan, it has to be void of all animal products. These recipes include;
Berry Cauliflower and Greens Smoothie Bowl
Source: Pinterest
The ingredients includes;
Frozen cauliflower
Berries
Peanut butter( or almond butter)
Zucchini/Spinach
Coconut milk
Avocado (optional)
Although this smoothie bowl would not contain bananas, we doubt you'd miss it. This bowl of goodness has frozen cauliflower which gives it some texture, berries as a natural sweetener, healthy fats like peanut butter, then some green color from zucchini and spinach. You can use peanut butter or almond butter. To add creaminess to your bowl, add some coconut milk. If you want to stay full for longer, you can chop in some slices of avocado, it is a colorful, nutrient-dense breakfast that is great for your sugar level. All you have to do is blend all the ingredients in a blender and then top with some granola and fresh fruits. As a vegan, you can opt for homemade granola that has no honey.
Avocado Tomato Arugula Salad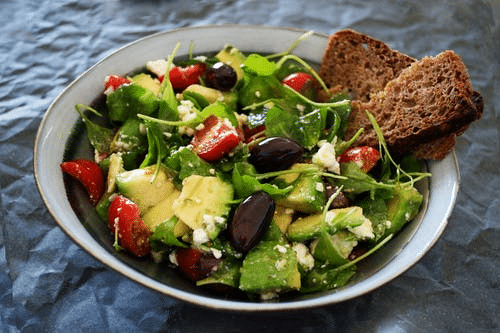 Source: Pexels
The ingredients includes;
juicy tomatoes,
basil leaves,
red onions,
slices of avocado,
balsamic dressing, and
arugula leaves.
Avocado Tomato Arugula Salad is a fresh and flavorsome meal that's easy to make as it takes only 20 minutes to get ready.
All you need are
It is a fine combination. Drizzle the balsamic dressing over the salad ingredients, toss and let it coat evenly. It's the perfect light side dish that makes your day, anytime.
Vegan Grilled Tofu Skewers
Source: Pexels
The ingredients includes;
Tofu
Soy sauce
Zucchini
Bell peppers
Onions
These vegan grilled tofu skewers are easy and quick to make and are with flavors. Perfect for vegans as it's gluten-free and low in carbs. What you need to do is press the tofu for 30 minutes to extract the liquid. Then cut into cubes and let it sit in the soy sauce. Slice the zucchini, then cut the bell peppers and red onions into squares. Let the ingredients be about the same size. Now assemble the skewers, putting tofu and vegetables on them alternatively. Now grill the skewers in a hot pan or a grill pan that is greased with oil. Keep turning until the peppers are soft but not soggy and the tofu is golden brown. Sprinkle with salt and pepper before taking it off the heat, then coat with barbecue sauce and sesame seeds.
Mashed Cauliflower
Source: clavelandclinichealth
The ingredients includes;
Cauliflower florets
Cheese
Butter
Salt
Garlic
Mashed Cauliflower is an easy and gooey recipe. All the recipe takes is to know how to boil. Be sure to use more of the florets of the cauliflower and less of the stalk for more creaminess. Boil the cauliflower until it's soft, blend with the cream cheese, butter, salt, and garlic. Blend until it turns into a smooth, creamy sweetness mash. Serve and add some butter on top. It doesn't taste like mashed potatoes, but it sure comes close. If you're dairy-free, you can swap cream cheese with almond milk cream cheese and use olive oil instead of butter.
Roasted tomato soup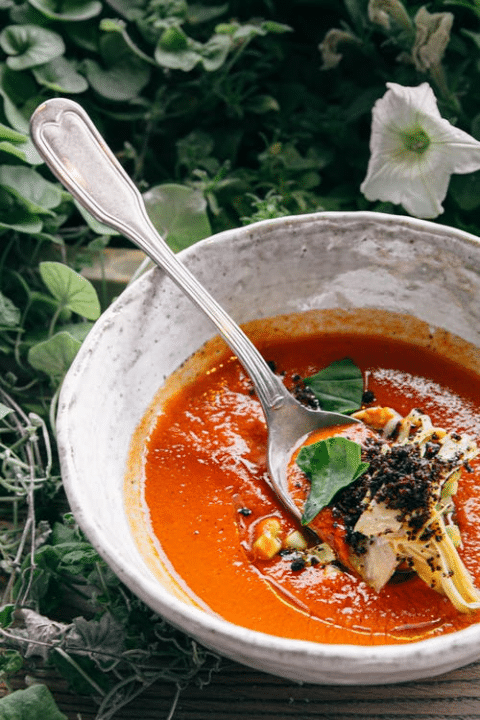 Source: Pexels
The ingredients includes;
Tomatoes
Olive oil
Garlic
Herbs de Provence
Sea salt and black pepper
Roasting vegetables has always resulted in a burst of flavors. This roasted tomato soup is warm, creamy, and thick, the perfect combination for comfort food. All you have to do is roast the tomatoes coated in olive oil and crushed garlic for about twenty minutes. Then blend with the liquid from the tomatoes. When it's of a creamy consistency, put into a pot with broth and season with Herbs de Provence, sea salt, and black pepper. Let it simmer for 10 minutes before adding cream and basil leaves.
FAQs
What does a vegan keto recipe not include?
A vegan keto recipe does not include animal products and it includes low carbohydrates.