Tired of never knowing what to get your vegan friend?
Searching and scouring endless specialist websites with expensive products and even more expensive delivery?
Wish it could be as easy as using Amazon like everyone else?
Well it can.
Amazon actually offers a brilliant range of vegan products, from chocolate bars to beauty boxes to cooking books, if you know where to look.
Let's take a look together.
Here are our recommendations for 10 awesome amazon vegan gift ideas for that special vegan in your life.
1. Vivani Organic Vegan Chocolate Mixed Bars German Chocolate Collection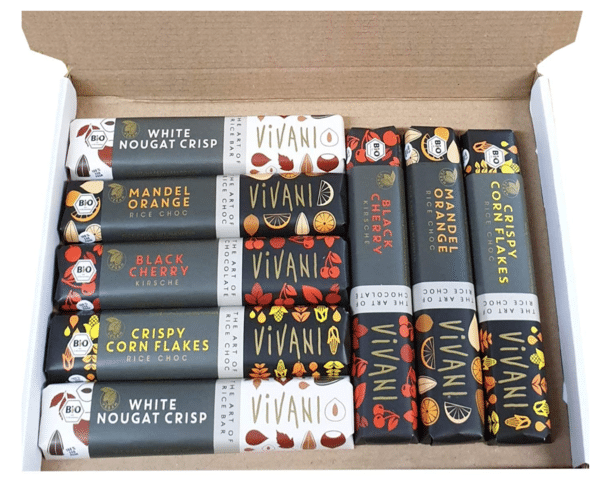 Image Credit: Amazon
Chocolate, as we all know, is a classic and typically well received gift. So why shouldn't vegans get to experience that?
Our first pick is a delightful selection of vegan chocolate bars that will be cherished by any chocolate lover.
Made of high quality German chocolate, they come in fruit and textured varieties.
Here are the contents:
2 x Black Cherry,
2 x Organic Mandel Orange
2 x Organic Crispy Corn Flakes
2 x White Nougat Crisp Rice Choc
An amazon favourite, reviews especially note the substantial but not too rich and heavy nature of the chocolate, and praise the cherry flavour in particular.
And with prime delivery, you can get it gift wrapped and shipped to that special person for the following day! Chocolate is always one of the best vegan gift ideas afterall.
2. 'Dirty Vegan' cookbook by Matt Pritchard
Image Credit: Amazon
Looking for another one of the best vegan gifts on amazon? We all know the BBC's cult classic vegan cooking programme, Matt Pritchard's 'Dirty vegan'.
But did you also know he wrote an accompanying book?
Bursting with over 80 recipes, Matt divides this cooking book into chapters like comfort food, classics, Super Quick Midweek Meals, and Food with Legs (for when you need that extra bit of energy).
Some of the top recipes include:
Crispy Peking Jackfruit Pancakes
Fast Falafel with Carrot Salad & Harissa Tahini
Winter Root Caesar Salad with Crispy Capers
Roasting Tray Laksa
Tofu Katsu Curry
Spiced Chocolate Cake with Maple and Cashew Cream
Praised by BBC Good Food and Jamie Oliver, this cooking book will revolutionise any plant-based kitchen.
3. Vegan Baklava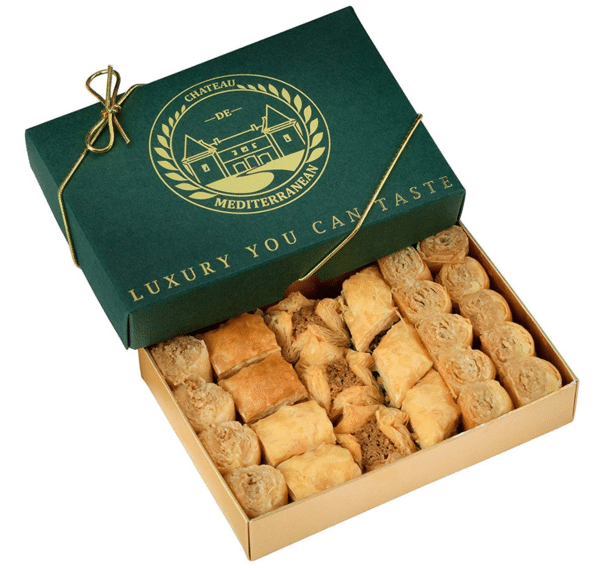 Image Credit: Amazon
Turkish desserts are in a whole nother league of their own, and getting to try them out as a vegan is an amazing experience.
Baklava is a indulgent, sweet pastry consisting of many layers of fine filo pastry filled often with chopped nuts and essentially sweetened with syrup.
This box boasts all kinds of traditional Turkish Baklava Pistachio, almond, asabe 'fingers', colschor and Boukaj.
And with prime delivery, you can have it all by tomorrow, though that may be a risk- you might just eat it yourself.
If you want to give something which is sweet but healthier than Baklava, you can give a Signature Gourmet Date Box filled with delicious date varieties.
Indulgent and luxuriously packaged, this gift is something truly unique which anyone will appreciate.
4. Vegan Bang Curry Kits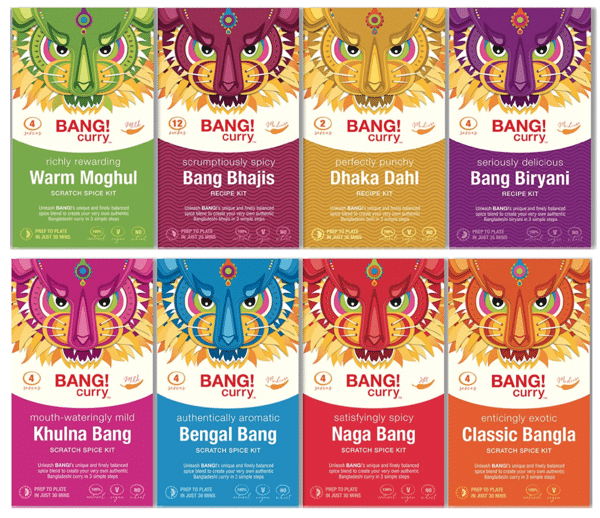 Image Credit: Amazon
Experience the spices and flavours best known from Bangaldeshi cooking with these Bang! Curry pots which are 100% vegan.
With this Bang! Collection box your friend will enjoy an explosion of five curry spice flavours- with the Biryani, Bhajis and Dahl constructible sides.
Made out of entirely natural high quality herbs and spices, there is a diversity of flavours and strengths of chilli- ranging from mild to medium to hot- that can help in creating authentic bangaldeshi curries.
Each kit serves 4, so overall you have 16 sensational servings of curry seasoning.
You can also download the free Bang! Recipe Ebook to find exciting, easy to cook curry dishes for any home cook.
A compact, useful and long lasting gift that is sure to be appreciated by any passionate plant-based cook, make this holiday season go out with a Bang! For your vegan friend with one of these curry kits.
5. Vegan skincare- 100% VEGAN Dead Sea Mud Mask with Avocado & Superfoods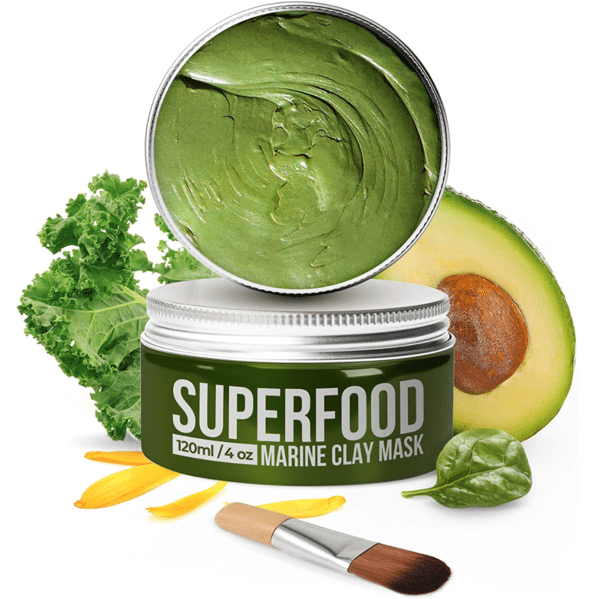 Image Credit: Amazon
This herbal superfood mask is dermatologically tested and hypoallergenic, made entirely of organic ingredients with absolutely no animal products.
It's also amazing for your skin.
It hydrates, cleanses and minimises pores without causing irritation or burns.
It spreads like butter with no harsh exfoliation, and only needs to be kept on the skin for 10-15 minutes.
Full of natural ingredients including avocado, kale, spinach and herbs, it has a beautiful vibrant green colour and pleasant scent.
With guarantees it will help you fight acne, skin breakouts, peeling facial skin and redness, for only 14.99 it's a dream come true to any vegan who prides themselves on taking care of their skin.
6. Vegan makeup- The compassionate chick's guide to DIY Beauty
Image Credit: Amazon
As the book states, 79% of all vegans are women, and as most people who wear makeup are women, often vegans search for cruelty free vegan makeup options.
Part DIY cookbook, how-to and self-improvement guide, this book showcases how you can make rejuvenating, non-toxic and revitalising skincare and beauty products from home- without any of the ethical concerns.
Forget high end vegan products, with these 115 easy and inexpensive recipes you can get the same results without the same expenditure.
The perfect gift for any vegan beauty guru who wants to save a penny here and there.
7. Be Barefaced Vegan corrective serum
Image Credit: Amazon
A high quality night serum, Be barefaced, delivers a powerful dose of antioxidant vitamin E, C and A to penetrate deep into your skin, reducing signs of aging as you sleep.
With its concentrated ingredients of hyaluronic acid, collagen, lactic acid & glycolic acid, it aims to soothe & hydrate while reducing fine lines, redness, irritation & sun damage.
Free from petrochemicals, PEGs, parabens, GMOs, silicates, synthetic colours & fragrances, all of the Be Barefaced skincare range pledge never to test on animals and remain 100% cruelty free.
Cruelty free glowing skin for only 13.99?
I want a Bare faced serum bottle! and I bet your vegan friend would love one too.
8. Burt's bees 100% Vegan mascara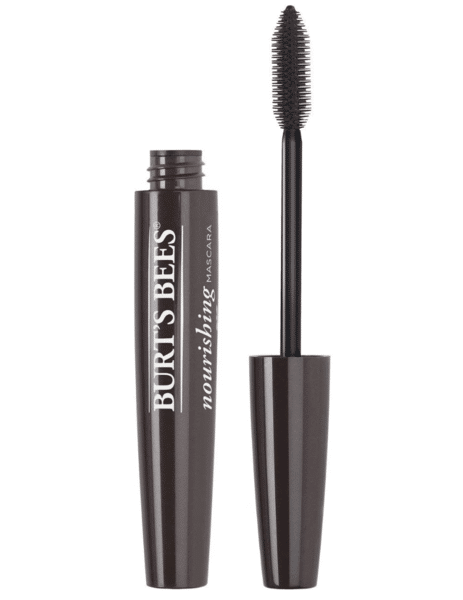 Image Credit: Amazon
Cruelty free, this Burts Bees Bees mascara is a convenient and cruelty free mascara tube which lengthens and defines upper and lower lashes.
Its 100 percent natural origin formula is made of jojoba oil and moisturising glycerin which is suitable for the delicate eye area, it's also ophthalmologist-tested meaning its safe for sensitive skin and contact lens wearers.
Formulated without parabens, phthalates, SLS, petrolatum or synthetic fragrances, Burts Bees have made a strict pledge to never test any of their products on animals.
For only 12.99 you could get them something which is already a beauty essential, with the added promise it is 100% cruelty free.
9. Baileys Almande Liqueur
Image Credit: Amazon
While this almond milk variant of Baileys is vegan friendly and dairy free, it isn't free from the same divine indulgence that we all expect from a Baileys drink.
Notes of almond oil, vanilla and honey combine with a light creaminess to make this a stand out drink- for vegans or non-vegans alike- ideally enjoyed over ice or in a delicious vegan hot chocolate.
Want to treat your vegan friend- Why not give them the world's most-loved spirit? It's already a classic gift.
10. BOSH!: simple recipes, unbelievable results
Image Credit: Amazon
Henry Firth and Ian Theasby, creators of the world's biggest and fastest-growing plant-based platform, BOSH!, with over 2.3 million fans have created a cookbook!
Bursting with their fun, accessible and satisfying recipes, highlights being:
their Burrito Samosas
the Big Bhaji Burger
the World's Best Pesto Lasagne
Satay Sweet Potato BOSH! Bowl,
Spanish Beach Churros
Gooey PB&J Brownies
Salted Caramel Chocolate Crunch Tart
All easy enough to be rustled up any night of the week. It's enough to convince the staunchest of carnivores to give plants a whirl.
Whether you're already sold on the plant-based lifestyle or you simply want to incorporate more meat, dairy and egg-free meals into your week, BOSH! The Cookbook is your plant-based bible.
And for only 7.99 it's a real steal for what you're getting.
We hope you now will never question what to get the vegan in your life again with our 10 fantastic vegan gifts ideas from Amazon.
Do you want to give them something truly special though?
Forget Amazon.
With a Plant Sumo box subscription you can gift them healthy, delicious and easy to make vegan meals delivered directly to their door!
Forget stressing about the supermarket or pondering over prep, head to our main website page: https://plantsumo.com to sign them up for their first box (or even just to treat yourself) today!